Image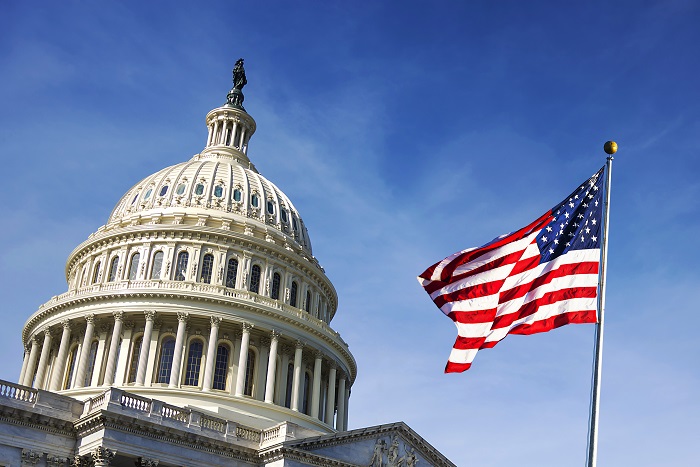 January marked the end of President Biden's first year in office and the halfway point for the 117th Congress. As we look ahead in this new year, we hope President Biden and Congress will work together to focus on the following priorities in 2022:
Economic Justice: Last year, Present Biden and Congress provided economic relief during the continuing COVID-19 pandemic by passing the American Rescue Plan Act (ARPA). ARPA made long-overdue investments in reducing child poverty, supporting unemployed workers, ramping up the nation's vaccination campaign, and lowering costs and protecting access to health care. Federal action helped families make ends meet through additional stimulus checks, expanded unemployment insurance benefits, and expanded monthly child tax credit payments. In fact, the Child Tax Credit (CTC) kept 3.8 million children out of poverty. While these policies addressed weaknesses in the social safety net exacerbated by the pandemic, the relief they provided was temporary. The Biden administration and Congress must work together to pass another package of investments to continue to address economic injustices and advance economic security for workers and families, such as paid leave, universal pre-k and child care, expanded CTC and Earned Income Tax Credit, housing assistance, anti-hunger initiatives, and more, as outlined in the Build Back Better Act.
COVID-19 Pandemic: To date, more than 67% of the U.S. population over age 5 is fully vaccinated against COVID-19. In January 2022, the White House expanded access to at-home testing by allowing all households to order four free tests and requiring private insurance companies to cover the cost of several tests per month. Now the Biden administration and all members of Congress - along with public health officials, faith leaders, and others - need to work to increase uptake among vaccine-hesitant groups and ensure that everyone who received an initial series is encouraged to remain up to date with booster shots. 
Voting Rights: In March of 2021, President Biden issued an Executive Order on Promoting Access to Voting that called on federal agencies to help citizens vote more easily. But voting rights cannot be protected by Executive Order alone. It is essential that the Senate return to consideration of voting rights legislation such as the Freedom to Vote: John R. Lewis Act and, if necessary, reform the filibuster to pass this vital bill.
Reproductive Rights: In his first year, President Biden took steps to restore access to reproductive health care at home and abroad. He rescinded the Trump-era global gag rule, which restricted U.S.-funded global health programs from providing vital family planning and health services, and repealed the Title X gag rule, which prohibited the use of Title X funds to perform, promote, refer for, or support abortion, forcing health care centers out of the program. In 2022, we urge the Biden administration to work with Congress to permanently end the global gag rule and ensure that recipients of U.S. foreign assistance can consistently provide safe, legal abortion care and advocate for abortion access. We also urge Congress and the administration to work together to protect abortion access in the U.S. by passing the Women's Health Protection Act and protect survivors of gender-based violence by reauthorizing the Violence Against Women Act.
Immigration: On his first day in office President Biden rescinded the Trump administration's travel bans that limited the entry of refugees and immigrants to the United States from several African and majority-Muslim nations. However, the Biden administration has yet to take action on its promise to restore asylum. The administration has also continued and even expanded Title 42 and Migrant Protection Protocols (MPP or Remain in Mexico) two inhumane, Trump-era policies aimed at restricting individuals seeking asylum at the southern border. The Biden administration must end these policies as soon as possible. It is also well past time for Congress to adopt a broad immigration reform package and protect DREAMers, TPS, and DED holders from deportation.
Antisemitism: In 2021, President Biden nominated Dr. Deborah Lipstadt for the position of U.S. Special Envoy on Antisemitism. With the rise in global antisemitism, this position is critically important. We urge the Senate to swiftly fill the position of U.S. Special Envoy on Antisemitism.
Israel : During the May 2021 hostilities between Israel and Hamas, President Biden strongly affirmed Israel's right to defend itself from rocket attacks and worked with leaders, including Prime Minister Netanyahu, to foster a ceasefire between the Israelis and the Palestinians. We hope that President Biden and Congress will continue to work to facilitate the Israeli-Palestinian peace process and further a viable two-state solution, as well as support funding for the safety and security of both peoples by passing the Iron Dome Supplemental Appropriations Act.
Environment: In November 2021, President Biden and Congress worked together to pass the Infrastructure Investment and Jobs Act. This new law will improve access to clean drinking water, create more green jobs, increase electric vehicle infrastructure availability, modernize public transit, and upgrade roads, airports, and railroads. The Biden administration also rejoined the Paris Climate Accords and created the Justice40 initiative, which will ensure that at least 40 percent of federal investments in climate and clean energy are delivered to disadvantaged communities. In 2022, the Biden administration and Congress must work together to mitigate climate change and advance environmental justice through passage of both the Build Back Better Act and the Environmental Justice for All Act .
Gun Violence Prevention: Last April, President Biden announced initial actions to address the gun violence public health epidemic. These steps reduced ghost guns, provided funds for community violence intervention programs, and promoted safe gun storage and suicide prevention, especially for veterans, as well as provided guidelines for states seeking to pass their own Extreme Risk Protection Order laws. In 2022, the President and Congress must work together to increase funding for community violence intervention programs and require universal background checks on all gun sales.
Police Reform: With the Senate's failure to pass the George Floyd Justice in Policing Act, Congress must pass true police reform legislation such as the First Step Implementation Act, Prohibiting Punishment of Acquitted Conduct Act, and the COVID-19 Safer Detention Act. This package of criminal justice reform bills align with the Biden-Harris administration's commitment to sign into law comprehensive police reform that combats systemic injustices that plague our criminal justice system.
Minimum Wage: In April 2021, the President issued an Executive Order on Increasing the Minimum Wage for Federal Contractors to $15. This is a long-overdue step to achieve an equitable economic recovery that lifts up families and helps workers make ends meet. Congress must work with the Biden administration to pass legislation to raise the federal minimum wage to $15 by 2025.
LGBTQ+ Equality: On his first day in office, President Biden issued an Executive Order on Preventing and Combating Discrimination on the Basis of Gender Identity or Sexual Orientation. The order directed all federal agencies that enforce federal sex discrimination laws to also prohibit discrimination on the basis of sexual orientation and gender identity. Yet, there is still much more to be done to ensure full equality. In 2022, the Biden administration and Congress must work together to pass the Equality Act and protect all LGBTQ+ people from discrimination.
Federal executions: In January 2021, Attorney General Merrick B. Garland imposed a moratorium on federal executions pending a review of the Justice Department's policies and procedures. However, until executions are banned, states will continue this practice of punishment. That is why Congress must pass the Federal Death Penalty Prohibition Act, and end the death penalty.
Reparations: The Commission to Study and Develop Reparation Proposals for African Americans Act was first introduced into Congress in 1989. And in April of 2021, the bill made it to the House Judiciary Committee for the first time in over 30 years. The House of Representatives must now bring H.R. 40 to the floor for a vote and pass the bill. If they are unable to do so, President Biden must use the full power of his office to establish a commission for reparations by executive order.
International Religious Freedom: The Biden administration and Congress advanced human rights for the Uyghurs by enacting diplomatic and financial sanctions against human rights violators, passing the Uyghur Forced Labor Prevention Act, and declaring a diplomatic boycott of the 2022 Beijing Olympics. In 2022, President Biden and Congress must pass the Uyghur Human Rights Protection Act, which will designate certain residents of China's Xinjiang region such as the Uyghurs as prioritized refugees of special humanitarian concern.
February 1 marked the one-year anniversary of the military coup in Burma. In the immediate aftermath of the coup, the Biden administration implemented sanctions and travel restrictions against the Burmese military and their business interests. This upcoming year, President Biden and Congress must further defend the human rights of the Burmese people and work to pass the Burma Unified through Rigorous Military Accountability Act, or BURMA Act of 2021, which will address the atrocities perpetrated against the Rohingya, bring the perpetrators to justice, and help create favorable conditions for democracy.
Related Posts
Image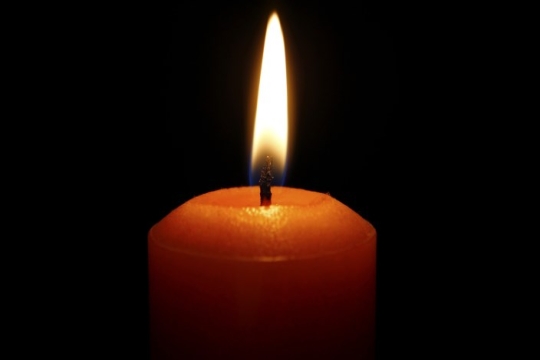 This week, the United States surpasses one million deaths from COVID-19. It is difficult to comprehend the enormity of losing one million souls over just two years, yet we must pause to mourn the dead and comfort the millions of families forever changed by this devastating pandemic.
Image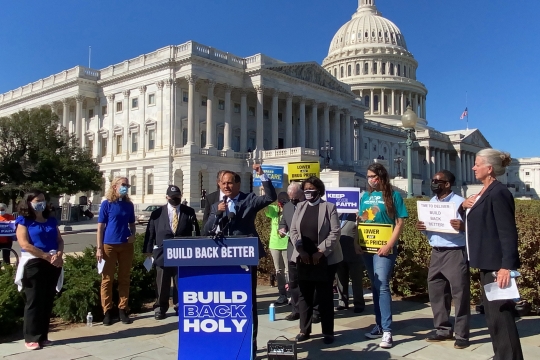 After 12 hours of storytelling and prayer at the Washington Interfaith Staff Community's Build Back Better Prayer Vigil outside the U.S. Capitol on October 20, it was clear: bold investments in our economic recovery are crucial to the livelihood of workers, children, and families in the US. To rebuild the American economy and address the structural inequities that long preceded the pandemic, Congress must pass a robust Build Back Better Act.
Image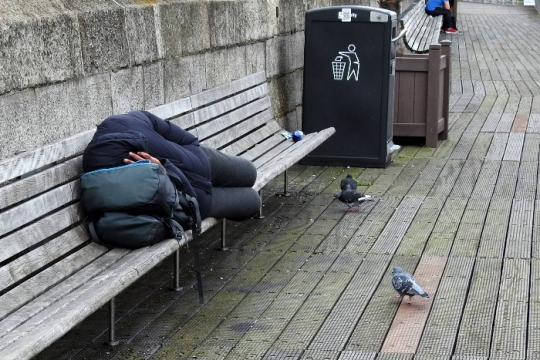 Against the backdrop of the COVID-19 pandemic, the crises of hunger and homelessness in the U.S. are more urgent than ever. It is our imperative to understand the scale of these injustices and demand much-needed relief for those most vulnerable.