Image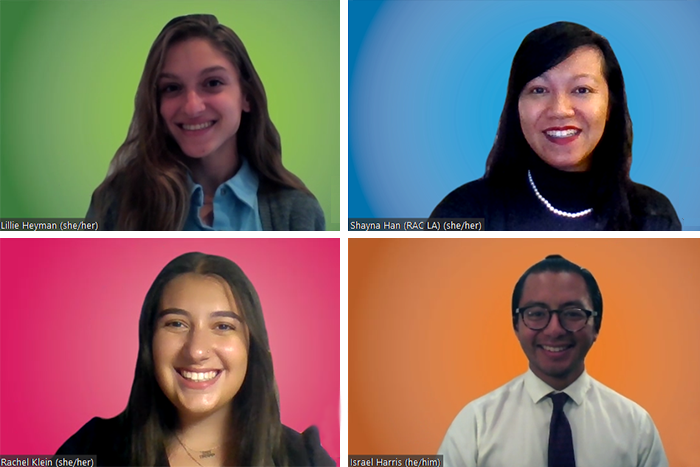 We are excited to dive into our work as the 2021-2022 Eisendrath Legislative Assistants! We bring a diverse set of interests and experiences to the RAC but share a deep commitment to the pursuit for a more just, compassionate, and equitable world. We are proud to represent and join the Reform Movement and its values in this crucial moment in history.  
We look forward to collaborating with Reform Movement leaders across North America to advocate for our urgent priorities and put our values into action. We welcome you to contact us with any questions you may have. 
---
Israel Harris (he/him) grew up in Bellevue, WA as a member of the Herzl-Ner Tamid Conservative Congregation. He graduated New York University with a BFA in Dance, and a double minor in Psychology and Hebrew and Judaic Studies. He completed the Jewish Learning Fellowship at the NYU Bronfman Center, and was selected for the Second Avenue Dance Company's "Investigate the WE" social advocacy concert, establishing a social outreach program to promote greater knowledge and safety for the New York Jewish community. He continues to work at the intersection of art and activism, and participated in the WADEintoACTIVISM 16-Day virtual festival as part of the UNiTe to End Violence against Women campaign organized by the UN. Israel furthered his social advocacy work by being among the first team members at the July Third Foundation, a nonprofit organization working for Reparations for Black Americans.  
Israel is proud to be in the first cohort of the Jews of Color Initiative at the RAC. His legislative portfolio includes racial justice, reparations, voting and civil rights, criminal justice reform, the death penalty, campaign finance reform, civil liberties, and judicial nominations.  
---
Lillie Heyman (she/her) is originally from Florham Park, New Jersey, where she was a member of Congregation Beth Hatikvah. Lillie graduated Phi Beta Kappa from the University of Michigan's Gerald R. Ford School of Public Policy in 2020 with a BA in Public Policy and minor in Sociology: Law, Justice, and Social Change. On campus, Lillie was heavily involved in Dance Marathon, facilitated a project-based leadership development program at the Barger Leadership Institute, served as an elected representative in Central Student Government, assisted in sexual assault prevention research, and sang in a Jewish a cappella group, Kol Hakavod. She has interned for M.P. Cheryl Hardcastle in the House of Commons of Canada and Senator Cory Booker in his DC office.  
She is excited to dive into Jewish social justice advocacy with the RAC following her work as a campaign field organizer in Michigan and Georgia for the general and runoff elections. Lillie's legislative portfolio includes reproductive health and rights, economic justice, labor, disability rights, women's issues, and human trafficking. She will also be working with the Women of Reform Judaism. 
---
Shayna Han (she/her) grew up in New York and is a member of Temple Israel of New Rochelle. The intersection of Judaism and social justice is a deep and abiding part of Shayna's life and identity: she was involved with NFTY, Urban Mitzvah Corps, Crane Lake Camp, Hillel, Birthright, Masa Israel Teaching Fellows, and the RAC's very own L'Taken and Machon Kaplan programs. Shayna graduated summa cum laude and Phi Beta Kappa from Union College. She earned the Minerva Prize her senior year for her history thesis on watershed literary heroine Nancy Drew and her work to establish the Committee for Consent Education (a group dedicated to combating sexual assault). After graduation, Shayna interned for U.S. Senator Kirsten Gillibrand in New York City and earned a Teaching English to Speakers of Other Languages (TESOL) certification. From 2016-2021 she lived in Spain, Israel, and South Korea, teaching English to elementary school students. Her experiences abroad enriched her cultural knowledge by allowing her to learn different languages, meet new people, and experience different foods, holidays, and beliefs. 
Shayna's portfolio includes gun violence prevention, environment and climate change, Israel, foreign policy, antisemitism, the Holocaust, international religious freedom, and Native American rights. She is proud to be in the first cohort of the Jews of Color Initiative partnership with the RAC LA program.  
---
Rachel Klein (she/her) grew up on the Upper West Side of Manhattan as a member of LabShul. She recently graduated from the University of Michigan with a BA in Organizational Studies and minors in Political Science and Music. Rachel also spent a semester abroad at the Hebrew University in Jerusalem as a fellow on the Nachshon Project. At Michigan, Rachel served as a Serve the Moment intern, Engagement Intern, and Mitzvote Fellow at the University of Michigan Hillel, where she worked to bring together her passions of Jewish programming and social justice. Rachel also interned for Congresswoman Debbie Dingell (MI-12) in her Ypsilanti field office and on a few congressional campaigns, where she learned the impact her work could have on real people and communities. Rachel loved spending her last 13 summers at URJ Camp Harlam. This past summer, Rachel was a supervisor of the Gesher (Counselor in Training) program, working with 17-year-olds to develop their leadership skills.  
Rachel is excited to bring her passion for Jewish social justice work to the RAC. Her legislative portfolio includes immigration, LGBTQ+ equality, refugees, hate crimes, separation of church and state, and education. 
Related Posts
Image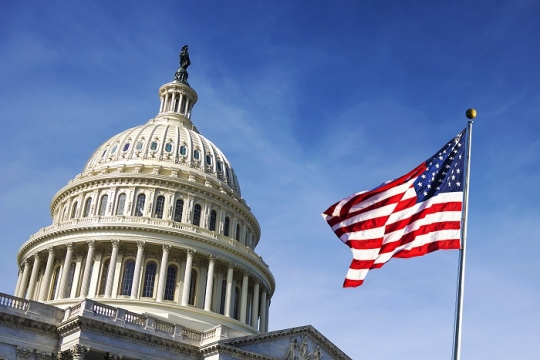 For more than six decades, the Religious Action Center of Reform Judaism has worked to educate, inspire, and mobilize the Reform Jewish Movement to advocate for social justice both within our Jewish community and outside of it. Key to that work are the emerging leaders of the Eisendrath Legislative Assistant Fellowship.
Image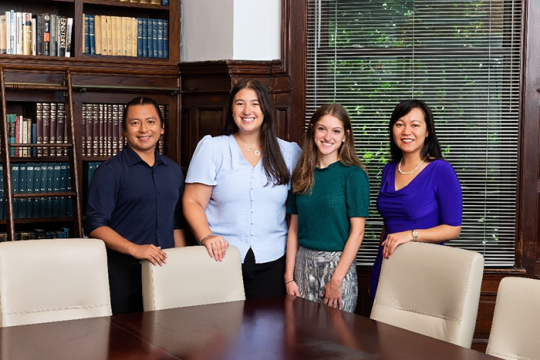 Whenever I see the notice that the Religious Action Center (RAC) is recruiting for Legislative Assistants (LAs), I immediately flash back to 1983 when I was an intern at the RAC. It was an amazing experience!
Image
I have always felt a strong sense of family when in Jewish spaces. Yet, my life experience has taught me that it is through the encounters with people of different backgrounds who have unique stories that the direction we take is shaped. This idea has helped me to no longer ask about what I deserve in life, but rather how I can use my privilege to give back to others. The same drive is what led me to apply to the Eisendrath Legislative Assistant Fellowship at the Religious Action Center - a unique opportunity to make a difference not many people believe is possible.