Image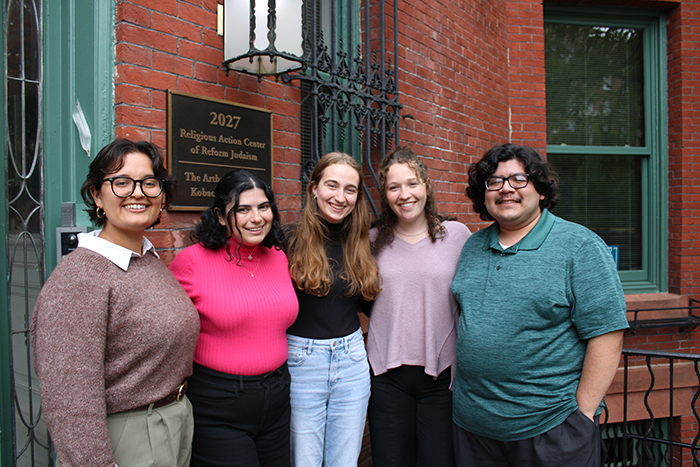 We are thrilled and honored to introduce ourselves as the 2023-2024 Eisendrath Legislative Assistants! Our cohort brings a wealth of diverse backgrounds, interests, and experiences to our roles. We are united by a shared dedication to advancing the URJ's vision of peace and wholeness, justice and equity, and belonging and joy.
We look forward to working in partnership with Reform Movement leaders and community partners to advocate for our urgent priorities and put our values into action. We welcome you to contact us with questions you may have about the Reform Movement's policy positions and how you can get involved.
Ellen Garfinkle (she/her) grew up in Charlotte, North Carolina as a member of Temple Beth El. She graduated Phi Beta Kappa from the University of North Carolina at Chapel Hill with a B.A. in Political Science and Global Studies and a minor in Middle Eastern Languages. While at UNC, Ellen served as the head song leader at her campus Hillel, participated in multiple Jewish Learning Fellowships, and spent a semester studying in Jerusalem on the Nachshon Project. She was also very involved with her all-female a cappella group, Cadence. Alongside these, Ellen spent two years working as a Civic Fellow with the voting rights organization You Can Vote, interned with the National Council of Jewish Women, and participated in campaign research.
Ellen is excited to call DC home and further her own learning in the political advocacy world. Her legislative portfolio includes immigration, refugees, separation of church and state, Israel, human trafficking, and international religious freedom.
CJ Wechsler (they/them) joins the RAC after two years as an 8th grade English/Language Arts teacher at a public middle school in Clayton County, Georgia. Most recently, CJ completed a Policy and Advocacy summer fellowship serving Atlanta Public Schools through the nonprofit Leadership for Educational Equity. CJ's interest in public policy began at a RAC L'Taken seminar and further developed as a RAC Machon Kaplan participant, during which time they interned at the Interfaith Alliance. CJ served as the 2020-2021 Co-Chair of the Hillel International Student Cabinet and member of the Hillel International Board of Directors. CJ graduated summa cum laude from University of San Francisco in 2021.
CJ's recent experiences as a public school teacher have ignited an even stronger dedication to policies that dismantle systemic barriers, emphasize a strong social conscience, and ultimately empower and uplift all people. They will carry this commitment forward into their legislative portfolio, which includes racial justice, voting rights, gun violence prevention, hate crimes, antisemitism, criminal justice reform, death penalty, and reparations.
Noé Granados (he/him) grew up in Anaheim, California and became a Member of the Tribe in December 2019 under the tutelage of Rabbi Heidi Cohen and Rabbi Adam Greenwald. His journey started at Temple Beth Sholom in Santa Ana, California and now continues as a member of HaNefesh. He graduated from the University of California, Riverside with a B.A. in Political Science/International Affairs. At UC Riverside, he was an Undergraduate Research Assistant focusing on climate policies. He was then selected to be part of the UCDC program that enabled him to intern at the Jewish Democratic Council of America in D.C.
Throughout his educational career, Noé was actively involved in Model United Nations, having competed at local, regional, and national competitions. During this time, he also was a volunteer Model United Nations coach at Anaheim High School, his alma mater.
Noé is looking forward to diving into the Jewish social justice advocacy space. His legislative portfolio includes environment and climate change, campaign finance reform, foreign policy, interfaith relations, civil liberties, Native American issues, and judicial nominations.
Rachel Landis (she/her) is from New York City and grew up at Congregation Rodeph Sholom on the Upper West Side. She graduated cum laude from Brandeis University where she studied Politics, Economics, and Art History. While at Brandeis, Rachel wrote her thesis on the changing relationship between women elected to state office and reproductive health care legislation. She also was involved in activism and the arts on campus. Rachel also spent much of her college career serving as the National Policy Director for Generation Ratify, the youth organization working towards the ratification of the Equal Rights Amendment.
Rachel was very involved with the Reform movement growing up, spending nine summers at URJ Camp Harlam (including one as a staff member) and serving on the regional board of NFTY-NAR during her senior year of high school. While attending the RAC L'Taken seminar several times throughout high school, Rachel became passionate about the connections between Judaism and social justice and has always strived to connect the two wherever she can. Rachel's legislative portfolio includes reproductive health and rights, gender equity, and partnership with the Women of Reform Judaism. She will serve as the inaugural Linda Rae Sher Legislative Assistant, supported by the generous gifts of friends of Linda Sher and Women of Reform Judaism.
Sammy Angelina (she/her) grew up in Madison, Wisconsin as an active member of Reconstructionist congregation Shaarei Shamayim and spent her summers as a camper and counselor at Camp Havaya in the Poconos. She recently graduated from the University of Wisconsin at Madison with a Bachelor of Science in Community & Nonprofit Leadership and Sociology and was named to the UW-Madison Class of 2023 list of "notable graduates." At the University of Wisconsin, Sammy served as a Community Engagement Education Intern with the Morgridge Center for Public Service. She was awarded a Wisconsin Idea Fellowship to create Food NOW (Nights or Weekends), an after-hours food distribution system designed to best meet the needs of both people in the community and local food justice organizations. Sammy served as the campus partnerships intern at UW Hillel and frequently led Reform Kabbalat Shabbat services on Friday nights.
Jewish values have shaped much of Sammy's life and inspire the work she does every day. They will be especially important for the work she will be doing this year. She is excited for her legislative portfolio to include LGBTQ+ equality, economic justice, labor, disability rights, and the Holocaust.
Related Posts
Image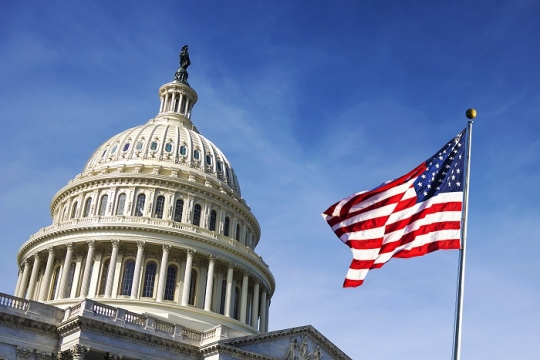 For more than six decades, the Religious Action Center of Reform Judaism has worked to educate, inspire, and mobilize the Reform Jewish Movement to advocate for social justice both within our Jewish community and outside of it. Key to that work are the emerging leaders of the Eisendrath Legislative Assistant Fellowship.
Image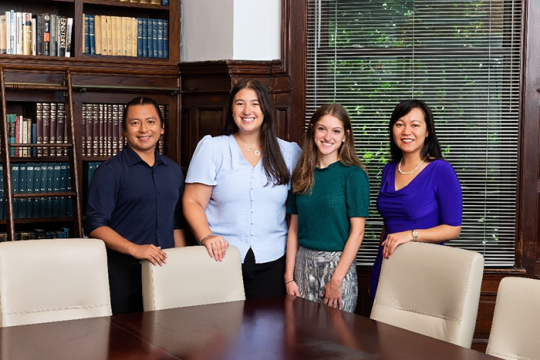 Whenever I see the notice that the Religious Action Center (RAC) is recruiting for Legislative Assistants (LAs), I immediately flash back to 1983 when I was an intern at the RAC. It was an amazing experience!
Image
I have always felt a strong sense of family when in Jewish spaces. Yet, my life experience has taught me that it is through the encounters with people of different backgrounds who have unique stories that the direction we take is shaped. This idea has helped me to no longer ask about what I deserve in life, but rather how I can use my privilege to give back to others. The same drive is what led me to apply to the Eisendrath Legislative Assistant Fellowship at the Religious Action Center - a unique opportunity to make a difference not many people believe is possible.