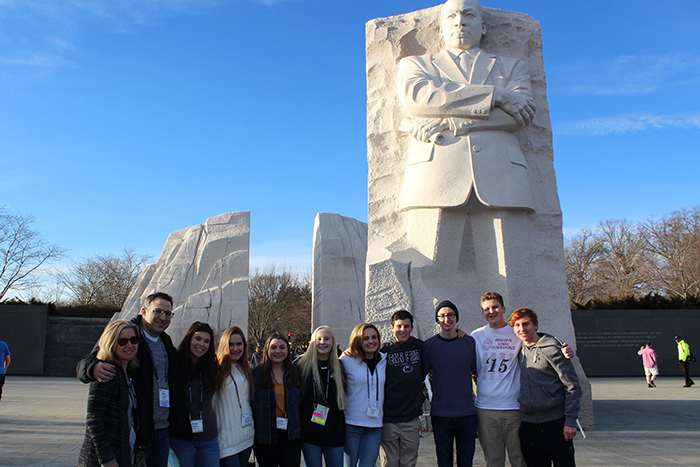 L'Taken is a delegation based program. Please be in touch with your congregation / group to find out your L'Taken Seminar date and due date to complete the registration.
Want to learn more about the issues your teens will explore at L'Taken and join them in taking action? Check out our Legislative Action Center. Unsure of what district your teens will be lobbying in? Find out here!
Logistics
Packing
Download a suggested packing list. 
Weather in Washington, DC in the winter is cold. Please pack weather appropriate clothing, including a warm jacket, hats and gloves.
Friday Night
Dress on Friday night varies, but participants are encouraged to wear business casual attire for Kabbalat Shabbat and services.
Saturday and Sunday
On Saturday and Sunday, participants wear casual clothes. Large parts of the days are spent outside, so be sure to pack winter jackets and be prepared to wear layers!
Monday
For the Monday congressional appointments, everyone must wear professional business attire. Again, significant portions of the day are spent walking around Capitol Hill outside, and we encourage everyone to dress warmly and wear comfortable shoes.
Optional
Participants spend Sunday night writing speeches that they deliver in their congressional offices. Students are welcome, but not required, to bring laptop computers that they can use during the writing and editing process. The RAC will provide printers for final versions of the speeches. We cannot be responsible for damage to, or loss of, any electronic equipment participants bring to the L'Taken Seminar.
---

Meals
Meals included in the price of a L'Taken weekend:
Friday Dinner
Saturday Breakfast and Lunch
Sunday Breakfast and Lunch
Monday Breakfast
Additional Meals
Saturday and Sunday dinners take place in Georgetown and Pentagon Row, an outdoor shopping area near the hotel. Both locations include a variety of restaurant choices from fast food to upscale sit-down. We suggest your students bring between $15 and $30 for each of these meals.

Monday lunch takes place on Capitol Hill in one of the several cafeterias in the House and Senate office buildings. Participants should budget $10-20 for this meal.

Dietary Restrictions
In accordance with URJ policy, dairy and meat products will not be served together at meals throughout the L'Taken weekend. The hotel facilities and meat products served at the hotel are not kosher. We offer accommodations for various dietary restrictions including but not limited to: vegetarian, vegan and gluten free. If you have questions about dietary needs, please reach out to the L'Taken team: LTaken@rac.org or (202) 387-2800.
We are happy to accommodate participants with a variety of dietary needs. Please contact us with this information at least a month before the seminar.
---
ACCESSIBILITY
The Religious Action Center seeks to accommodate participants and chaperones with a variety of physical, emotional, learning, cognitive, or other needs throughout our program.
As your congregation begins its planning process for the winter's seminars, please give the RAC a call.  Together with your congregation, the RAC program staff will develop a plan for individual participants. We will go step by step through the schedule to discuss what will work best for a participant at each moment in the program. The RAC staff will adjust rooming arrangements for participants and aides based on individual needs.
Please reach out to the L'Taken team: LTaken@rac.org or (202) 387-2800 to discuss accessibility at L'Taken.  
Watch & Learn: Empowering Your Young Leaders at L'Taken
The Religious Action Center's L'Taken Social Justice Seminars have been made possible through the generosity of:
Bernard and Audre Rapoport
The Jacob and Hilda Blaustein Foundation
The Gus and Barbara Kuhn Fund
The Robert Sillins Family Foundation
Richard and Lois England
The Nathan Cummings Foundation
The Righteous Persons Foundation