Image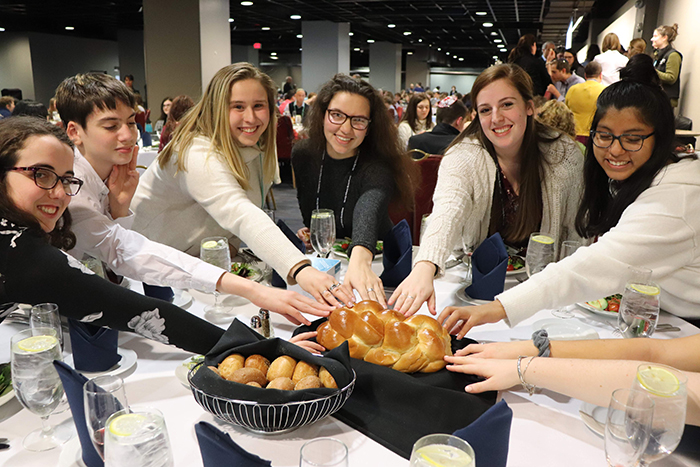 Meredith and Emilia, 2019 Participants:
The L'Taken seminar was a life changing experience that will influence our daily lives and guide us in further walks of life. It was incredible to get to have such amazing opportunities to talk about and take action on topics that we care so much about. So much of the weekend built up to our activism in lobbying our elected officials, which incorporated our Jewish values into our lives as Americans. It was an unbelievably impactful experience to advocate for issues that affect us so directly as we seek to make the world a better and more accepting place. Beyond just the discussions themselves, getting to talk to people who were equally as passionate about subjects like rights for women and Reform Jews in Israel or gun violence prevention was something we didn't realize how much we had been longing for. There was such an immediate connection between all of the people at L'Taken that feels so rare in day to day life. Speaking to these people we had never met before felt like talking to people we had known our whole lives as there was no barrier stopping people from sharing really personal experiences and perspectives. This opened up opportunities for conversation and respectful debate about policies that are so prevalent in our daily lives as Jewish teens. Being able to share our stories with like-minded peers and adult mentors was one of the most impactful parts of the weekend. Even within the group from our own synagogue, it deepened our connection with each other and our Jewish identities. With this closeness to our community, we formed lasting kesherim (connections) between our values, our stories, and our experiences.
Paige, 2019 Participant: 
This is a trip that really elevated my mindset and allowed me to see the bigger picture. I know I am extremely blessed to have opportunities like this and I am eternally grateful for the chance to see Washington DC and talk to my senate's staff and congresses staff.
Eric, 2019 Participant: 
This has been the best experience in my religious, political, and social life. This weekend has allowed me to expand my knowledge about the Reform Jewish Movement and my political opinions. Speaking to the congressmen allowed me to open more opportunities for the future and plan my future career. By attending the seminars throughout the weekend, I was able to gain more information on the topics I cars about and the Jewish values and opinions behind them. The Shabbat and Havdallah services also allowed me to build a greater connection to my religion and beliefs. Experiencing a service in the Jefferson Memorial with close friends was unlike any other experience I have had.
Lia, 2019 Participant:
This trip was one that I will never forget. I learned so much about the effects that a few people can have on the legal decisions of our country. The activity that had the greatest impact on me was the lobbying simulation for gun violence prevention. This activity not only showed me how to be an effective advocate but it also showed me how organizations can persuade elected representatives to vote on an issue simply by giving them more money than the opposing party. Another unforgettable experience occurred at Havdallah, on Saturday evening. I was sitting near the front of the crowd with a few of my friends and we were told to light the candles of the people behind us. After a few minutes I looked back again and I saw over four hundred candles lit behind me. I remember thinking how amazing it was that so many Jewish teens in my generation, from all over the country wanted to make a difference and lobby our elected representatives.
Joshua, 2019 Participant:
This has been by far one of the most important moments of my life. Being able to implement important personal stories from my friends and connect it with a few of my own to then share with congressmen and senators of Texas. It was truly a once in a lifetime opportunity that I will never forget. I have grown as a Jewish adult from this experience and will forever bring these values and stories that I learned from this trip with me as I progress even further.
Rachel, 2019 Participant:
Thank you for hosting our youth group at the Bernard and Audre Rapoport L'Taken Social Justice Seminar in Washington, D.C. It was a wonderful conference filled with many new topics to about which for me to learn. It was also a great opportunity to connect with Jewish teens from across the country to learn about social justice issues in America.
I especially appreciated the storytelling session. There I learned how to properly tell a story as well as I learned many the stories from other teens. I especially appreciated the breakout session where we were assigned groups and got to meet new people. I also got to practice lobbying to my senators and representatives. I learned about how to present myself in a professional way.
The Religious Action Center of Reform Judaism's support of Jewish teens learning about social justice enables people like me to enter into this world as an adult advocating for ourselves.
I'm excited to bring this learning home with me. I think that it will truly enhance my advocacy skills in the future. I am truly grateful for your support in this endeavor. I hope that you continue to support conferences and programs like this in the future.
Emily, Parent: 
This was an invaluable experience to see how our government works, to learn about lobbying, and to try to persuade legislative aids with fundamentally contrasting views to introduce new legislation. Additionally, being able to experience this with like-minded Jewish teens from across the country made it even more rewarding. We live in a socially and politically conservative area with a very small percentage of Jews so being able to discuss important social issues with a Jewish emphasis was a great opportunity and stark contrast to the daily conversations she has with others as well as overhears. As a result, the effects of the trip on my daughter were clearly visible: She returned more confident, mature, and knowledgeable in her ability to interact with and be taken seriously by adults. She now seems to have a sense that she can make a difference just by speaking up and is eager to do so.  
Kimberly, Parent:
It is so important to me, as his mom, that he learns to speak up for himself and be able to back up his reasons for why he feels that way. This trip showed him how to have a voice. Alex has shared many stories about the trip, and I have loved hearing all of them. What an experience! (Is there a program for adults like this? I want to sign up). The programming, different workshops provided for the students, sounded very valuable. It is important for our teens to learn the Jewish perspective on the current issues we are facing in our country today.