Image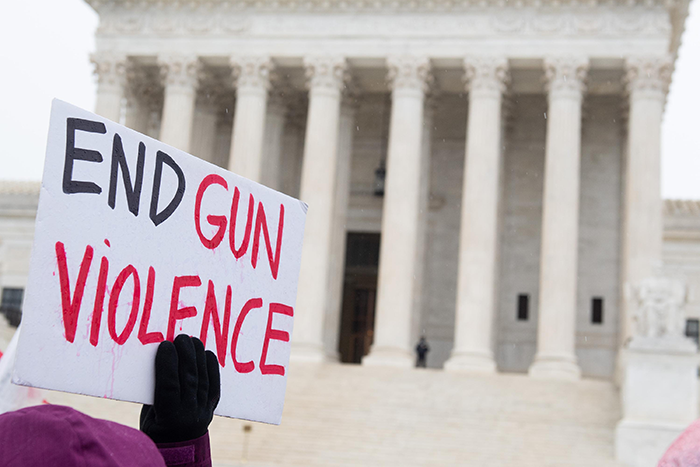 Each October, we observe Domestic Violence Awareness Month (DVAM), first introduced in 1981 by the National Coalition Against Domestic Violence. This commemoration brings awareness to the prevalence and impact of domestic violence and serves as a way to support the millions of survivors. As DVAM comes to a close – and as the Supreme Court prepares to hear United States v. Rahimi, a landmark case related to domestic violence and gun violence – we hope to bring attention to critical gaps in the protection of survivors.
Since the conception of DVAM, rates of intimate partner violence in the U.S. have decreased, in no small part due to the Violence Against Women Act. The Violence Against Women Act (VAWA) was originally passed in 1994 with the goal of ending domestic violence, dating violence, sexual assault, and stalking. VAWA has been reauthorized and updated several times since then, often utilizing the voices of survivors, and has had significant impacts on the lives of survivors of intimate partner violence. From 1993 (the year before VAWA passed) to 2010, the rate of intimate partner violence decreased 67 percent, even when more survivors felt empowered to report. VAWA set up new resources and services to support survivors and their families, such as the National Domestic Violence Hotline. VAWA also ensures that it is more sustainable for survivors to achieve justice, with measures such as covering medical exam and protection order costs and enforcing protection orders nationwide.
Nevertheless, gun violence and intimate partner violence are closely intertwined. According to Everytown for Gun Safety data analysis, nearly two-thirds of intimate partner homicides in the U.S. are committed with a gun. Further, nearly one million women in the U.S. who are alive today have reported being shot or shot at by an intimate partner. Current legislation generally prohibits individuals with domestic violence convictions from obtaining firearms. However, this legislation narrowly defines a domestic abuser as someone the survivor married, lived with, or has a child with. The intimate partner loophole (also known as the "boyfriend loophole") refers to the legal gap that allows individuals to acquire and possess firearms despite being convicted of domestic violence offenses or subject to restraining orders. Romantic partners who were not married to, living with, or have a child with the survivor are not prohibited from obtaining firearms despite a history of domestic violence. This loophole allows potentially dangerous individuals to access firearms and poses a risk to the safety of domestic violence survivors. Efforts to close the intimate partner loophole seek to extend firearm regulations to cover all romantic relationships in order to enhance protections against domestic violence.
In addition to the existing gaps in protections for survivors and future victims, the upcoming Supreme Court case United States v. Rahimi risks expanding firearm access to all abusers. In 2020, Zackey Rahimi was issued a domestic violence protective order by a Texas court finding that he was guilty of committing violence against his then-girlfriend and was likely to commit violence in the future. One stipulation of this order was that Rahimi was explicitly prohibited from possessing firearms, a term he quickly violated when he committed five more shootings. Rahimi was then convicted of illegally possessing a firearm under a federal law that prohibits individuals with domestic violence protective orders from possessing firearms or ammunition. On appeal, the Fifth Circuit Court ruled that the law was unconstitutional. If the Fifth Circuit's decision is upheld, individuals with domestic violence protection orders would no longer be prohibited from possessing firearms, regardless of the status of the relationship – gutting gun safety laws that have been in place for the last three decades to protect survivors of domestic violence.
As Reform Jews, it is our duty to demand common sense gun legislation. The Talmud teaches us that "He who takes one life it is though he has destroyed the universe, and he who saves one life it is as though he has saved the universe" (Mishnah Sanhedrin 4:5). We are also taught that weapons should be replaced with tools that allow for the betterment of our communities and society. The Book of Isaiah commands the people of earth to "beat their swords into plowshares, and their spears into pruning hooks." (Isaiah 2:4) Our Jewish faith compels us to stand up for survivors and against future gun violence. Protections afforded by the law must remain steadfast, bridging the gaps in safeguarding all survivors and preventing the potential expansion of firearm access to abusers.
To turn our commitment into action, we encourage you to:
Urge Congress to take immediate action to stop gun violence, including by closing the intimate partner loophole.
Download Jewish Women International's 2021 "Domestic Violence in the Jewish Community: A Needs Assessment."
If you are seeking domestic violence support, contact the National Domestic Violence Hotline for 24/7/365 free, confidential access to advocates via phone, chat, or text.
Related Posts
Image
We stand with the people of Israel during these difficult and challenging days and pray for the safety and immediate release of all of the hostages. See our resources and actions you can take.
Image
Before sharing some tools for facing and combating antisemitism, it's important to have a clear understanding of exactly what antisemitism is. 
Image
When we think about climate change, I believe we often get lost in the global context and forget about its local impacts. Climate change is a complex, unfamiliar, slow-moving, and intergenerational problem that covers a broad range of policies, topics, and headlines.