Image
  
These remarks have been lightly adapted from those presented before the opening plenary of the 2019 Consultation on Conscience on Sunday, May 19, 2019.
Two years ago, 800 of us met at what was then the largest Consultation on Conscience ever – but today, we are more than 1,200 strong, and since we last met, so much has happened. We have done so much.
Since we last met, we launched the Urgency of Now, reflecting our tradition's ageless and enduring call of Torah to rodeph tzedek, pursue justice. Focused on transgender justice, immigration justice, and criminal justice, through organizing, advocacy, and relationship building, congregations across the Reform Movement built local bridges and stood up for our values in a tumultuous time.
Since we last met, more than 200 Reform Jewish congregations – and growing – have joined the Brit Olam network. Together, we are working toward a world of compassion, justice, and wholeness by showing moral leadership through congregational and community-based action.
Since we last met, as the world's worst refugee crisis in history continues, our Canadian congregations are stepping up to provide welcome and support. They have raised more than $450,000 and sponsored 15 families with more on the way. Toronto's Temple Emanu-El also partnered with Congregation B'nai Brith in Santa Barbara, CA, to support a refugee family, providing their first year's rent and more.
Since we last met, 200 rabbis, cantors, lay leaders, and teens from RAC-California gathered in Sacramento last August for a lobby day focused on criminal justice reform. RAC-California also helped ensure that the assembly passed a groundbreaking climate change bill requiring all energy in the state to be carbon-free by 2045.
Since we last met, a new album of social justice anthems called Together as One was launched thanks to the vision and support of Liz Dunst, chair of the Commission on Social Action.
Since we last met, the 2018 non-partisan Civic Engagement Campaign involved Reform Jews from nearly 1,000 communities in 43 states. We engaged more than 158,000 Americans, registered more than 4,000 people to vote, and organized 17 candidate forums. Reform Jewish youth joined the campaign, too, with more than 8,000 college students participating; NFTY events and URJ camps also included civic engagement in their programming.
Since we last met, RAC-Illinois was launched and helped pass the VOICES Act, ensuring that survivors of domestic violence, sexual assault, and sex trafficking can safely report the offense without fear of deportation.
Since we last met, after strong advocacy from Reform Movement activists, Congress passed, and the president signed the bipartisan First Step Act to begin addressing flaws in the criminal justice system by reducing some mandatory minimum sentences and creating grant programs for drug treatment, vocational training, and mentoring.
Since we last met, more than 1,000 speeches on gun violence prevention were delivered to members of congress by participants in the RAC's Bernard and Audre Rapoport L'Taken Teen Social Justice seminars. One week after a teen from Temple Beth Israel in Portland, OR, delivered a speech to Congressman Kurt Schrader, the congressman announced that he would co-sponsor a bill to reduce gun violence. That bill passed the House of Representatives in February, becoming the most significant legislative step toward gun violence prevention in more than two decades.
Since we last met, nearly 90 leaders from 21 congregations visited Albany for the first RAC-New York gathering and lobby day focused on driver's licenses for all. When this bill is passed, it will make sure nearly 800,000 undocumented New Yorkers who don't have access to a driver's license will be able to get one, making roads safer for everyone.
Since we last met, Rabbi Jonah Pesner, members of the URJ Board, and other Jewish activists acted in solidarity with DREAMers by staging a sit-in at the US Capitol in January 2018. They were arrested by the police and drew national attention to the need to secure the status of young people who are at risk of deportation despite knowing no other country as home. Many of our congregations have also worked to provide direct support to immigrants, refugees and asylum seekers.
Since we last met, we have helped defeat efforts to repeal the Affordable Care Act and mobilized to protect access to health care for millions of Americans.
Since we last met, Reform congregations in Washington state helped pass Initiative 1639, raising the minimum age to purchase a semi-automatic weapon, enhancing existing background checks, and establishing waiting periods before buying assault weapons.
Since we last met, Reform Jewish leaders from across Texas gathered in Houston to envision what they might do together to advance social justice. Some of vision was realized in March when more than 50 Reform Jews came to Austin for RAC-Texas's first-ever advocacy day, focused on school finance reform. One week later, the Texas House passed a comprehensive school funding bill.
Since we last met, more than 500 Reform Jewish student leaders in 25 states participated in gun violence prevention advocacy training and learned how to speak truth to power. We also launched our Gun Violence Prevention Fellowship Cohort, in which student leaders learn community organizing skills to reduce gun violence in their own communities.
Since we last met, Reform Jews in Massachusetts mobilized in support of a ballot initiative to uphold protections for transgender people across the Commonwealth.
And since we last met, the RAC's work has been strengthened by the financial support of our congregations, congregants, cherished foundations, and committed donors. If you have financially supported the RAC, thank you.
So what's next?
This week, tune into the 2019 Consultation on Conscience as we livestream the event at rac.org/livestream, and keep an eye on this space for continued updates, information, resources, announcements and more. Together, we are changing the world. What will be able to do between now and the next time we meet?
Yolanda Savage-Narva and Heidi Segal are members of the Commission on Social Action of Reform Judaism.
Related Posts
Image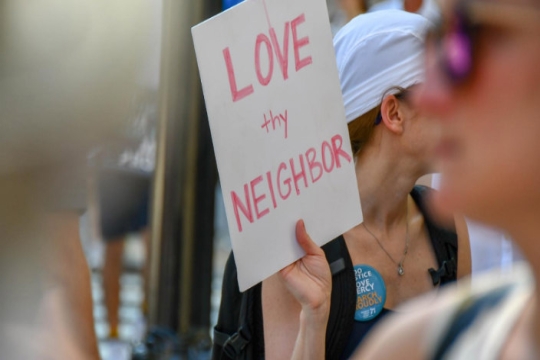 Together, these pieces of legislation would offer a path to citizenship for approximately 2.5 million people.
Image
This year's event is the biggest in our history, but there are so many more would-be attendees who can't be with us in person. We've made it easier than ever for you to tune in from afar and to join us from home.
Image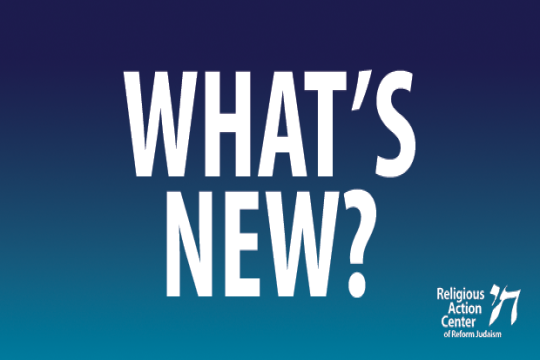 The world is changing, so the Consultation on Conscience is, too. This year's Consultation on Conscience – the Reform Movement's flagship social justice conference – will be the largest in history, welcoming more than 1,000 Reform Jewish social justice leaders from congregations and communities...