Image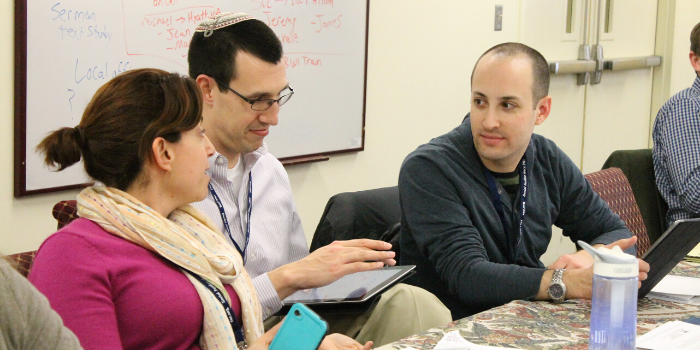 A multi part training series that will enable clergy to acknowledge their positional power and use their moral voices to address oppression inside and outside of our Jewish communities.
For those of us who are white Jews, the deep, sacred work of looking within ourselves and our communities to better understand how we can be both oppressed and simultaneously oppress others is essential. Together, we will explore the ways we are affected by antisemitism and consider how we simultaneously benefit from the same systems of oppression we are trying to dismantle. This series will help us to deepen our commitment to and capacity for leveraging our position as white antiracists and support the work of creating multiracial, multicultural communities where Jews of all backgrounds can experience belonging. After the foundational training around whiteness, the series will continue on with learning about organizing principles through a REDI lens, which will further enable us to bring back our learnings to our communities and create change.
This space is for white clergy and will serve as a white antiracist affinity space. A white antiracist affinity space is one where white people can process their emotions and deepen their understanding around race and racism, without burdening or causing additional harm to People of Color (POC).
As a note to our esteemed Clergy of Color, the URJ hosts regular JOC/POC affinity spaces. These spaces serve as safe and brave communities for JOCISM Jews to come together and be restored, enriched, and affirmed. Please see resources and upcoming opportunities.
This series is designed to help clergy:
Better understand our own identities as white Jews
Learn how to recognize the invisibility of "whiteness" (including patriarchal, heteronormative, Puritan/Christian values) that have become normalized
Understand how to disrupt our daily acts of "whiteness" (behaviors and actions we may perpetuate unknowingly as they have been adapted overtime and deemed "the standard" but may or may not be useful to our efforts towards creating communities of belonging)
Work toward creating communities of belonging, learning actionable steps we can continue and/or begin taking within our own communities and spheres of influence
Learn about core organizing principles to advocate for change both inside our Jewish communities and in the world at large
Dates and Times of the Series:
Session 1: Tuesday, 12/20, 12-1:30 PM ET
Session 2: Tuesday, 1/3, 12-1:30 PM ET

Optional Processing Session: Thursday 1/12, 12-1 PM ET*
Optional Processing Session: Friday 1/13, 12-1 PM ET*

Session 3: Tuesday, 1/24, 12-1:30 PM ET
Session 4: Tuesday, 1/31, 12-1:30 PM ET

Optional Processing Session: Thursday 2/9, 12-1 PM ET*

Session 5: Tuesday, 2/14, 12-1:30 PM ET
Session 6: Thursday, 3/2, 12-1:30 PM ET
*We ask that you attend all six required sessions, as each session builds upon the prior sessions. Sessions will not be recorded. Participants will also have the opportunity to enhance their experience by attending optional processing sessions. These additional optional one-hour sessions will be woven throughout the series to allow additional time to process and reflect on learnings, work through challenges within your own communities, etc. Processing sessions will include an experienced coach to help guide discussions and provide prompts. We strongly encourage you to attend as many optional processing sessions as you can, as these sessions will enhance your experience and learning.
Have a question?
This program is made possible by generous grants from Al and Gail Engelberg for the Rabbi Balfour Brickner Clergy Fund, the Righteous Persons Foundation and Charles and Lynn Schusterman Family Philanthropies.
The Union for Reform Judaism supports the Central Conference of American Rabbis' and American Conference of Cantors' standards in determining usage of the titles rabbi and/or cantor in the context of our Movement-wide conferences, programs, publications, and social media platforms. Please see this webpage to determine your eligibility.