Image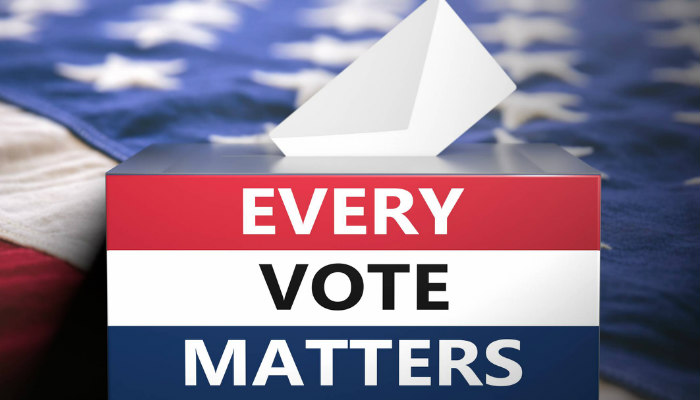 One of our most important rights as Americans is the right to vote, and election officials have a duty to ensure that every eligible vote is counted. When election officials take the time to count and verify every ballot, that's a sign that our democracy is working. We have to count every ballot that is cast – from members of the military who send in their vote from overseas, to people voting absentee because of coronavirus, to people waiting in long lines on Election Day.
Please check back regularly, as we will be updating with new information as the situation and opportunities change.
1. Help spread the message that every vote must count.
Start now preparing the public to understand that it will take time to count every vote. Every eligible voter should have their voices heard and their voice counted; we should not be giving votes counted on Election Day more weight than those counted later.
Share our video on Facebook, Twitter, and/or Instagram to share this message and encourage others to be patient and have faith. 
2. Urge your state leaders to count every vote.
State election officials have a duty to ensure that every eligible vote is counted before certifying their state's election results. Use our easy action alert tool to urge your governor and attorney general to ensure every vote is counted 
3. Join a webinar to train for election and post-election opportunities.
You're invited to join us for these opportunities:
2020 United States Election Protection: Active Bystander Intervention and Nonviolent Communications Application
Sponsored by DC Peace Team Sunday
Oct. 18, 12pm-3pm EDT
This session will discuss the challenges that voters, election workers, demonstrators and others will face during the voting, vote counting, and results declaration periods, and how ABI and NVC tools may be used to protect the election process. Participants will practice these skills in multiple election-based scenarios, and discuss next steps. 
  
Nonviolent Civil Action for People of Faith
Co-hosted by Fight Back Table, Bend The Arc, and Faith in Public Life 
Thursday, October 22, 7-8pm ET
Please join us for a conversation with the Rev. Traci Blackmon, Graie Hagans, BlackOUT Collective, and the ACLU about the role of the faith community during election week to help safeguard our democracy. We will go over what it takes to engage in direct action safely, including de-escalation, digital security, your rights as a protester, and more.
  
Reform Movement Post-Election Online Convening
Wednesday, Nov. 11, 8pm ET
Join us as we lift up stories and celebrate our collective accomplishments, hear from our partners about the impact of this election on the most urgent issues of the moment, and commit to being a part of the ongoing effort to mobilize our Reform Movement to pursue justice and effect change at the local, state, and federal levels in 2021.
4. Be an election protection volunteer.
Take action from home or in person to stop voter suppression by serving as a nonpartisan Election Protection volunteer. This year could see unprecedented efforts to discourage voting. Monitoring polling places to make sure every eligible voter can cast their ballot is an essential way to ensure all voters and votes are counted. Sign up to volunteer.
In making your decision, remember that pikuach nefeshpikuach nefeshפִּקּוּחַ נֶפֶשׁThe concept that saving a life overrides all other biblical commandments.  is Judaism's highest mitzvah. Especially in the midst of a pandemic, we encourage you to care for your health and safety by heeding the advice of experts and following CDC guidelines when making decisions about in-person activity.
5. Lawyers: Check out this important volunteer opportunity.
Individuals with a legal background can serve as a captain for the Election Protection's English language national voter hotline or other legal work. Send us an email to receive more information.
For additional information about the Reform Jewish Movement's civic engagement work and what you can do this year, see "It's Election Season: 7 Key Actions to Take Between Now and Nov. 3rd.
Support the RAC: Give generously to sustain the work of the civic engagement campaign and voter protection efforts.