Image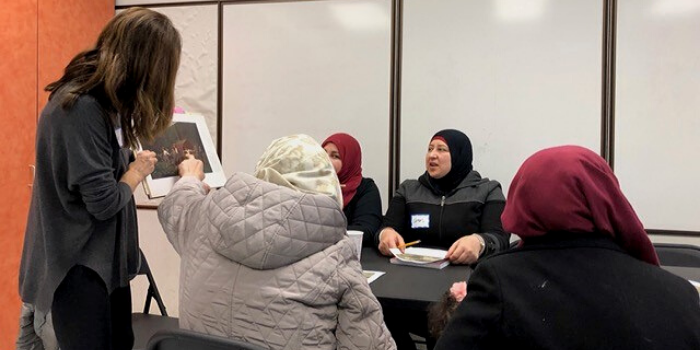 Temple Emanu-El is a 2019 Fain Award recipeint for its project, the Westfield Fun Club. 
Like most synagogues, Temple Emanu-El in Westfield, NJ is bustling on Saturday mornings. There are often three Bar or Bat Mitzvah services, and by 10:15am, the lot is filling up as guests park and head down the brick path to the main sanctuary door.
I'm standing at the entrance to the Early Education Center, pointing the way for worshippers, when I hear a squeal. Before I can turn, I am enveloped in a waist-high bear hug. I bend down to return the hug and welcome our special Saturday morning guests. They wear ankle length skirts, hijabs instead of yarmulkes, and greet us with As-Salaam-Alaikum instead of Shabbat Shalom.
They are our refugee families - men, women and children who live in neighboring towns, originally from countries such as Iraq, Afghanistan, Syria, and the Ivory Coast. It's a strange sight to see them at our temple on Saturday morning, and indeed, there are a few uncertain glances from our out of town worshippers. I only smile as together we go inside and climb the stairs to the second-floor classrooms for, what we affectionately call, The Westfield Fun Club.
Almost four years ago, at the height of the Syrian refugee crisis, my friend, Alissa Berger, led a congregation-wide effort to help local refugees, in collaboration with a community interfaith group. She invited me to be a part of this committee, and our temple "adopted" a family. Very quickly, however, Alissa and I recognized that there were many other families in our community that needed guidance and help, and we knew we had to do more.
The primary goal of the Westfield Fun Club is to help families help themselves create a lasting foundation for success. Now, in our third full year, we provide ESL lessons, advice on navigating the health care, welfare and school systems, job training, resume building, citizenship test prep, driving lessons, and more. For the kids, we offer homework tutoring, karate, yoga, art, games, music, theater, SAT prep, college and financial aid assistance, and more.
Every Saturday, as worshippers gather downstairs in the sanctuary, as many as 75 men, women and children are upstairs in the Club. Groups of adults work in the ESL room, sounding out new words, paging through an Arabic-English dictionary, practicing commonly used phrases. They ask questions to an immigration lawyer, review sample citizenship questions, and head outside to hone their driving skills.
And the children - young boys and girls who have survived war - they are not thinking about running down to the basement to escape falling bombs, or about their exodus to safety; they are singing and dancing and playing, creating art, planning their next move in Connect 4, or working through a geometry question.
We are Jews, Muslims, and Christians. Dozens of volunteers from our own congregation, as well as local churches and mosques, girl and boy scout troops, middle and high school students, and whole families show up weekly to staff our five main classrooms. We have seen our families make incredible strides. Many of our men are now working, their English is improving, the women are more independent - working and driving - and our children are thriving.
Each week, we listen to their stories, their struggles and their triumphs, and we revel in their dreams. We urge them to use their emerging English skills and push the children to work hard in school. We continue to add new programs, always looking to find innovative ways to connect with our families and expand both our educational platforms, as well as our social programs to further support their transition to life in America. We created R.I.T.A (Refuge in the Arts) to introduce our children to all aspects of the arts, and we are now working in partnership with the International Rescue Committee (IRC) of Elizabeth, providing each new child with a welcome bag filled with coloring books, stuffed animals, crayons, journals, play-doh, and small games to help reduce children's stress during their first few days in a new country. And, perhaps most importantly, we provided a model for a second location in Jersey City, one we aspire to replicate in more parts of the country. It all started with the simple need to welcome the stranger into our land. Each week, we work and play and laugh together, and then after two hours, we head back out to the parking lot and wave goodbye just as the Bar and Bat Mitzvah services end and worshippers stream out of the sanctuary doors.
We are strangers no longer; we are family.
Jenny Tananbaum is a member of Temple Emanu-El in Westfield, NJ.
Related Posts
Image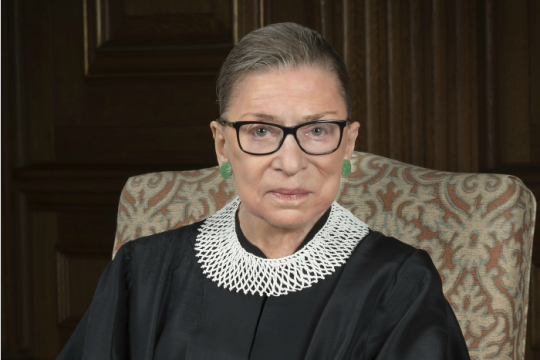 As the first Jewish woman to serve on the U.S. Supreme Court, Justice Ginsburg was seen as an icon not only to the progressive world but to the American Jewish community, in particular.
Image
There is no sugar-coating it, the United States is in the midst of the worst
Image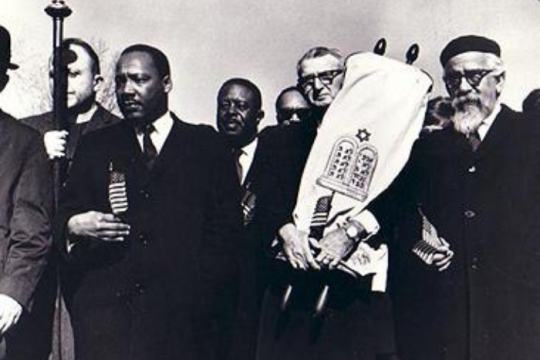 Rabbi Everett Gendler is known for his involvement in progressive causes, including the civil rights