Image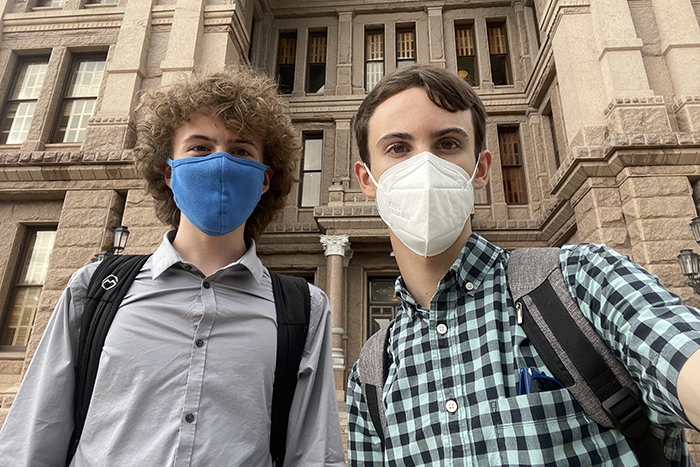 My name is Cameron Samuels, and I am a high school student from Houston, Texas where I serve on the RAC-TX Core Team as the NFTY-TOR Social Action Vice President. As a young person who will soon be 18-years-old later this year, the freedom to vote is dear to me.
On Monday, Democratic state legislators in Texas walked out of the capitol building and flew to Washington, DC aboard private jets. This move broke the quorum of the Texas House, currently preventing the legislature from effectively operating, and consequently, from passing Senate Bill 1 and House Bill 3 which would restrict the freedom to vote.
This move by the legislators came at a cost for themselves as they will likely be arrested upon returning to Texas within the session. While they spend the next several weeks in Washington, they are advocating in support of congressional legislation - the John Lewis Voting Rights Advancement Act and the For The People Act.
In their absence, I took a charter bus to the Texas Capitol in Austin on Tuesday with fellow NFTY regional board member and RAC organizer Ronen Wenderfer where we teamed up with partner organizations to hold a rallied press conference, meet with legislators, and drop off postcards at their offices.
"I appreciated the opportunity to tell representatives and their staffers our individual stories and discuss with them how the bills would impact us personally," Wenderfer said.
Hundreds of people were at the capitol building for this advocacy day, each with a different personal story related to voting rights, each with a different background as to why this cause is important to them, and each with different values they hold in their advocacy.
Ronen and I were able to write postcards to legislators on the bus ride to Austin, allowing us to drop off more than 90 postcards to several offices of the representatives. We spoke with many of these staffers, including the chief of staff of Rep. Travis Clardy during a formally scheduled meeting.
In the hallway, we ran into my state representative, Rep. Gary Gates. Ronen and I, along with another one of his constituents, spoke with the representative for more than 10 minutes in the capitol rotunda. Several RAC-TX talking points were discussed in the conversation including drive-thru voting, extended hours of voting, and voter ID when casting a ballot by mail.
In the end, we watched a partially-present Senate from the gallery as they passed Senate Bill 1 to the House - a symbolic move because the House is indefinitely at ease. When we walked back onto the bus that afternoon to return to Houston, we could only think of one word to best describe the experience: empowering.
"While they might not always agree with our position," Wenderfer said, "it is important for our legislators to hear what we have to say, so that they can consider our opinions when voting in the legislature."
It is unclear what happens next, but it is certain that congressional legislation on the federal level will uphold Jewish values and defend democracy by protecting certain election procedures and ending partisan gerrymandering.
RAC-TX is meeting virtually with Sen. John Cornyn's office on Wednesday, August 4 at 10am CT to lobby for the two bills, and you can register to attend.
Although the Texas Legislature cannot fully operate, there is still a job to be done in Austin. RAC-TX is meeting virtually with Texas Rep. Ann Johnson - who is currently in DC - on Wednesday, July 21st at 2pm CT. She will be updating us about what we can do to support the cause of voting rights, and we will continue to push her on efforts to support voting rights and the Jewish community. You can register for this Zoom meeting by emailing RAC-TX Harris County Coordinator Sydney Greenblatt at sgem@powerstart.com.
It is our responsibility as Jewish people to make sure each and every person is counted in the democratic process regardless of their religious affiliation, political agenda, or their background. When leaders intend to suppress our vote, they intend to suppress our voice.
Related Posts
Image
We stand with the people of Israel during these difficult and challenging days and pray for the safety and immediate release of all of the hostages. See our resources and actions you can take.
Image
Before sharing some tools for facing and combating antisemitism, it's important to have a clear understanding of exactly what antisemitism is. 
Image
When we think about climate change, I believe we often get lost in the global context and forget about its local impacts. Climate change is a complex, unfamiliar, slow-moving, and intergenerational problem that covers a broad range of policies, topics, and headlines.