Image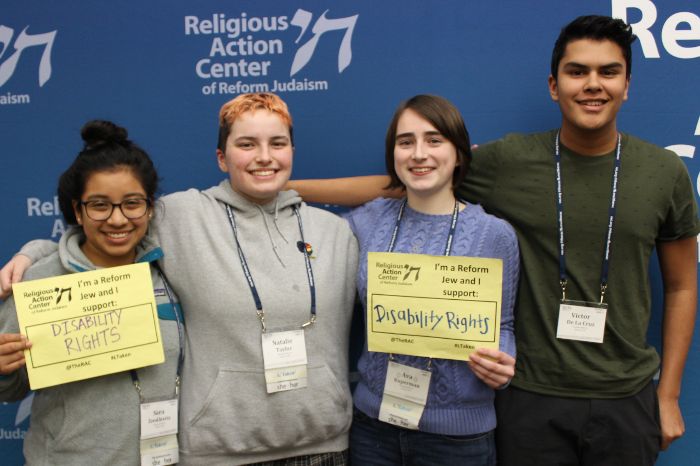 "Good intentions alone not accompanied by action are without value, as it is the action which makes the intentions so profound." — Chasidic Master Yehudi HaKadosh
What is Jewish Disability Awareness, Acceptance, and Inclusion Month? 
Established in 2009, the mission of Jewish Disability Awareness, Acceptance and Inclusion Month is to unite Jewish communities worldwide to raise awareness and champion the rights of all Jews to be accepted and included in all aspects of Jewish life like anyone else. Learn more about JDAIM. 
Why participate in JDAIM?
Creator Shelly Christensen explains that participation in Jewish Disability Awareness, Acceptance, and Inclusion Month helps congregations to accomplish the following:
Raise awareness and affirm that inclusion and belonging are essential to wellbeing and quality of life of people with disabilities, mental health conditions, and caregivers, just like anyone else;
Underscore the importance of choosing one's own Jewish journey;
Support people with disabilities and mental health conditions in all aspects of communal life, as they choose;
Be part of a growing worldwide initiative to support participation and involvement in communal life;
Advocate for the civil rights of people with disabilities and mental health conditions; and 
Understand and overcome stigma, prejudice, biases, stereotypes, and myths about disability and mental health conditions.
Visit Christensen's website InclusionInnovations.com/JDAIM to learn more. 
What congregations can do
During Jewish Disability Awareness, Acceptance, and Inclusion Month (and beyond!), congregations can:
Use the Jewish Disability Awareness, Acceptance, and Inclusion Month logo on your website and on all printed materials during February. Visit founder Shelley Christensen's website, InclusionInnovations.com/JDAIM, for the logo.
 
If you do not already have one, use this time to create a congregational accommodation statement to include in all of your written and electronic communications, on the front page of your website, invitations to events, and notices about programs you offer. These statements invite individuals to tell you about their needs in order to participate. Learn more about providing accommodations and find sample language for your accommodation statement.
 
Promote official JDAIM programming to your congregational community, including speaker panels, conversations with authors, and more.
 
Dedicate a Shabbat worship service to inclusion and the contributions of individuals with disabilities.
 
Share information that will help congregants learn allyship and how to advocate for the rights of people with disabilities and mental health conditions. To get started, see "5 Ways to Be an Ally to People with Disabilities."
   
Host or participate in a community-wide disability awareness event, such as the showing of Mary and Max, Praying with Lior, or Autism the Musical.
 
Give a presentation at your congregation's February board meeting sharing stories about students with intellectual disabilities and how inclusion benefits all students.
 
Host an art exhibit or musical performance by an artist who has a disability.
 
Do an environmental scan of your building, looking at accessibility of the sanctuary, bimah, education areas, parking, restrooms, and beyond.
 
Prioritize accessible tech, including screen readers, audio descriptions, Zoom captioning, and more. Learn more about making your congregational technology accessible to people with disabilities.
 
Have religious school students create mezuzot to be placed at the appropriate height for people who use wheelchairs, and mark the occasion with a special ceremony.
 
Invite a person with a disability to give a d'var Torah on a disability-related topic.
 
Focus Torah study on text about Jewish values for inclusion.
 
Collaborate with other organizations in the community to host a conference presenting a variety of workshops to educate Jewish professionals and community members about aspects of living with disability.
 
Create a pamphlet or online resource about inclusion etiquette with ideas about how to relate to someone with a disability.
 
Because children and teens with disabilities are often targets for bullying, turn Jewish Disability Awareness, Acceptance, and Inclusion Month into an opportunity to address the issue of bullying with youth group members.
 
Set the expectation that inclusion is part of the congregational culture and formalize it by starting an inclusion or access committee in February. Create the mission statement in March, do an assessment of all areas of the congregation throughout the spring and early summer, and envision your inclusive congregation and write a strategic plan to start the new year.
 
Above all, share your stories of success, the fruits of your work that show the power and hope of belonging.