Image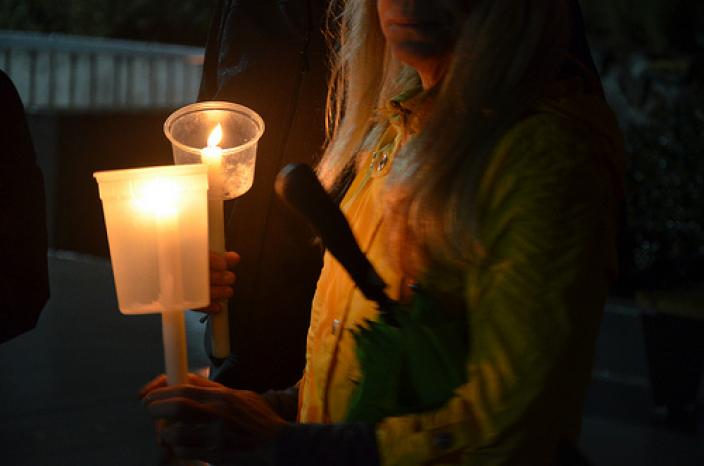 On June 17, 2015, one year ago today, nine people were killed at the historic Emanuel African Methodist Episcopal Church in Charleston, South Carolina when a 21-year-old man opened fire in a weekly Bible study. On the anniversary of this tragedy, we are reminded of the persistence of hate, discrimination and gun violence, and how much work remains to be done to create a world in which everyone is treated with respect and compassion. Read NFTY teen leader Micah Feinstein's reflection that was published last year.
It is oftentimes hard to process such hate and violence in our world. Below are some resources to assist in educating and facilitating conversations about hate and gun violence.
Jewish tradition teaches us that, "he who takes one life it is as though he has destroyed the universe and he who saves one life it is as though he has saved the universe" (Mishnah Sanhedrin 4:5). While we continue to stand in support and solidarity with the victims of the shooting and their families, and with the broader community as it continues its healing, it is important that we look forward towards making meaningful policy change to prevent future violence.
After the Charleston shooting, it became apparent that the gunman was able to purchase his gun without his background check having been completed due to a loophole in our background checks laws. This loophole, now known as the Charleston loophole, allows a licensed firearms dealer to sell a gun if a background check takes more than 72 hours to complete. While 95% of instant criminal background checks are completed within two hours, it is critical that the FBI has additional time to complete background checks when needed. According to the FBI, "a purchaser whose NICS check takes more than 24 hours to complete is almost 20 times more likely to be a prohibited person than the average gun buyer." When firearm dealers are allowed to bypass background checks, they are too often selling to people who otherwise would be a prohibited purchaser.
The Background Check Completion Act (S. 2213), introduced in October 2015 by Senator Richard Blumenthal (D-CT), would prohibit a licensed gun dealer from selling a firearm to an unlicensed person before their background check is completed. In other words, if a background check is not complete, then a licensed firearms dealer cannot make a sale. In light of the anniversary of the Charleston shooting, take action and urge your Senators to support the Background Check Completion Act (S. 2213).
To learn more about these topics, visit the RAC's webpages on hate crimes, civil rights and gun violence prevention. 
Related Posts
Image
We stand with the people of Israel during these difficult and challenging days and pray for the safety and immediate release of all of the hostages. See our resources and actions you can take.
Image
Before sharing some tools for facing and combating antisemitism, it's important to have a clear understanding of exactly what antisemitism is. 
Image
When we think about climate change, I believe we often get lost in the global context and forget about its local impacts. Climate change is a complex, unfamiliar, slow-moving, and intergenerational problem that covers a broad range of policies, topics, and headlines.