Image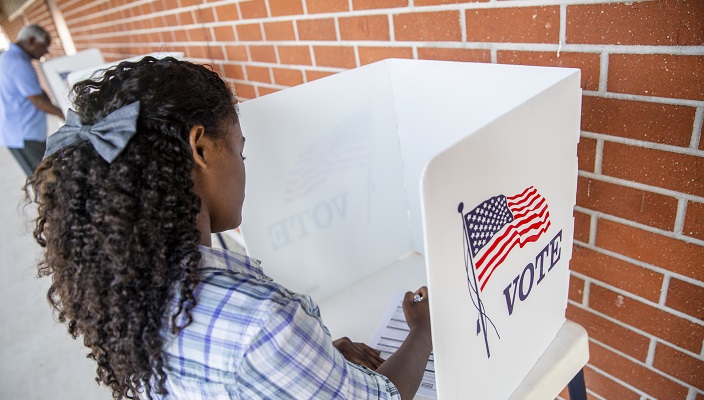 Every Voice, Every Vote is training young people to become community organizers, register voters, protect access to the ballot for underrepresented communities, and have a voice in the civic process.
The Reform Movement is proud of our ability to develop new leaders and activists. We aspire to raise voter turnout for first-time and young voters this November and beyond.
In addition to the resources found on our Mobilize Our Voters page, the following resources are specifically geared toward student leaders and others who are working to engage student voters. Download the Reform Jewish Student's Guide to Civic Engagement.
1. Attend our student training events.
Join the "Every Voice, Every Vote: Student Civic Engagement Campaign Training" Zoom webinars to launch our voter registration and get-out-the-vote work for the election. These trainings, designed for voters and youth activists (ages 14-29), will frame the larger civic engagement campaign and then split into one session for high school students and one for young voters in college, graduate school, and beyond. 
On these calls, high school students will get training from our partners at The Civics Center, an organization dedicated to building the foundations of youth civic engagement and voter participation through education, organizing, and advocacy. Teens will learn how to organize voter registration drives both in person and virtually, for their schools, communities, and synagogues.
College students and beyond will learn how to organize voter registration drives on campus and virtually, how to build and work in coalition with other student groups doing get-out-the-vote work, and how to make voting feel relevant to anyone on the fence about it.
2. Commit to taking action.
Are you a student leader who is planning to work toward engaging student voters in your community? Fill out our intent form to tell us who you are, what you're doing, and how we can support your efforts. You'll get access to our network of young leaders and be the first to hear about new resources and training opportunities. 
3. Get to work!
This Civic Engagement Work Plan rubric is designed to help you identify the goals, challenges, and action steps of your student voter engagement work.
Build your team with this tool created by RAC Teen Justice Fellow Cameron to map your networks, figure out how many people you can engage, and decide the best people to partner with to do outreach.
Start using the app: Use the Empower App, a tool that allows you to organize the people you know to register and vote, to strengthen existing relationships and find common ground to build power and affect change.  
4. Explore Jewish values around civic engagement work.
This Civic Engagement Text Study can help you examine our relationship to civic engagement and how we want to take action to create a more just society.
5. Access other vital resources.
Download the Reform Jewish Students' Guide to Civic Engagement
Explore The Civics Center website for resouces on running an in-person or digital voter registration drive at your high school, all of which are easily adaptable to your youth group, synagogue, NFTY Region, club...the "Resources" tab has a ton of tools, examples, voter registration forms, etc.
We are a part of the Students Learn Students Vote Coalition, dedicated to integrating engagement with democracy into campus culture, including making voting and voter registration more accessible on college campuses. The Coalition is working on devloping and adapting resources for a socially distances, digital world. Campus Takeover for National Voter Registration Day provides resources to register voters and a network of college campuses taking over campus for voter registration. Our work at the moment with SLSV Coalition is focused on getting out the vote amongst college students between now and the November election. Build the foundation now for long-term civic engagement on your campus through the SLSV Checklist and sample campus plans.
Visit the Mobilize Our Voters page for general resources, Jewish text studies and discussion questions, and other tools to guide you in this work.