RAC-feature- EVEVLead
Image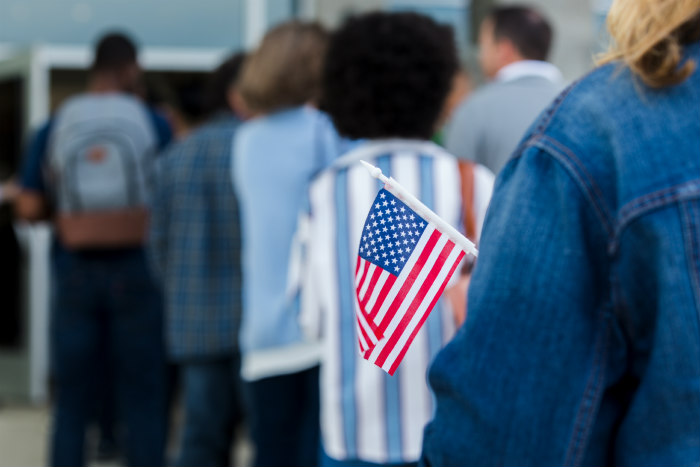 Every Voice, Every Vote is the Reform Jewish Movement's 2020 civic engagement campaign, a nonpartisan effort to strengthen our democracy by encouraging everyone to participate in U.S. elections. As Reform Jews, we believe democracy is strongest when everyone participates – and it suffers when citizens are shut out from the democratic process. 
Voting is how we determine our future. It is how we fulfill the Talmudic teaching that a ruler is not to be appointed unless the community is first consulted. It is our prayer. It is our voice.
In the state of Georgia, a candidate for the U.S. Senate must receive more than 50 percent of the vote to win – but on November 3rd, no candidate for either of the two open Senate seats reached that threshold. As a result, Georgia is having a run-off election on January 5, 2021, for both of its U.S. Senate seats. Our work on this election is an extension of the Reform Movement's broader 2020 civic engagement campaign.
1. Stay updated.
Subscribe to updates about opportunities to participate in our Georgia-focused civic engagement work, including phone-banking and sending postcards to low-propensity voters of Color.
2. Join the RAC Georgia Voter Project.
Have a voice in the Georgia runoff election even if you can't vote. High schoolers and college-aged folks: Join the nonpartisan RAC Georgia Voter Project to learn new leadership skills, do grassroots community organizing, and get out the vote in this important election cycle.
3. Polling Place Vote Tripling for Georgia Residents.
During early voting, or on election day, participate in Polling Place Vote Tripling. This simple activity is enjoyable and highly-effective.  Read about it in the NYTimes. Work is done outdoors with masks. Training takes less than an hour. Get started, and sign up for a shift. 
In making your decision about participation, remember that pikuach nefesh, saving human life, is Judaism's highest mitzvah. Especially in the midst of a pandemic, we encourage you to care for your health and safety first by heeding the advice of experts and following CDC guidelines when making decisions about in-person activity. 
4. Contact Georgia voters.
Join phone banking with our partner organization Reclaim Our Vote, to contact low propensity voters of Color in Georgia. These events provide training a community for calling.
Teens: Join our youth phonebank to contact voters of Color in Georgia with our partners at Reclaim Our Vote! Register for January 3, 2021 at 2 pm ET. This event is for high school and college-aged folks.

You can also make phone calls on your own following these steps.
If you have friends and family in Georgia, join our community in the Empower App for guidance on how to reach out, the best information to share on how to vote, and reminders to check in until their ballots are cast!
5. Send postcards to Georgia voters
We have partnered with Reclaim Our Vote and the New Georgia Project to send postcards to voters in Georgia. Use the Reclaim Our Vote Postcard Guide to participate.
UPDATE: There are no more postcards available to order. 
6. Letter writing opportunity: Join in outreach to teens and young adults.
You are invited to write nonpartisan letters to Jewish teens and young adults to help get out the vote for the Georgia Senate runoff election. Register to receive our nonpartisan guide and materials to share about the importance of voting, Jewish values, and specific information to vote early or in person. You'll receive a letter-writing kit that provides a guide, script, envelopes, stamps, and paper.
UPDATE: There are no more names available to order. 
7. Support letter writing to teens.
When teens and adults request letter-writing materials, they are invited to make a donation to help cover the costs of this work. For some, this suggested donation is a barrier for participation, which is why it is optional.
If you have the capacity to contribute, please give what you can to support the work of this project and the Reform Movement's Civic Engagement Campaign.
8. Explore the Jewish value of voting.
Our nonpartisan civic engagement campaign ensures that Reform Jewish values are present in the public square during this urgent time in our nation's history. Use this text study to explore how the process for selecting leaders for the community has changed over time.
And finally: Tell us about your work! We want to celebrate your community's efforts and make sure they're counted as part of the campaign, so let us know about your civic engagement work.