March: Books One, Two and Three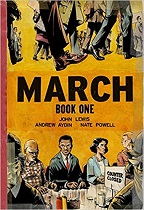 This graphic novel trilogy brings to life the story of John Lewis, a boy from Pike County, Alabama, who dedicated his life to racial justice and is an enduring national leader. It provides a unique look into Rep. Lewis' faith, passion and humility, while also getting to know the other giants of the Civil Rights Movement, its behind-the-scenes orchestration and the strength of the students and young people who fueled its progress.
Between the World and Me
Between the World and Me is a challenging yet eye-opening examination of race, racism and the American dream presented in the form of a letter from Ta-Nehisi Coates to his teenage son.
Just Mercy
In Just Mercy, Bryan Stevenson draws on his years of experience as a lawyer and advocate for prisoners wrongly sentenced to death to craft a poweful narrative about the deep racial and socioeconomic disparities in the criminal justice system.
Waking Up White
Waking Up White is the compelling story of author Debby Irving's life-long journey to understand her white privilege and position herself as an ally in the struggle for racial justice.
Mountains Beyond Mountains
Mountains Beyond Mountains: The Quest of Dr. Paul Farmer, a Man Who Would Cure the World, by Tracy Kidder, follows Dr. Paul Farmer as he works to heal disease and fight poverty in underserved communities worldwide.
Mrs. Katz and Tush
Mrs. Katz and Tush is an illustrated children's book that tells the story of a friendship between a young African American boy, Larnel, and an elderly Jewish woman, Mrs. Katz. The story is rich with opportunities for discussion about important ideas and values such as intergenerational respect and admiration, intercultural exchange, interracial relationships, and new definitions of family. 
The Sacred Table
Edited by Mary L. Zamore, The Sacred Table is an anthology of diverse essays on Jewish dietary practices that creates a rich dialogue about the intersection of Judaism and food.
Septembers of Shiraz
Dalia Sofer tells the story of a modern day Iranian family dealing with the repercussions of the father's wrongful imprisonment and the challenges of being Jewish in a country with ever-growing Muslim fanaticism.