Below you can find three books including discussion guides to help begin the conversation within your community about pursuing racial justice. In addition to these books accompanied by discussion guides, we recommend that you also read the following books that address issues relating to racial justice through various angles:
The New Jim Crow: Mass Incarceration in the Age of Colorblindness by Michelle Alexander
Becoming Ms. Burton: From Prison to Recovery to Leading the Fight for Incarcerated Women by Susan Burton and Cari Lynn
Evicted: Poverty and Profit in the American City by Matthew Desmond
Nobody: Casualties of America's War on the Vulnerable, from Ferguson to Flint and Beyond by Marc Lamont Hill
The Other Wes Moore: One Name, Two Fates by Wes Moore
March: Books One, Two and Three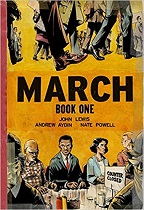 This graphic novel trilogy brings to life the story of John Lewis, a boy from Pike County, Alabama, who dedicated his life to racial justice and is an enduring national leader. It provides a unique look into Rep. Lewis' faith, passion and humility, while also getting to know the other giants of the Civil Rights Movement, its behind-the-scenes orchestration and the strength of the students and young people who fueled its progress.
Between the World and Me
Between the World and Me is a challenging yet eye-opening examination of race, racism and the American dream presented in the form of a letter from Ta-Nehisi Coates to his teenage son.
Just Mercy
In Just Mercy, Bryan Stevenson draws on his years of experience as a lawyer and advocate for prisoners wrongly sentenced to death to craft a poweful narrative about the deep racial and socioeconomic disparities in the criminal justice system.