For Immediate Release                                                                                                                        
November 22, 2017                                                                                                        
"Together As One" features Grammy-award-winning and critically acclaimed singers, musicians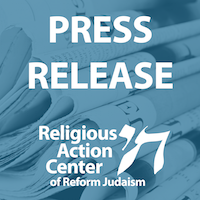 WASHINGTON – "Together as One" – a brand new album of social justice music, featuring original songs for a new generation that reflect the urgency of the current moment – will be released next month.  The album will be officially released on December 5, 2017, the evening before the start of the Union for Reform Judaism 2017 Biennial in Boston, Massachusetts. Proceeds from the sale of this album will benefit the Religious Action Center of Reform Judaism.
"Together As One", recorded in Nashville, features numerous award-winning and critically acclaimed artists, including Academy of Country Music Player of the Year and Music Row Award honoree Charles Judge; Grammy-award-winning drummer Nick Buda, who has recorded with Taylor Swift, Dolly Parton, Lionel Richie and Kenny Loggins, among others; Grammy-nominated violinist Tammy Rogers King, who has performed with the Nashville Symphony Orchestra and toured and recorded with notable artists such as Reba McEntire and Neil Diamond; guitarist Jeff King, who has performed at the Grand Ol' Opry Live and is featured on albums with Faith Hill, Art Garfunkel, Johnny Cash, and Dave Matthews; and many others.
Singer-songwriters on the album include Julie Silver, who has sold more than 10,000 copies of her CDs of original Jewish music and is one of the most prolific and celebrated contemporary Jewish songwriters; Rabbi Joe Black, Senior Rabbi of Temple Emanuel in Denver, Colorado and nationally recognized musician with five albums of original Jewish music; Billy Jonas, award-winning songwriter, Jewish educator and advocate who leads The Billy Jonas Band and tours with the multi-faith group Abraham Jam; Stacy Beyer, former staff writer for EMI Publishing and long-time touring artist; and Peri Smilow, whose recording "The Freedom Music Project" was nominated for Best Gospel Album of the Year by the Just Plain Folks Music Awards and has been featured on NBC, ABC, NPR Weekend All Things Considered, and Voice of America; and others. More information about all the artists featured on the album can be found at: togetherasonemusic.com.
"At a time when it feels as if the very fabric of our society is being torn apart, it has been so affirming to work with this extraordinary community of artists to bring to life this meaningful collection of songs," said Peri Smilow, Executive Producer and singer-songwriter on the album. "I am reminded that, while all it takes is one voice to move others to action, it is even more powerful when many voices join together in beautiful harmony, inspiring others to work to build the kind of world in which we all wish to live."
"Judaism teaches us to bring justice to the oppressed, to break the chains of slavery, to stand up for the one who cannot stand," said Julie Silver, singer-songwriter and guitarist. "This project gave me an opportunity to stand up when I needed a little boost myself. The most marginalized members of our human family, no matter where they come from, deserve sanctuary."
"Together As One" was conceived of and made possible by the generous support of Isabel P. (Liz) Dunst, Chair of the Commission on Social Action of Reform Judaism. The album was recorded at Cowboy Arms Hotel Spa Recording Studio in Nashville, Tennessee, and was engineered and mixed by Grammy nominated multi-platinum selling recording engineer and producer Mark Niemiec.
"With her generosity, clarity of vision, and commitment to action, Liz Dunst is an invaluable leader in the pursuit of justice and an inspiration to the Jewish community," said Rabbi Jonah Dov Pesner, Director of the Religious Action Center of Reform Judaism. "Peri Smilow, Stacy Beyer, and all of the artists on 'Together As One' have made an incredible contribution to the Reform Movement and to all who seek social justice. These new songs will inspire generations of activists to come."
TOGETHER AS ONE: New Songs of Social Justice
Executive Producers:  Isabel P. Dunst and Peri Smilow
Produced by:  Peri Smilow & Stacy Beyer
Journalists seeking to review the album may contact Jenna Galper at jgalper@rac.org to access the music.
Song list:
WE'RE JUSTIFIED - Stacy Beyer
PRAYING WITH OUR FEET - Rabbi Joe Black & Steve Brodsky
STAND UP - Chava Mirel
MORE LOVE (Karleigh's Song) - Billy Jonas (Lead vocal: Ashley Jo Farmer)
HERE AND TODAY - Todd Herzog
ONE - Peri Smilow
RESIST - Marci Geller
SANCTUARY - Julie Silver
This project was born of a desire by Isabel P. (Liz) Dunst to celebrate a milestone birthday with the creation of a new song of social justice. She had been on many marches and witnessed young people singing songs that had been written more than 50 years ago. Why, she asked, didn't they have new songs to sing? New songs that reflected their lives, their dreams, their passions? A challenge went out to songwriters nationwide asking for the next great justice song of this generation. Forty-three new songs were written.
The eight songs on this collection reflect the very best of those new songs. Recorded and produced in Nashville, TN, these songs will inspire, challenge, engage and elevate all who sing them and they will serve as a call to action for all who hear them.
About the Religious Action Center of Reform Judaism
For nearly six decades, the Religious Action Center of Reform Judaism (the RAC) has been the hub of Jewish social justice work. As a joint instrumentality of the Union for Reform Judaism and the Central Conference of American Rabbis, we represent the values of the largest and most diverse Jewish Movement in North America. The RAC mobilizes around federal, state, and local legislation; supports and develops congregational leaders; and organizes communities to create a world overflowing with justice, compassion, and peace. As part of a 501(c)3 nonprofit organization, our work is completely nonpartisan.​
### 
The Religious Action Center of Reform Judaism is the Washington office of the Union for Reform Judaism, whose more than 900 congregations across North America encompass 1.5 million Reform Jews, and the Central Conference of American Rabbis, whose membership includes more than 2,000 Reform rabbis. Visit www.rac.org for more.
Contact: