My very first URJ Biennial this past December of 2017 was profoundly life altering for me. I found something I didn't even know that I was missing.
I came to the Biennial by way of the Dunst Music Project for Social Justice. It was a call for songs to inspire. Despite my activism, I, like many, felt helpless since the presidential election. I felt ineffective, but this call—this was where I passionately believed I could make a difference. Prior to submitting, I honestly had no idea what RAC or URJ meant, and so I hesitated. I knew I could write a song. I knew I was technically a "Jew," but was I Jewish enough? Upon the urging of a caring friend and Cantor in a local URJ congregation (Lisa Ann Green), I took a leap of faith.
It took faith because growing up; I wasn't exposed to religion or even an ideology beyond humanity. My identity was a girl who loved music, theater, and cats. Our limited Jewish practice was connected to food and family; my grandmother's amazing latkes and matzo ball soup, or our annual pilgrimage into the city to celebrate Passover at my Great Aunt Mimi's. Although we lit the menorah on Hannukah, we recited no prayers, and we decorated a Christmas tree where Santa would leave our presents. I was young. It was a fun and the tree was pretty. I didn't know to question the mix of traditions until later in life.
Jump to my 3rd grade homework assignment, which asked, "What does Easter mean to me?" As a Type A, I feverishly researched and turned in a magnificent documentation of Jesus and the resurrection. My A++ was accompanied by a personal note from my teacher exclaiming, "You would make a wonderful Christian." Dad rolled his eyes, while Mom gave the Principal a lecture on the separation of church and state. Still—no religious identity.
I spent my teenage years exploring different sects of Christianity in order to fit in. In my twenties I met my beloved husband Gian of 24 years. He was raised Catholic, but like myself, didn't personally align with any particular doctrine. We were married by a Unitarian Minister and omitted the words God and Obey from our vows. During the holidays we decorated my childhood tree and lit the Menorah that he bought for us. I made the second best latkes and matzo ball soup, and we lived a relatively spiritual life together, centered around love and a "do unto others" philosophy.
I knew I found "my tribe" recording with my fellow project-mates from the Dunst Music Project. I have never in my life felt more welcomed, supported and valued than that short three-day gathering of creatives. What I didn't know was I was among the "rock-stars" of the Jewish music community. What was also apparent was, the Together as One CD was not just a work of art; it was a work of collective passions.
Biennial turned out to be more than a conference. I was unprepared for the depth of spirituality and social awareness that underlay everything. Every hour provided opportunity to explore and discuss the current state of affairs in our country and world, to learn about other spiritual practices, to have meaningful conversations with total strangers. The energy was palpable. I was overwhelmingly moved.
We debuted the music project at Music Lab, where I offered my truth. I was taken aback by the thunderous standing-ovation. I melted into tears right there in front of everyone. And then it hit me—I did belong. The feeling transcended a musician's need for applause. I was connected with every person in that space. We were Jews. It was community.
Comparatively, during worship I struggled with the words my logical, feminist, secular brain couldn't get past. Then a project-mate leaned over and shared the beauty of the URJ—that you are allowed and encouraged to find your own way. I took a deep breath and allowed the music and prayer to wash over me. I cried so many times during Biennial I struggled getting my contact lenses out at night. I cried out of deep passion. I cried out of deep frustration. It was transformative.
I continue to explore and have heady conversations with other Jews about how they practice; what works for them, what doesn't. The one consistent thread is that they celebrate traditions as a reminder of the tribe to which they are connected. For the first time in my life, I feel connected too. I feel proud of my heritage. I feel inspired by the compassion and diligent social activism of the URJ. I feel a physical and mental longing for my project-mates. I feel the most immense gratitude and awe towards Isabel Dunst. My type A is yearning for answers, and for them to arrive NOW. My higher self knows that this is a journey. And as I embark, I feel grounded in my path. I am taking it a step at a time, and I know wherever I land in my Judaic pursuits, I will be welcomed.  For this gift, I am ever grateful.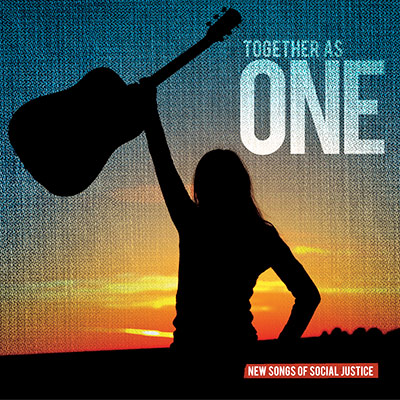 Marci Geller is a singer-songwriter whose song, 'Resist', is featured on Together As One. For more information about "Together As One: New Songs of Social Justice" please visit: www.togetherasonemusic.com.  For more information about Marci Geller, please visit: www.MarciGeller.com