In the Book of Leviticus, God commands the Jewish people, "v'ahavta l'reacha kamocha," "love your neighbor as yourself." Based on this teaching, I stand by the idea that, if an individual comes seeking refuge from his or her home country because he or she is prosecuted or marginalized for his or her identity, they should be admitted into our country. At the Passover Seder every year, we read that "We were slaves in the land of Egypt", and "we know suffering." Many refugees find themselves in a similar situation and see the United States as a land of prosperity, parallel to the way our ancestors saw Canaan as their land of milk and honey.
Due to the complications of our immigration and refugee policies, many people are hindered from achieving their goals uniquely based on their refugee status. At Hamilton College, I work for a nonprofit college access organization called On Point for College, based in Utica, NY, which supports low income, refugee and other youth to break down barriers preventing them from access to higher education. Utica, NY is well known for its large refugee population, mainly refugees from the Karen ethnic group in Burma, who spent years in a camp on the border to Thailand. On Point for College provides college tours, assistance with financial aid, childcare support and transportation to students to enable them to reach their full potential. Working at this organization, I have had the incredible opportunity to listen to personal stories from students about how they have been able to complete their education and find successful occupations. For example, this past year I helped two refugees create résumés to give to a prospective employer to become bank tellers, both of whom ultimately found employment. 
Among other examples, I have encountered in my work refugees whose parents force them out of school to take part in arranged marriage, and undocumented students who do not speak English. Throughout the year, I have helped to support these students and others in obtaining a college degree and guide them through the process. The language barrier serves as an enormous obstacle that students must face when trying to advance their education. On Point has multilingual staff on hand including an employee who speaks Karen, the language of the majority of refugees that enter the office.
Refugees need to be given equal opportunities to education and to employment, and we as a Reform Jewish community have a responsibility to support them. As is said in Leviticus, "If your brother, being in straits, comes under your authority, and you hold him as though a resident alien, let him live by your side" (Leviticus 25:35).
In June, we observed World Refugee Day. In an Op-Ed in the Forward, Rabbi Jonah Dov Pesner, Director of the RAC, reflected on the inspiring response from the Jewish community to welcome refugees. But, there is more to be done and we must continue to urge our elected officials to resettle refugees from across the world and welcome refugees in our local communities.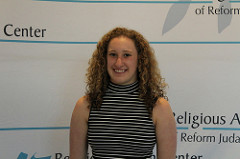 Jackie Bussgang is a rising sophomore at Hamilton College, and interned this summer at the National Partnership for Women and Families. She has a passion for social justice and exploring the different ways to practice it wherever she goes.