"Equality and acceptance trump hatred and division," says Bernie Delia, Capital Pride Alliance Board President. "We are not going back." On June 11, 2016, hundreds of people filled the crowded streets of Washington, D.C. for the Capital Pride Parade, marching and cheering for full equality and inclusion of LGBT people. 
As a Machon Kaplan intern at the Religious Action Center of Reform Judaism, I decided to march in the parade with the RAC, fellow Machon Kaplan participants, and several Reform Jews from around the area. On the day of the parade, the RAC hosted sign-making and gathered for a prayer rally, focusing on themes of peace and equality.
My first experience in a pride parade was in Tel Aviv, Israel in June of 2015, and it was one of the best experiences of my life. This year, in a more domestic setting, I was enthusiastic to be participating in the Capital Pride Parade. This was my first pride parade during which marriage equality was legal, and it was amazing to be able to celebrate that milestone and keep marching for more equality for the LGBT community (i.e., transgender inclusion). 
As a Reform Jew marching in Capital Pride, I felt proud to be representing the RAC as part of a strong Jewish presence at the parade. During the parade, people around me carried signs that read such slogans as, "I SHVITZ GLITTER." Capital Pride was full of laughs, tears of joy and tight embraces, along with the feeling of pride to be yourself, appreciation for how far we have come and still so much hope for the future.
After walking in only two pride parades, I can say that pride parades are high on my list of favorite summer activities (because Pride Month is commemorated each June). From now on, I will try to march in as many pride parades as possible because they are a way to show support and solidarity for the LGBT community, to be with others who are passionate about LGBT equality and to spread awareness and advocacy for the far-too many steps we need to take as a society to ensure full inclusion and equality for LGBT people. 
I feel obligated to promote full inclusion and equality because Jewish tradition teaches that all human beings are created b'tzelem Elohim, in image of God (Genesis 1:27). Marching in Capital Pride and advocating for equality and inclusion of LGBT people, reminds us that it is important that commit ourselves to be even more inclusive and embracing in the year ahead. 
As a way to participate in Pride Month and fight for LGBT equality, urge your Members of Congress to cosponsor the Equality Act.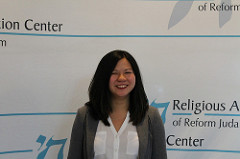 Madison Laks is a rising senior at the University of Connecticut, where she is studying Human Development and Family Studies and Psychology. This summer, she interned at the Religious Action Center of Reform Judaism.