FOR IMMEDIATE RELEASE
May 21, 2018
Remarks by Rabbi Jonah Dov Pesner at the Poor People's Campaign 40 Days of Moral Action
WASHINGTON -- On Monday, May 21, Rabbi Jonah Dov Pesner, Director of the Religious Action Center of Reform Judaism, offered remarks at the Poor People's Campaign: A National Call for Moral Revival rally prior to engaging in civil disobedience to demand action and awaken our nation's consciousness to the plight of poverty in America.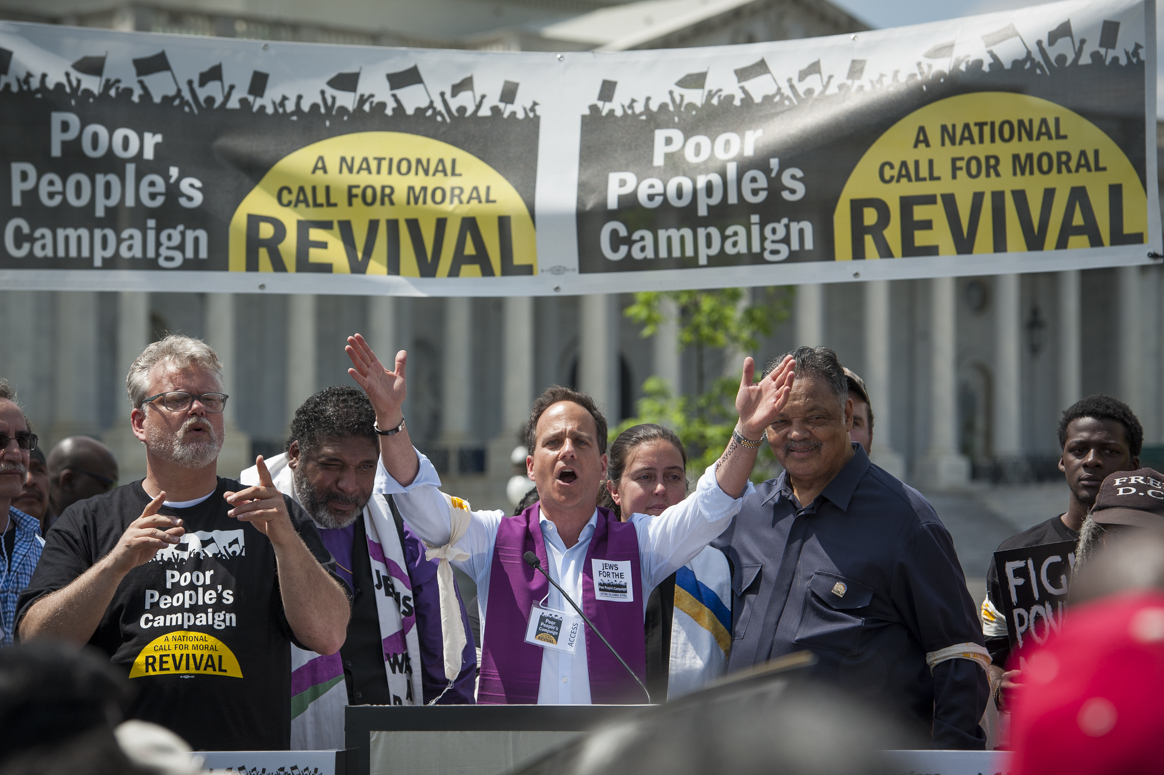 Photo by Rod Lamkey, Jr.
As prepared for delivery:
My name is Rabbi Jonah Pesner. I am here to represent the values of the two million souls, 2,000 rabbis, and 900 congregations that make up the Reform Jewish Movement.
Reverend Barber, my friend. I'm going to tell a story from last winter. In December, during the week that we announced the Poor People's Campaign, you joined the Reform Movement at our Biennial in Boston. You called our Movement to join this campaign. We said it then and we say now – in Hebrew: Hineinu! Here we are!
When you finished your sermon, you turned to me and lifted your prayer stole off your own shoulders and put it on mine. You told me then, "you are now yoked to me." Well, in this Poor People's Campaign, all of us are yoked to one another. When Muslims, Christians, Jews, and Americans of all faiths band together, there is nothing we can't achieve.
Here we are – Hineinu!
In solidarity, to lift people out of poverty, to end systemic racism, reform the broken criminal justice system that has led to mass incarceration and the new Jim Crow, and demand that every American adult has the right to vote!
This is not the first Poor People's Campaign. We continue the unfinished work of Dr. Martin Luther King, whose Poor People's Campaign was incomplete when an assassin's bullet took his life 50 years ago. But that wasn't the first Poor People's Campaign either.
Today is the second day of the Jewish holiday of Shavuot. On Shavuot, we celebrate the ancient Israelites receiving the Torah at Mt. Sinai. And we also read the Book of Ruth. Ruth's mother-in-law, Naomi, was a destitute Judaite widow. Ruth was from the rival Maobite tribe. The Judaites and the Maobites were at war.
Naomi was sick and starving, and she told Ruth to leave her behind and return to her ancestral lands. Ruth refused.
She told Naomi: "Wherever you go, I will go; wherever you stay, I will stay; your people shall be my people, and your God my God."
That was the first Poor People's Campaign!
Ruth and Naomi survived by gleaning the leftover crops for the corners of the fields. They relied on the anti-poverty program of the ancient world.
Wherever you go, I will go.
Two people who embody the description of the most vulnerable: widow, the orphan, and the stranger – the very people in the Torah God commands us to care for.
Wherever you go, I will go.
That's the Poor People's Campaign.
Because the challenges we face are many.
Voter suppression threatens our democracy.
But we won't rest until everyone can vote.
Say it with me: Wherever you go, I will go.
When some states still deny people
who have served a felony sentence the right to vote,
we can not rest.
Wherever you go, I will go.
When children are shot down in their schools and neighborhoods,
we will not stand idly by.
Wherever you go, I will go.
When people in our powerful and prosperous country
live in poverty and lack enough to eat – we tell them:
Wherever you go, I will go.
Each one of us here –
black, white, brown, immigrant or native born,
whatever your gender identity or sexual orientation,
whether you are rich or poor, whether you are healthy or sick,
we are here to lift each other up.
When Reverend Barber tell us:
"Forward together, not one step back"
we remember Ruth and we say to each other:
Wherever you go, I will go.
Thank you.