For Immediate Release
September 19, 2017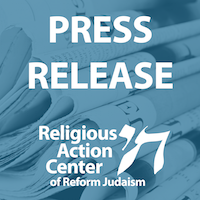 WASHINGTON – Last Thursday, Senators Kirsten Gillibrand (NY), Susan Collins (ME), John McCain (AZ), and Jack Reed (RI), introduced S. 1820, a bipartisan bill to protect currently-serving transgender service members from being discharged from the military. The bill comes after an August directive from President Trump to the Department of Defense to prevent transgender people from serving in the military, which the Reform Movement condemned. In response to the introduction of this legislation and the Department of Defense's reported decision to begin the implementation of President Trump's directive, Rabbi Jonah Dov Pesner, Director of the Religious Action Center of Reform Judaism, issued the following statement on behalf of the Union for Reform Judaism, Central Conference of American Rabbis, and wider Reform Movement:
"The new bill introduced by Senators Gillibrand, Collins, McCain, and Reed is a vital measure to protect transgender Americans serving in the military. Any effort to discriminate against transgender Americans due to their gender identity – including the President's August order – is unacceptable. The transgender people who defend our nation every day deserve no less respect and admiration than any other member of the military. This bill will ensure that principle is reflected in law.
"We are taught as Jews to affirm and celebrate the dignity and worth of all human beings. We believe we must love one another just as we love God, for we all carry within us some part of the sacred. We will continue to fight for the full inclusion and equality of transgender and gender non-conforming people, and all members of the LGBTQ community. We urge other senators to support this bill and pass it without delay.
###
The Religious Action Center of Reform Judaism is the Washington office of the Union for Reform Judaism, whose more than 900 congregations across North America encompass 1.5 million Reform Jews, and the Central Conference of American Rabbis, whose membership includes more than 2,000 Reform rabbis. Visit www.rac.org for more.
Media Contact:
Sarah Garfinkel, West End Strategy Team
sarah@westendstrategy.com; Office: 202-776-7700; Cell: 202-765-4290