FOR IMMEDIATE RELEASE
September 26, 2017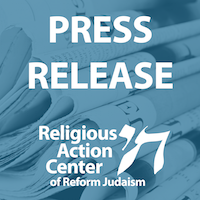 WASHINGTON – In response to the new executive order issued by President Trump to broadly bar entry to the United States for visitors from eight countries, including six Muslim-majority countries, Rabbi Jonah Dov Pesner, Director of the Religious Action Center of Reform Judaism, issued the following statement on behalf of the Union for Reform Judaism, Central Conference of American Rabbis and wider Reform Movement:
"As with the past two travel bans, the restrictions set forth in President Trump's new executive order close America's doors on some of the world's most vulnerable people. The broadening of this ban to include North Koreans and Venezuelan government officials does not disguise its discriminatory effects on individuals from Muslim-majority countries.
"Jewish text teaches, 'The stranger who resides with you shall be to you as one of your citizens; you shall love him as yourself, for you were strangers in the land of Egypt' (Leviticus 19:33-34). As a people, we remember the pain we felt when we were turned away, and we condemn the indifference to injustice we see unfolding today around the world. We know that we can have a just and compassionate immigration policy that reflects our history as a nation of immigrants and ensures our national security. As Americans, we commit to welcoming the stranger and assisting those seeking refuge on our shores."
###
The Religious Action Center of Reform Judaism is the Washington office of the Union for Reform Judaism, whose more than 900 congregations across North America encompass 1.5 million Reform Jews, and the Central Conference of American Rabbis, whose membership includes more than 2,000 Reform rabbis. Visit www.rac.org for more.
Media Contact:
Sarah Garfinkel, West End Strategy Team