For Immediate Release
September 5, 2017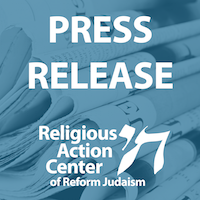 WASHINGTON – Today, the Trump administration announced that the Deferred Action for Childhood Arrivals program, or DACA, would be phased out in six months. In response, Rabbi Jonah Dov Pesner, Director of the Religious Action Center of Reform Judaism, issued the following statement on behalf of the Union for Reform Judaism, Central Conference of American Rabbis, and wider Reform Movement:
"President Trump's decision to end the DACA program is morally misguided and poor public policy. The contributions of DACA recipients – young people brought to this country by their parents and who lack citizenship through no fault of their own – make our country stronger. They go to school, serve in the military, and contribute to our economy openly. The DACA program has allowed them to do so without the constant fear of deportation. The president is wrong to once again place these individuals at risk of deportation. 
"As Jews, our people have known the experience of being 'strangers in strange lands.' Our past reminds us of the struggles faced by so many immigrants today. Because of this history, Judaism demands that we welcome the stranger and compels us to work for a just immigration system. It is imperative that Congress step up in support of these young people who grew up in the United States and who want to give back to the only country they know as home. We call on Congress to protect DACA recipients from deportation by immediately passing a clean bipartisan Dream Act of 2017 – and on the president to support it."
###
The Religious Action Center of Reform Judaism is the Washington office of the Union for Reform Judaism, whose more than 900 congregations across North America encompass 1.5 million Reform Jews, and the Central Conference of American Rabbis, whose membership includes more than 2,000 Reform rabbis. Visit www.rac.org for more.
Media Contact:
Sarah Garfinkel, West End Strategy Team
sarah@westendstrategy.com; Office: 202-776-7700; Cell: 202-765-4290