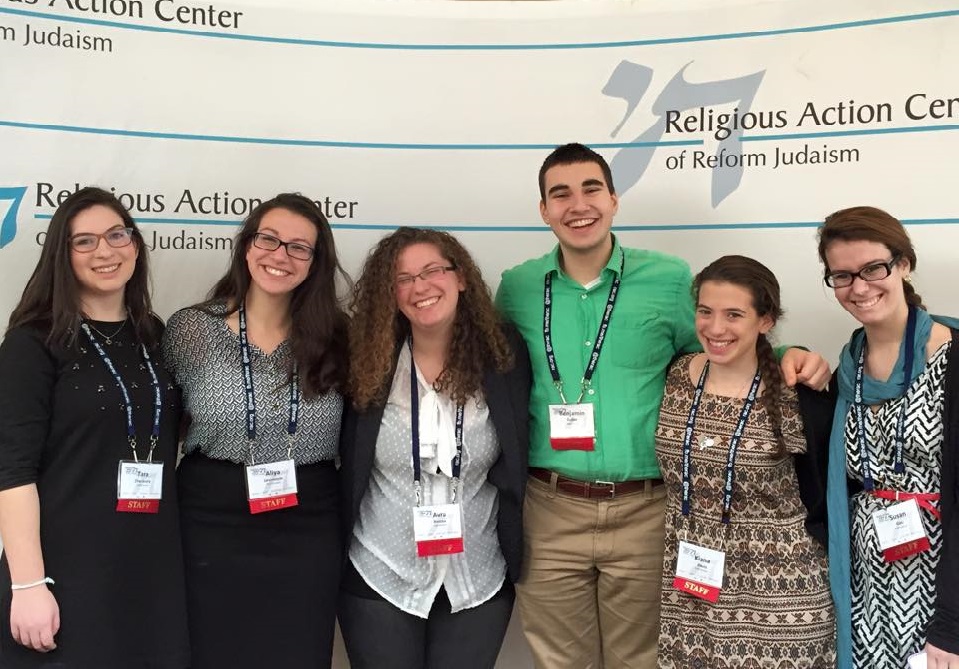 We will begin accepting applications for the 2023-2024 L'Taken season in the fall.
WHAT IS THE L'TAKEN SEMINAR?
The Bernard and Audre Rapoport L'Taken Social Justice Seminar is a four-day conference in Washington, D.C., during which participants engage in learning about Jewish social justice values, the legislative process, and the pressing public policy issues of the day. The L'Taken Seminar culminates with a Capitol Hill lobby day. 
The RAC runs five L'Taken Seminars each year, between January and March, bringing together over 200 congregations and 2,000 high school students.
Available positions:
Staff Assistant (SA)
AV Staff Assistant
Lobby Prep Support Staff (Sunday nights only)
Applications Due by September 28, 2023
Find descriptions of each position below.
Staff Assistant:
STAFF ASSISTANT ROLES AND RESPONSIBILITIES
Staff assistants support the work of both the RAC staff and congregational chaperones by assisting with the preparation and execution of programs, on-site transitions, program materials set-up and break-down, assisting with technology set up, helping to supervise the students, staffing the off-site field trip, and lending an extra hand when needed. This is an ideal position for someone interested in learning more about program preparation and execution.
Staff assistants are expected to work from Friday afternoon (4:30 p.m.) until Sunday afternoon (around 1:15 p.m.). All meals and hotel accommodations are provided during this timeframe.
QUALIFIED STAFF ASSISTANTS
18 years or older (generally staff assistants are young adults 18-25)
Demonstrate a can-do attitude and an eagerness to jump in to ensure that programs run smoothly
Exhibit excellent customer service skills
Are eager to be agile and help as needed
Can execute instructions given verbally
Can spend many hours on their feet
Are available to participate in one of two 2-hour training sessions. Dates will be shared in the fall.
FIRST-TIME STAFF ASSISTANTS
We welcome and encourage new Staff Assistants to apply to the program. First-time Staff Assistants will be required to complete an application and interview process. Interviews will take about 30 minutes and will be conducted virtually in mid October. Those who are accepted will be offered one weekend to staff, with the possibility of a second, as needed.
The following are the expectations of First-Time Staff Assistants:
Participation in one of two 2-hour training sessions via Zoom. Specific dates will be shared in the fall.
Enthusiastic execution of Staff Assistant responsibilities during seminar weekends
RETURNING STAFF ASSISTANTS
Our preference is for returning staff assistants to staff a minimum of three L'Taken weekends- if your availability would not allow you to staff three, please still apply.
Participation in one of two 2-hour training sessions via Zoom. Specific dates will be shared in the fall.
Enthusiastic execution of Staff Assistant responsibilities during seminar weekends
Assist in on-boarding of new Staff Assistants on site
AV Staff Assistant
AV Staff Assistant role and responsibilities
The L'Taken Social Justice seminar is seeking A/V staff assistant(s) to staff its winter seminars.  All meals and hotel accommodations provided. Generally, the A/V staff assistant will be needed on-site on the Friday the seminar begins at 4:30pm through the Sunday the seminar ends at 1:30pm.  We will provide interested candidates with schedule specifics of the peak moments they can expect to be working on A/V; there is plenty of down-time over the course of the weekend where this staff support person will not be needed and can use the time to themselves for homework and R&R. This staff person will join a supportive staff team to put on a large conference for high school students- we work hard and have a lot of fun while doing it.  
Qualified AV Staff Assistants:
Ability to set up projectors and laptops, laying down cords
Knowledge of breaking down equipment and trouble-shooting tech issues on-site in workshops and plenaries. 
Basic working knowledge of A/V equipment
A "can-do" attitude will enable you to excel in this role
Problem-solving, solution-focused attitude
Lobby Prep Support staff:
Lobby prep role and responsibilities
Lobby prep support staff are needed on Sunday evening from 7-11 pm. They will assist with anything related to prepping our teens to lobby on Capitol Hill on Monday morning. This includes organizing teens waiting to have speeches approved, selling merch, assisting with speech printing, and more.
***Interested Staff Assistants and AV Staff Assistants could opt to extend their role by staffing Sunday PM Lobby prep; otherwise the Staff Assistant role concludes on Sunday around 1:15pm.
---
Frequently Asked Questions
HOW MUCH DOES A L'TAKEN STAFF Member EARN?
The amounts listed below reflect the total stipend per seminar weekend. SA's and AV Support are expected to work from Friday afternoon (beginning 4:30pm) to Sunday afternoon (1:15pm). Lobby Prep Support Staff is expected to work from 7:00pm-11:00pm on Sunday night.
It is your first year working as a L'Taken Staff Assistant: $250
It is your second year (or more) working as a L'Taken Staff Assistant: $300
If you are AV Staff Assistants: $300
If you are Lobby Prep Support Staff: $75

If you are also an SA or AV Support Staff, this will be an additional stipend added on to what you have already earned if you choose to extend your position through Sunday night
All Staff Assistants will also be paid for the 2-hour training you attend in advance of the seminars. This additional $50 will be paid at the end of the L'Taken season, following the training session and after the SA has completed every L'Taken weekend they have committed to staffing.
The RAC staff also needs help with various office tasks during the week leading up to and the week following a L'Taken Seminar. If you are available to work at the RAC office for four (4) hours during the week before or after a L'Taken Seminar, you will receive $50. Working this shift is not contingent on working the weekend of that seminar.
WHat dates are the L'Taken seminars this Year?
January 19-22, 2024
January 26-29, 2024
February 9-12, 2024
February 23-26, 2024
I HAVE MORE QUESTIONS ABOUT BEING A L'TAKEN STAFF member. WHO CAN I CONTACT?
Contact Zoë Smith, Leadership Development Manager.
What should I do Next if I am ready to apply?
The link to our application will be available in the fall. When you are ready to begin your application, please keep in mind that it takes about 20-30 minutes to complete, and progress will not be saved if you close the application. We will ask for 3 references and there is a short-answer essay question. Keeping this in mind, please make sure you leave adequate time to complete the entire application.
________________________________________________________________________________
The URJ is a welcoming and inclusive environment that promotes strenuous policies and practices of equal opportunity and diversity, equity, and inclusion. It is our objective to recruit, hire, and retain the most qualified individuals including those of any race, color, religion, gender, sexual orientation or identity, national origin, age, disability, veteran status, or any other characteristic or status protected by applicable federal, state, or local law. Our equal employment philosophy applies to all aspects of employment, including recruitment, compensation, benefits, training, promotions, transfers, job benefits, and terminations. The URJ encourages applications from women, people of color, persons with disabilities, and lesbian, gay, bisexual, and transgender individuals.