Image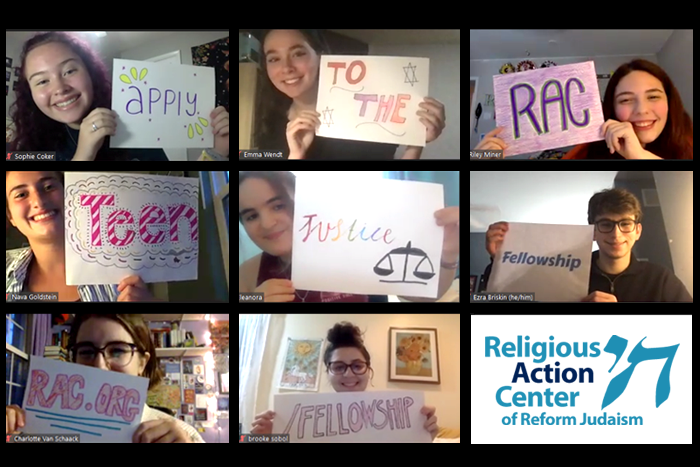 About this Fellowship
Our RAC teen fellowship programs are learning intensives in community organizing, designed to equip our youth leaders with the skills to create change in their home communities. Through our fellowships, high schoolers connect with other social justice leaders from across the country and learn lifelong skills applicable to any issue they are passionate about. Our fellowships value experiential learning, moving beyond theory and Zoom trainings into action. Each fellowship culminates in teens designing and implementing a project in their home communities.  
Our fellows are the leaders of our movement's social justice work today - they don't have to wait until they can vote, or until they are "grown up" to make a difference – they can take action now. Our youth leaders finish the fellowships empowered and prepared to lead their peers in justice work.  
What are the Fellowships? The RAC fellowships are learning intensives designed to train high schoolers to be organizers in their home communities. Fellows typically meet virtually every week for 6-10 weeks to hone leadership skills, learn about advocacy, and be involved in the RAC's work. 
Who should be a Fellow? We are looking for talented, enthusiastic teens who are interested in learning more about how advocacy and politics relate to Judaism, and gaining the skills needed to be changemakers. Teens who are ready to grow, learn and take on a little bit of leadership make excellent Fellows.  
What will we do in the Fellowships? We will explore what teens are passionate about when it comes to social justice, learn how to build a strategy for making change and mobilizing our communities, and engage in advocacy with the RAC. 
What is the time commitment? Fellows will typically meet in the evenings virtually for hour-long sessions once a week. There will be small tasks like listening to a relevant podcast or practicing a skill we learn in the real world that Fellows will be expected to complete for about 30 minutes on their own time between sessions,  as well as a final project that teens design for  their home community. 

Thank you to Rabbi Steve Fox and Vicki Reikes Fox who made our Fall Civic Engagement Fellowship possible. 
Coming soon: Spring 2020 Fellowship (applications will open February 2021)
Let us know if you are interested in applying for our next fellowship by filling out our interest form! Applications will open in February 2021. We'll send you more about requirements, program dates, and information about the specific fellowship when we launch the application. 
Learn what past fellows have accomplished
Read about how a group of L'Taken and Fellowship alumni put together an event for the first anniversary of the Parkland shooting, which drew over 450 people and a congresswoman. 
Hear former RAC Teen Justice fellows talk about the importance of their Day of Action urging the Senate to pass the Background Check Expansion Act.  
Recent fellow, Cameron Samuels, created the website "July The Vote," which provided infographics and resources to educate and foster dialogue around civic engagement for the month of July. Visit Cameron's website to get inspired about how you can make a difference.