Image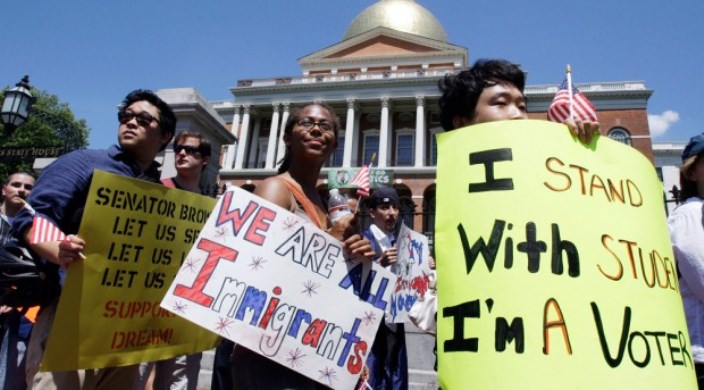 Our deportation defense strategy entails working with local partners to protect a particular individual who is imminently facing deportation. The immediate goal is to prevent the person from being deported and the larger goal is to humanize undocumented immigrants to shift the narrative about immigration.
Congregations can become involved in Deportation Defense in several ways. While advocacy is one component of defending immigrants from deportation, a congregation or Jewish community can create a rapid response team, influence public opinion and show up in multiple ways for the immigrant community that supports broader deportation defense efforts.
Resources
Prepare your community to do deportation defense work on all levels by watching trainings and learning about the different strategies that can be used.
Partners
Fostering partnerships and coalition building are so important to deportation defense. Creating a network of communities who are committed to deportation defense work is a good way to ensure that the most vulnerable are given the assistance they need.
Providing physical sanctuary
Some congregations have committed to opening their doors to host individuals or families at risk of deportation. The following are some issues to address if you are considering taking this action:
Committing to housing one or more families typically lasts for an indefinite period.
Physical facilities, food, clothing, financial assistance, and legal assistance are provided by the congregation. Your congregation may be assisted by supportive/solidarity congregations and organizations.
Create family intake and agreement for service forms.
In general, those with a final deportation order are most in need.
Those entering into sanctuary should have a reasonable prospect for obtaining a stay of removal, order of supervision or other form of administrative relief.
Offering sanctuary does not mean obstruction of government officials if they seek to enter the sanctuary. It may mean requesting a warrant or legal authority and creating publicity in order to sway public opinion.
Public vs. private: Public sanctuary has a purpose of changing hearts and minds, not only to provide protection. It is not done in secret! Always make decisions about whether and how to publicize sanctuary with the individuals who are staying in your congregation and with counsel.
Work closely with your congregation's counsel when planning and welcoming individuals.
Review these resources from Congregation B'nai Israel of Sacramento:​
Read this memo on tax-exempt organizational law.