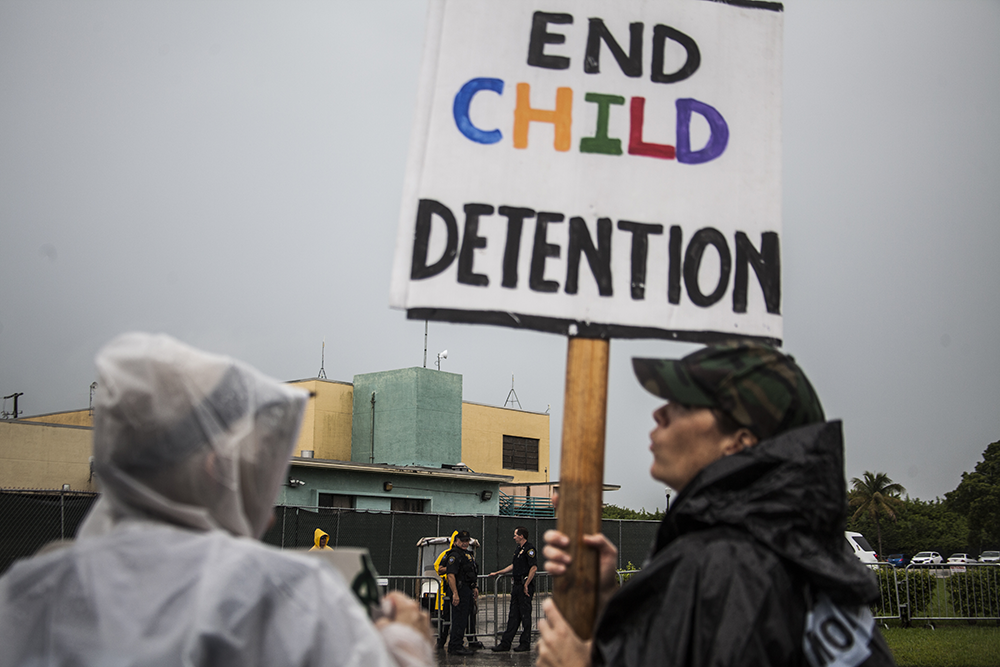 The RAC is committed to working with Reform Jews, partner organizations and migrant-led groups across the country to end the detention of immigrant children apart from their families and in prison-like conditions. Our organizing around this issue is focused on shutting down Homestead detention center in Florida. Homestead is run by a for-profit company that receives $775 per child per day – giving it little incentive to reunite children with their families. In Homestead, children are living in inhumane conditions. They are not allowed to hug each other. They sleep in rooms with hundreds of beds. They follow highly regimented routines. Florida state services do not reach the facility because it's on federal land. Homestead is classified as an "emergency influx shelter" and therefore exempt from standard regulations for housing children. And, we know that detention causes trauma and harm to young people for years to come.
The RAC is part of a coalition that includes the American Friends Service Committee, United We Dream, Bend The Arc, NCJW, Truah, and other organizations all calling for the closure of Homestead, a halt to the use of influx facilities for detention, the reuniting of the children with their sponsors, the ending of a collaboration between Health and Human Services and the Department of Homeland Security, and an end to all child detention and separation of families. Over the weekend of June 14 - June 16, the RAC's Director of Immigrant Justice Dr. Julia Paley helped lead a contingent of Reform Jews marching on Homestead as part of this coalition group.
How to Help at Homestead:
Since the March in June, Reform Jewish leaders on the ground in south Florida have continued demonstrating at Homestead, including helping several presidential candidates travel to the detention center.
If you are interested in protesting at Homestead or assisting the communities working on the ground please contact RAC Immigrant Justice Director Dr. Julia Paley at jpaley@rac.org.
How to Help Outside of Florida:
Host an "End Child Detention" Shabbat in your community, and use these resources to express solidarity with those in Homestead that weekend. If you are going to remember the children of Homestead that Shabbat, please log your commemoration as a solidarity event.
Check out this list of five ways to take action now, including writing letters, posting on social media and organizing your local communities to oppose child detention.
Together, we can bring an end to the inhumane treatment of migrants in our country.