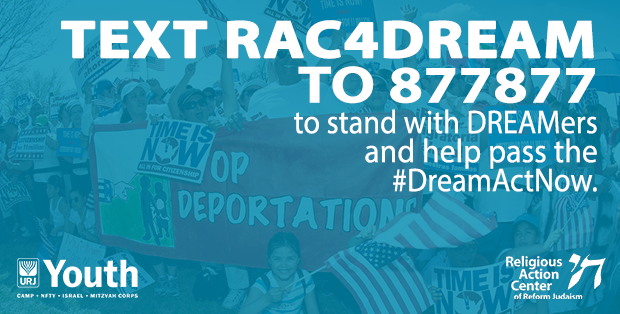 כִּֽי־גֵרִ֥ים הֱיִיתֶ֖ם בְּאֶ֣רֶץ מִצְרָ֑יִם
for you were strangers in the land of Egypt
Teens and College Students: Hear the Call!
Protect the stranger. Love thy neighbor. Pass the Dream Act.
The Reform Jewish Movement is mobilizing to leverage the full strength of our community to work towards the passage of a clean Dream Act. Doing so will ensure greater protection for 800,000 undocumented immigrant youth (called DREAMers) who are at increased risk for deportation as the Trump administration dismantles the Deferred Action for Childhood Arrivals (DACA) program.
Teens and college students have a unique role in this moment as many DREAMers are our friends, our fellow students, and our peers. Let our voices be heard!
Join with clergy, lay leaders, alumni and participants from NFTY, URJ Summer camps, Mitzvah Corps, and Reform congregations across the country and demand our representatives create a path to citizenship for thousands of undocumented youth with a clean Dream Act.
Here are ways to get involved:
Hosting or planning an immigrant justice event in your community

You gather the people, we provide the materials and program. Events could include:

anything that brings people together to learn about and discuss this issue to prepare them to take action!

Download our Immigrant Justice Shabbat and Call-in Day Toolkit. This Toolkit contains program ideas, readings, sermon starters, and other resources to engage your congregation or communtiy in this important work.
 

Engourage your friends and community to use oru call-in tool to urge your elected officials to pass the #DreamActNow
​​We worked with United We Dream to create a call-in tool that connects you directly to your senators and representatives. Just text RAC4DREAM to 877877 on a mobile phone and enter your email and zip code. You'll be given step-by-step instructions. Access call scripts and other resources to help with your calls. Organize a phone bank or ask congregational members to make calls when they are gathered for other programs! These calls are vital to keeping up the pressure in Washington.
 
Amplifying this effort on social media. 


All Reform Movement institutions have joined the effort on social media with the hashtag #

Faith4Dream

. To make the biggest impact, we must show our power in numbers. Please forward, retweet, and repost. Every post matters. Follow the RAC on Twitter and like the RAC on Facebook now to stay up-to-date on the Dream Act.
 

Sending a message to your elected 

official through the RAC website

.




Visit rac.org/DreamAct to send a targeted email to your elected officials right now

. 

Note: adding an anecdote or explanation of your interest in the issue makes these emails more compelling and personal. 

  
Eisner and Crane Lake Northeast Teen Collective Participants - please email Emily Messinger for support through NETC.
NOTE FOR COLLEGE STUDENTS: Subsidies of up to $75 are available to help you run your event. Please email Evan Traylor to share your idea and apply for funding.