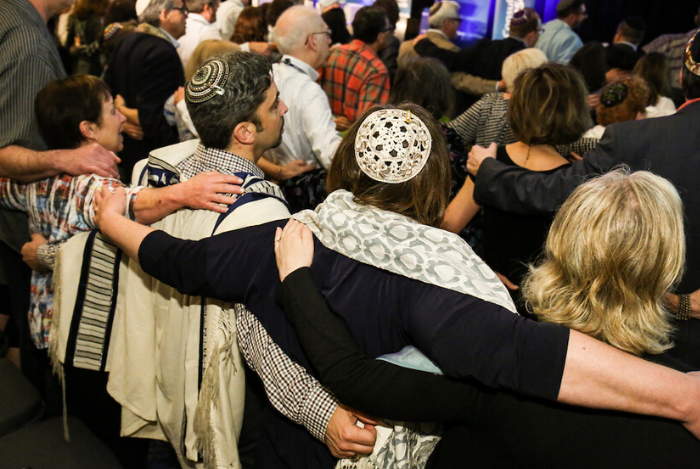 Two years ago, we introduced the Brit Olam, our covenant to create a world in which all people experience wholeness, justice, and compassion. The Brit Olam work encompasses multiple ways to join a network of congregations working together toward a common goal. Your group may choose to join a RAC state project, an issue-based cohort, or both. In this way, each individual action can amplify and increase the impact of all others.
I would like my congregation/community to sign onto the Brit Olam, what is my first step?
We are excited that you are interested in bringing the Brit Olam to your congregation or community! We suggest reading through the various resources on our Brit Olam Webpage to learn more about the Brit and engaging your community to eventually join an issue-based cohort(s). We also suggest reviewing our step by step instruction guide that walks you through the process of what it might look like for a community to review, discuss, approve and sign onto the Brit Olam.
How do I submit my community's signed Brit Olam?
You can submit your signed Brit Olam by using this online form, which allows you to upload a signed copy of the Brit Olam. Communities who have signed onto the Brit Olam will be listed on the RAC's website as Brit Olam congregations and communities. If you would like your community to be included in this list, please upload a high-resolution file of your congregation or community's logo when you submit the form. Once we receive your submission, you will receive a confirmation email with more information about the Brit Olam Network and next steps for your community.
Who should serve as the three signatories on the Brit Olam?
Each community should have at least one clergy member (if your community has one) and two lay leaders sign onto the Brit Olam to lead your community in its justice work, preferably including one student leader. You may want to consider your congregation's president, a social justice chair, and/or other board members. If it is appropriate for your community, you are welcome to have more than three people sign the Brit Olam. Please make sure to include everyone's contact information (email and phone number).
My congregation/community does not have a clergy member. Can we still sign the Brit Olam?
Yes, all Reform communities are invited to sign the Brit Olam! If your community does not have a clergy member, you are welcome to submit the Brit Olam with the signatures of two lay leaders.
What is a cohort? How does my congregation/community join one?
Cohorts are made up of Reform communities working together on the same or similar core issues. Communities are encouraged to choose an issue(s) on which your community will focus your justice work for the next 12 months. The benefits of working in a cohort include peer-to-peer learning, sharing successes and challenges, learning from case studies, modeling best practices, benefiting from others' expertise in a subject matter, and a sense of accountability to a community.
What support is the RAC going to provide to my community or cohort?
The RAC will provide resources and accountability for communities as they engage in this vital work, including virtual and in-person training opportunities. Cohorts will be convened on a regular basis with ongoing communications and collaboration in the Tent.
Do we have to join one of the five proposed cohorts, or can we work on other issues, too? Can a congregation/community be part of more than one cohort at a time?
The RAC is launching five cohorts that will focus on immigrant justice, gun violence prevention, the environment, racial justice and reproductive justice (this final cohort is presented and staffed in partnership with Women of Reform Judaism). The most important thing is ensuring that your community commits to an issue that fits your particular context, interest, and ability. When we held over 1,000 engagement conversations with people across the Movement, we identified the issues above as of the strongest collective interest and urgency—but that does not mean you cannot choose something else. Understanding that every community is different, more cohorts and issue-areas may be added as congregations decide on what is most critical to them, though with limited direct support from the RAC.
Do you have additional questions? Please email Elizabeth Leff (eleff@rac.org).