Image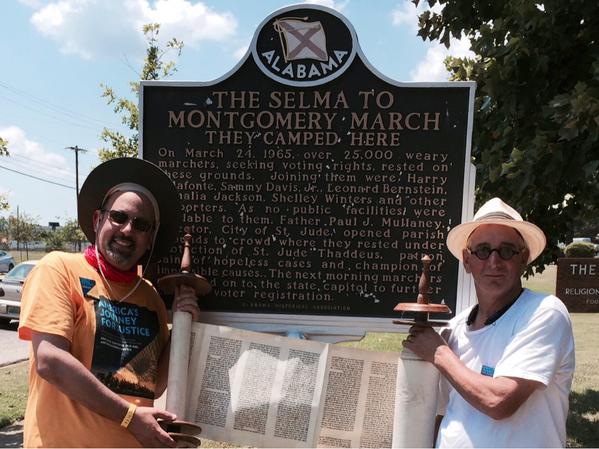 Four hundred years ago, the mystics of Tzfat began walking out into the fields to greet Shabbat (many of us reenact this by standing for the last verse of L'cha Dodi). Contemporaries scoffed: Shabbat comes to you, wherever you are! But these creative leaders understood that sitting and waiting is fundamentally different than striving and embracing. Like so many things in our lives, taking an active role in creating Shabbat makes it a more powerful experience.
A few short weeks ago, America's Journey for Justice was announced. An 860-mile trek from Selma to Washington, highlighting that "Our Lives, Our Votes, Our Jobs, and Our Schools Matter." Some scoffed: Why go all the way to Georgia or South Carolina? Others are working on it, justice will come! Perhaps. But we are more likely to create a just society when we take an active role in creating it. So I went. 
It was incredibly meaningful to carry a Torah through the heat of Alabama, surrounded by friends and strangers united by common purpose. Highly symbolic, I hope this march serves as a reminder that we have the capacity to walk out from our homes, our synagogues, and our communities - into the fields of poverty, illiteracy, and hopelessness. To forcefully meet challenges, rather than waiting for them to be solved.
Whether reaching out to welcome Shabbat or reaching out to embrace justice, I pray that we will be successful in our goals and fulfilled by our participation. 
Rabbi Mark Miller is the rabbi at Temple Beth El in Bloomfield Hills, MI.
Related Posts
Image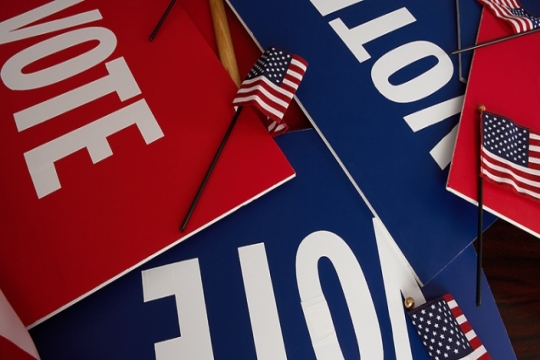 On Tuesday evening, we launched the Reform Movement's Every Voice, Every Vote campaign, our nonpartisan initiative to strengthen democracy by encouraging and protecting voter participation. As if this effort was not urgent enough already, the leaked draft Supreme Court decision in Dobbs v Jackson Women's Health Organization made clear that every issue of importance to our Movement is on the ballot this year, including abortion rights.
Image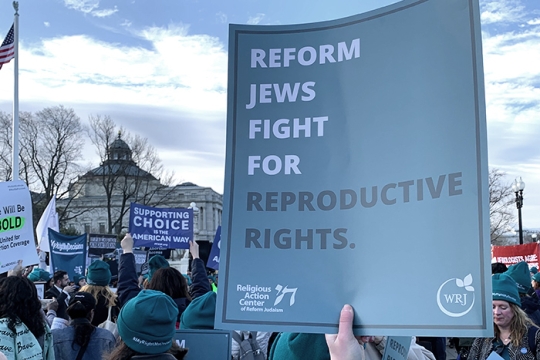 Even as we knew the Supreme Court was likely to undermine and even overturn abortion rights, to see the words in print in last night's leaked draft decision in Dobbs v. Jackson Women's Health Organization is shocking and painful. Here's how you can take action now.
Image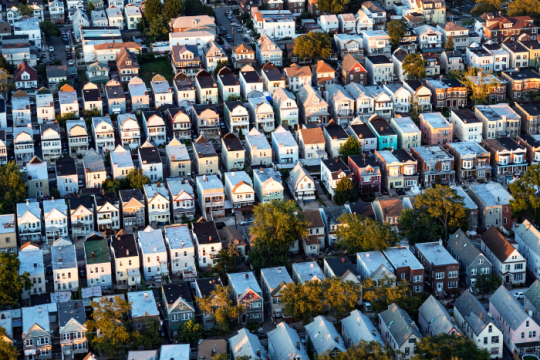 Last month, the Illinois legislature passed HB 2775, a bill that would end source of income discrimination in housing. Working across lines of difference as a member of the Illinois Coalition for Fair Housing, RAC-IL is proud to have played a key role in this successful campaign, which makes Illinois the twentieth state in the country to pass protections against income discrimination in housing. Governor J.B. Pritzker is expected to sign the bill in the coming weeks.