Image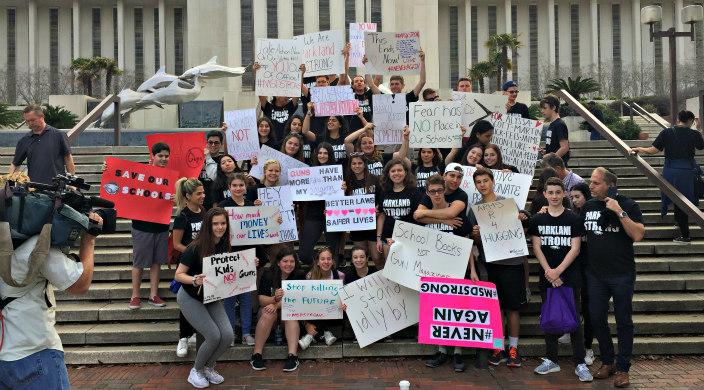 This post is adapted from a sermon given by Rabbi Jonah Dov Pesner at the NFTY Southern Tropical Region (NFTY-STR) Kallah at Temple Kol Ami Emanuel in Plantation, Florida on March 16, 2018. Since Rabbi Pesner offered these remarks, another school shooting has occurred in Maryland, a tragic reminder of just how important the work of gun violence prevention is. 
It is hard to imagine that shloshim, the 30 day period of mourning, is over. It has been over a month since 17 people were murdered at Marjory Stoneman Douglas High School. It feels like it was yesterday – and it feels like a lifetime ago.
Tonight, at Temple Kol Ami Emanuel, we're just 22 short miles from Parkland. Some of you here tonight are from Temple Beth Orr in Coral Springs. There is a large group of students here this evening from Congregation Kol Tikvah in Parkland among us tonight. We stand with all of you in your grief and your mourning. We say Mi Sheberach, the prayer for healing, for all those who are still recovering from the wounds of February 14th, both physical and mental.
Whether you attend Marjory Stoneman Douglas High School or have friends that go there, or knew teachers who worked there, whether you spend your summers at URJ Camp Coleman or have friends who do, we are all touched by this. Perhaps you see yourselves in those students, who one moment believed they were in a safe place, their own school, and the next were living a violent nightmare.
Let us pause and dedicate this moment to those we lost:
Alyssa Alhadeff. Scott Beigel. Martin Duque. Nicholas Dworet. Aaron Feis. Jaime Guttenberg. Chris Hixon. Luke Hoyer. Cara Loughran. Gina Montalto. Joaquin Oliver. Alaina Petty. Meadow Pollack. Helena Ramsay. Alex Schachter. Carmen Schentrup. Peter Wang.
Each of them, teenagers and adults, taken before their time. Each of them beloved. Each of them an irreplaceable part of this community. May their memories be for a blessing.
Our pain is real. Our fear is real. Our grief is real. Our loss is irreparable.
At moments like this, I am guided by our tradition. After the destruction of the Temple, a catastrophic tragedy, in which countless ancestors were massacred and forced into exile, Isaiah reports that God told the Israelites, Nachamu, Nahamu ami - "Take comfort, take comfort my people." Faced with impossible loss, our ancestors had a choice. They could give up and lose hope; or together they could find their way toward light.
Light and hope.
It is so fitting that the two congregations most impacted by this tragedy who are here tonight are Beth Orr, a house of light and Kol Tikvah, the voice of hope.
In the Psalms, King David finds hope, a vision of the future, even in the pit of suffering, saying:
Out of the depths I call to You, Oh God.

Oh God, listen to my cry; let Your ears be attentive to my plea for mercy. (Psalms 130)
Hear. Oh God, have mercy on me; Oh God, be my help!

You turned my grief into dancing, you undid my sackcloth and girded me with joy. (Psalms 30)
You turned my grief into dancing. How can that be? How can we go on?
And yet we come to NFTY and have song session. There will be dances, there will be proms.  There will be dancing.
But if we simply move on; if we just return to normal as if our 17 sisters' and brothers' memories mean nothing; if we stand idly by while our neighbors are bleeding, then our dancing will be an insult to their memories, a soiling of their legacies.
We are not the first to cry out – in the beginning, the first child born of this earth murdered only the second child, and God called out to Cain: Where is your brother?
"Am I my brother's keeper?" he asked, abdicating all responsibility for his own sibling.
God cries out: "What have you done? The voice of your brother's blood cries out to Me from the earth!"
As we have cried and cried this past month, God too cries out; After Las Vegas, after Charleston, after Sutherland Springs, after Sandy Hook – after witnessing the gun violence that afflicts cities and towns across this country every day – the voices of our sisters' and brothers' blood cries, and cries and cries.
What have we done? Will we stand idly by?
We know the answer: We are our brother's keeper and our sister's keeper. We are all responsible for our collective future.
We are challenged, again as the Prophet Isaiah [58] recounts:
"To unlock the fetters of wickedness and untie the cords of the yoke to let the oppressed go free… Then shall your light burst through like the dawn and your healing spring up quickly."
Out of the depths of our sorrow, we find comfort and hope in the opportunity that lies before us.
It is left to us, to unlock the fetters of the gun industry, and break the shackles the gun companies and lobbyists have chained on American politics, and break the yoke of violence. So that we may live free in our classrooms, in our houses of worship, and in our neighborhoods.
That is when our grief will truly turn into dancing. We will never lose the pain of the loss. But out of this moment of pain, we can build a future of hope.
I find hope in you. In this community of American teenagers, of Jewish leaders. Since the horror of February 14 at Stoneman Douglas, your generation has led the way.
Young people are demanding action. You have challenged the deadly status quo. You and your peers have demanded action where my generation has failed.
Because we have been through this before. After Columbine. After Sandy Hook. But this time, it feels different. You have said, loudly and clearly: Enough Is Enough. Jews Demand Action. And to the politicians, to all of us adults who have failed you, you are saying: if you won't lead, if you can't lead – get out of the way, we will!
Al Chet Shechatanu, for the sin we have committed before you. In the time since my peers and I were active in NFTY, our nation has become awash in assault weapons and our schools have become scenes of bullets and blood.
Al chet shechatanu lifanecha!
For a generation, politicians have been intimidated by the National Rifle Association and their allies. They have either supported the NRA's extremist and deadly agenda, or they have been too afraid or too incapable to do anything about it. Your courage puts my generation's timidity to shame. Inaction is no longer an option.
And many of you in your advocacy and activism, even amidst your grief, have pointed out the underlying racism in the plague of gun violence in America. You remind us that more than 40 percent of gun deaths are among Black children and teens, although they made up only 14 percent of all children and teens in America. In 2015, one black child was killed every seven hours and 25 minutes. Black children and teens were nearly four times as likely to die from a gun as white children and teens.
And you have committed that your campaign to end gun violence will build on your commitment to racial justice, as we cross lines of difference to create an inter-sectional movement of safety, equity, and justice for ALL God's children.
So why is this time different? Why am I hopeful that this movement won't dissipate?
Because of YOU. Because of this blessed community. Because you in NFTY show up, and you are here for each other.  You and tens of thousands of young leaders across this country are committed to being your sisters' keepers and your brothers' keepers.
Because you truly are Beth Orr, a house of light and Kol Tikvah, the voice of hope.
And we have already seen the first steps toward progress. Right here in Florida, YOU marched to Tallahassee and you made your legislature pass, and your Governor sign into law, legislation to raise the minimum age to buy an assault rifle to 18, ban bump stocks, and introduce a three-day waiting period. Now, that's not nearly sufficient, but I am here to tell you that it's a start. Six months ago, it seemed impossible. After other horrific mass shootings, it hasn't happened. You and your peers are making sure that this time is different. You have already started to make change happen. Elected official only act when their constituents speak powerfully and clear. They recognize that you are a force to be reckoned with.
And in a week, teens are leading the March for Our Lives in Washington, DC and in cities and towns across this country and around the world.
We can't let the pressure up. Politicians can feel the sea change. And they know many of you will vote in November, and all of you will mobilize and organize in the lead up to the next election so that candidates for office know they must commit to vote for policies that end the violence.
Companies are feeling the pressure as well. We must also use our power as consumers and investors. That's why Dick's Sporting Goods, Walmart, and Kroger have all raised the age limits for gun purchases. Investment funds who have ownership stakes in gun companies are beginning to make demands and are considering divesting. Companies can see the country changing. They see the marketplace changing. But we're just getting started.
Make no mistake, these are early days in our movement to stem the tide of gun violence. The marches are just the beginning. Our challenge is to take our sorrow and our rage and continue to build our power.
We won't stop until we have passed laws to ban assault weapons and high capacity magazines.  Because weapons of war have no place in our communities.
And we're going to win universal background checks and close the private sale loophole that currently allows people to dodge background checks at gun shows and online.
We won't stop until we defeat the NRA, stand up to the gun industry, and demand that elected officials change the laws of the land.
That's when our grief will turn to dancing, and the memories of the murdered will truly be a blessing.
Nachamu, Nahamu ami. "Take comfort, take comfort my people."
My own comfort comes because you – in your righteous indignation, and fierce determination – you have heard the cry of the blood of your siblings
Because you refuse to stand idly by while they bleed
Because you are your sisters' keepers and you are your bothers' keepers.
May God bless you, keep you – and help you bring all of us, and all God's children Shalom – peace. Shabbat shalom.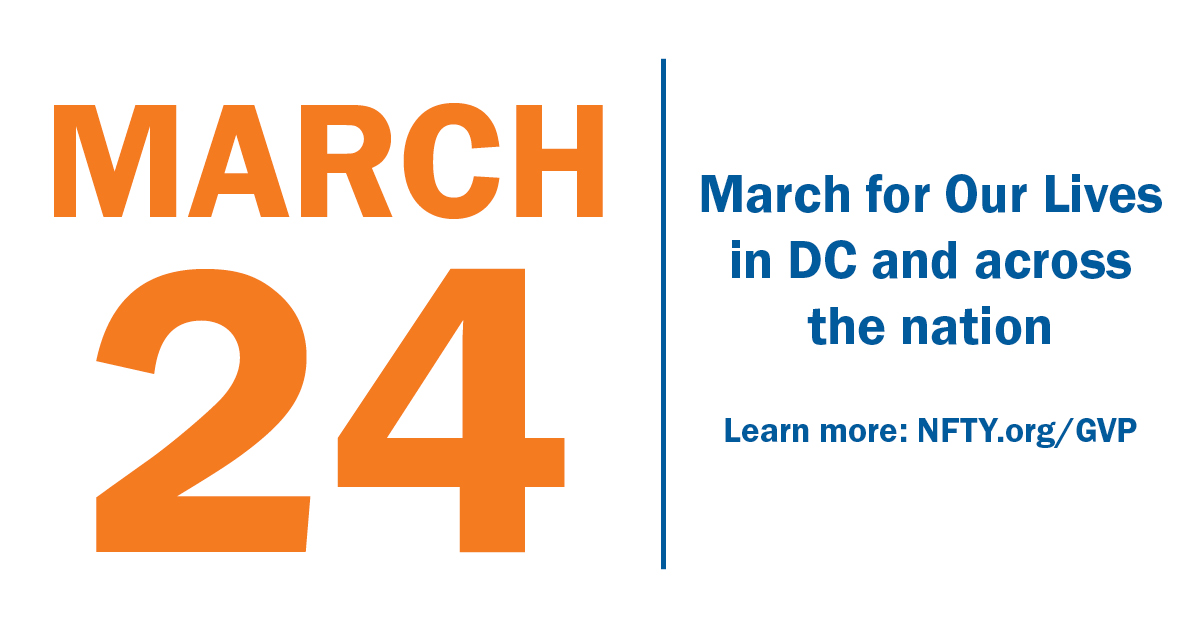 ​
To get involved in the Reform Movement's mobilization -- led by NFTY -- to end gun violence, visit www.NFTY.org/GVP. If you're participating in the March for Our Lives in DC or across the country, register to connect with Reform Movement activists so we can march as one community, following the lead of our NFTY leaders, to demand action.  
Related Posts
Image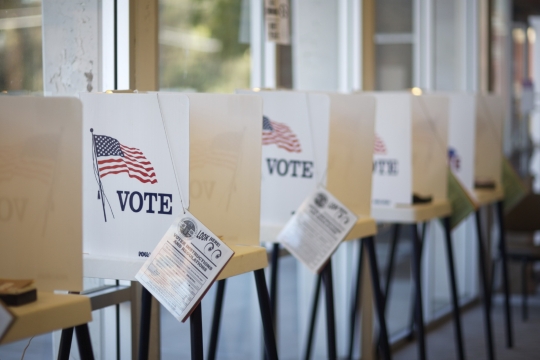 With 2023 in full swing, leaders and officials at every level are setting their agendas and priorities for the coming year. We continue to be proud of the power we built and mobilized in 2022 as a Reform Movement as we gather to set the agenda for our work in 2023.
Image
January 22nd will mark 50 years since the Roe v. Wade decision and the first anniversary since the Supreme Court overturned Roe last summer, paving the way for states to ban abortion and restrict other critical reproductive health services.
Image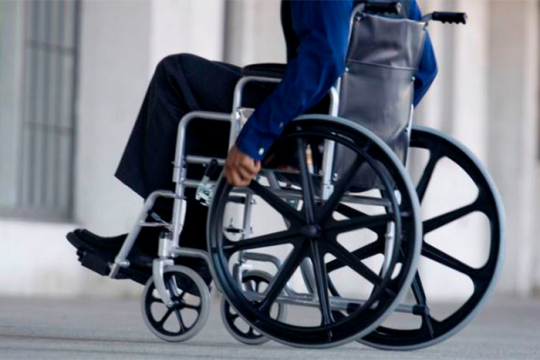 The Religious Action Center is excited to continue our partnership with the Jewish Federations of North America as hosts of the annual Jewish Disability Advocacy Day (JDAD) on February 15th at 12 PM ET. Registration is officially LIVE!