Image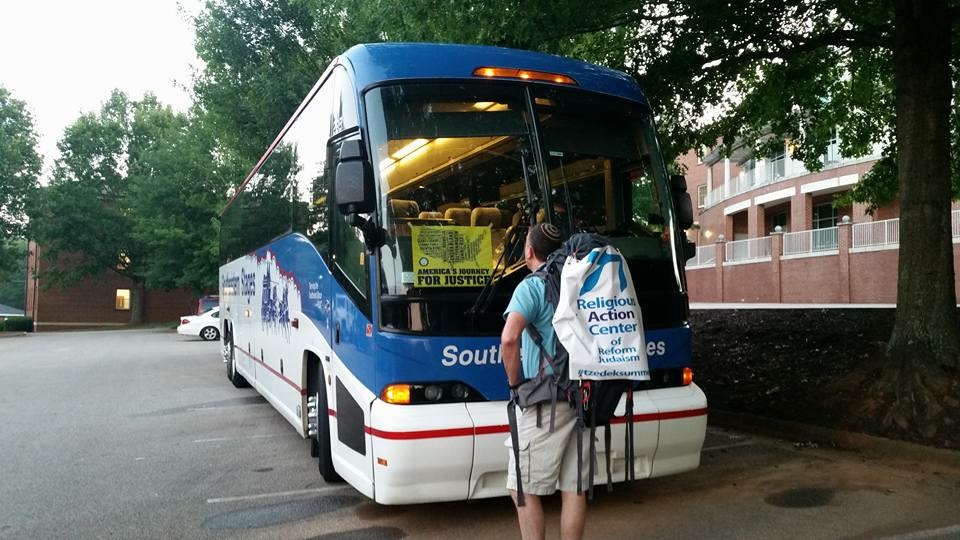 My head is swimming.
Not just with the heat of an 18 mile march on a cloudless summer day; not just with the bottles of water and Gatorade, although it is swimming for those reasons.
My head is swimming with pride at being a Reform rabbi in this moment; never have I been prouder. Never have I felt the power of the collective impact we can have in the sacred work of repair than I did on one long day. Our presence there was felt and appreciated; our willingness to accompany, to listen, was so valued, so noticed. We matter, as Reform rabbis, in this space and on this march. What it will mean beyond September is yet to be determined; it is for us to determine it. But in the moment, I cannot underscore how much it meant to me and to our fellow marchers that we engaged in a ministry of presence, teaching Torah with our feet, with our hearts, with our ears, and with an actual Torah!
My head is swimming with the heartbreaking and heart-filling stories I heard along highway 29 in Troup County, GA - the county with the ninth widest gap between rich and poor in the entire United States. 
I heard the story of Royal who is, like me, afraid to watch his son pull the car out their driveway; realizing that the reason Royal is worried is because of the real fear that his son could end up dead after a routine traffic stop left my head swimming.
I heard the story of a Georgia State Trooper who was at the forum on voter justice; he was ostensibly there "just" for our safety, but as a colleague spoke to him at the end of the forum, it was clear that his eyes were opened. Having heard about the new and regressive laws coming forward in Georgia regarding voter registration, the trooper said, "Man -- my father may not be able to vote; he was born at home and so doesn't have a birth certificate."
My head is swimming with the desperation in Jonathan's eyes when I asked him why he was marching. "Why am I marching?" he nearly yelled. "People are dying! This country is failing to live up to its promise! Why am I marching? Because we have to wake this country up!"
I'm swimming with the optimism of Keshia who quit her job to walk the entire 860 mile journey. At the end, she's moving to Detroit to start a not-for-profit that will help people start small businesses in their own communities.
My head is swimming with possibilities, inspired by the local political science professor who regularly reads the Georgia constitution with his students, as each proposed change to state voting laws is considered. He regularly calls into the Attorney General's office in the middle of class to point out the unconstitutionality of a new statute. He and his students regularly are a part of stemming the tide of injustice, and his students learn firsthand that they can make change in the world.
My head is swimming with the shock and awe of having read The Warmth of Other Suns by Isabel Wilkerson, Between the World and Me by Ta-Nehisi Coates and The New Jim Crow, by Michelle Alexander, all in the space of two weeks. Each of these texts is a must-read for those who wish to understand something of where we are in this country with regards to racial injustice, for those who wish to understand how got here, for those who believe that this is all about a few "bad apple" police officers or about people who "refuse to pull themselves up by their bootstraps."
I'm angry.
I'm angry at myself. Angry at how willfully blind I've been. 
I'm angry at the system we have created and perpetuated and codified to ensure that there are two different systems of "liberty and justice for all," at the ways in which Jim Crow is still alive and well and living all over our great country.
Are you angry? Do you want to do something about it? I don't have answers yet, but my head is swimming-- drowning, really. Will you jump into these scary, unfamiliar rip-tide waters with me?
Joel Mosbacher has been the rabbi of Beth Haverim Shir Shalom synagogue in Mahwah, NJ for 14 years. He is one of the national co-chairs of the Metro Industrial Areas Foundation's Do Not Stand Idly By campaign to reduce gun violence.
Related Posts
Image
We stand with the people of Israel during these difficult and challenging days and pray for the safety and immediate release of all of the hostages. See our resources and actions you can take.
Image
Before sharing some tools for facing and combating antisemitism, it's important to have a clear understanding of exactly what antisemitism is. 
Image
When we think about climate change, I believe we often get lost in the global context and forget about its local impacts. Climate change is a complex, unfamiliar, slow-moving, and intergenerational problem that covers a broad range of policies, topics, and headlines.