Image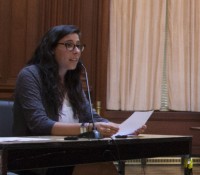 Yesterday evening, I had the privilege of testifying at the U.S. Environmental Protection Agency in support of theClean Power Plan, a proposal to limit carbon emissions from existing power plants. I'm pleased to share the full testimony below.
"Hello, my name is Sophie Golomb and I am a Legislative Assistant at the Religious Action Center of Reform Judaism, which advocates on behalf of the Union for Reform Judaism, whose 900 congregations across North America include 1.3 million Reform Jews, as well as the Central Conference of Americans Rabbis, whose membership includes more than 2000 Reform rabbis. I thank you for the opportunity to speak today in support of the EPA's Clean Power Plan, a proposal to reduce carbon pollution from existing power plants. These proposed federal standards, which target a key source of carbon pollution, mark an historic step in our nation's commitment to protecting public health and curbing climate change.
While climate change is an immense environmental, political and economic challenge, for the Reform Jewish community, climate change is a moral and spiritual challenge as well. Biblical commentary in Kohelet Rabbah (1:4) reminds us that "one generation goes, another comes, but the earth remains the same forever." We understand that as stewards of the environment, we have a responsibility to safeguard our planet so that future generation will have clean, breathable air and a stable climate.
Climate change has been linked to some of the most devastating weather events in recent memory and has contributed to millions of deaths. As Reform Jews, steeped in the words of the Torah and our ancient sages that collectively remind us of our responsibility to the earth and to one another, it is incumbent upon us to respond to these disasters without delay, and to work to prevent future climate disasters as well.
That is why, when Hurricane Sandy struck the North East almost two years ago, the Union for Reform Judaism swiftly established a Relief Fund, aiding member of our congregations and others in areas that suffered loss of food, shelter and clothing. We continue to aid those who have suffered in more recent events in the United Stated and abroad.
But we must also act to prevent extreme weather events. As you well know, hurricanes, droughts, wildfires, and other weather-related events are made more severe by rising temperatures, and as concluded in the 2013 UN Intergovernmental Panel on Climate Change report, it is extremely likely that human influence has been the dominant cause of the recently observed global warming.
We appreciate that these proposed standards address the heart of our nation's carbon problem by targeting power plants, the country's largest concentrated source of carbon dioxide emissions. These reductions will lead to immense environmental and public health benefits. Carbon pollution contributes to increases in respiratory ailments, heart attacks and premature deaths. Moreover, communities of color, low-income communities, children and older adults are disproportionately overburdened by the impacts of carbon pollution. Further, as if weather-related tragedies in community's nationwide weren't convincing enough, the recent Third National Climate Assessment indicated that climate change is no longer a distant threat looming in the future, but an issue that we are already experiencing the impact of in the present. The average temperature in the United States has increased by 1.3 degrees to 1.9 degrees Fahrenheit since 1895 and most of this increase has occurred since 1970. While a degree or two rise in temperature might seem insignificant in a daily weather report, we know the tremendous and detrimental impact increasing global temperatures have on the health and safety of communities in the United Stated and worldwide.  If we do not take the necessary steps to curb climate change now, temperatures are projected to rise another 2 degrees to 4 degrees Fahrenheit in the next few decades.
We appreciate that the flexibility of this proposal recognizes that states, cities and businesses across the country are already taking steps to reduce emissions through establishing measures to increase energy efficiency and transition to renewable resources. This Clean Power Plan works with and builds on those efforts to accommodate the diverse needs of each state and the best available options.
It is our responsibility to protect our children and future generations from the impacts of climate change. It is our responsibility to help prevent people in every region of this country from ever again knowing the devastation caused by wildfires, heat waves, droughts, flooding and hurricanes. It is our responsibility to cut our carbon emissions and adopt strong carbon pollution standards for existing power plants under this agency's Clean Power Plan proposal. The need for limits on carbon emissions has never been more urgent. We need to act now.
Thank you for taking this vital step towards a cleaner and healthier environment and we look forward to continuing to support and work with the EPA and the Obama Administration to fully implement strict carbon pollution standards for existing power plants to promote public health and combat climate change."
Show your support for the Clean Power Plan by submitting a comment to the EPA today.
Related Posts
Image
Today, we stand at a critical crossroads in the climate crisis. The reconciliation bill is a historic, watershed approach, uniting the success of American families, the American economy, and environmental protection and climate crisis amelioration. We must take care not to destroy or spoil God's creation. We still have time to prevent the worst aspects of the climate crisis.
Image
In late August, the FBI released its annual compilation of hate crimes statistics, summarizing all hate crimes reported to the FBI in 2020. The data is alarming and only tells part of the story, as an increasing number of law enforcement agencies did not report data to the FBI. A new law will strengthen hate crimes data collection, reporting, and response measures, giving us hope that future statistics will be more accurate.
Image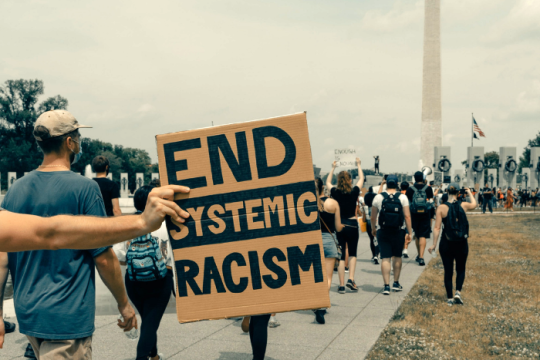 The Reform Movement's Racial Justice Campaign continues to be a central part in combating the daily oppression and dehumanization of BIPOC (Black, Indigenous, People of Color) individuals that is rooted in the 400-year history of systemic racism embedded in every corner of North America.