Image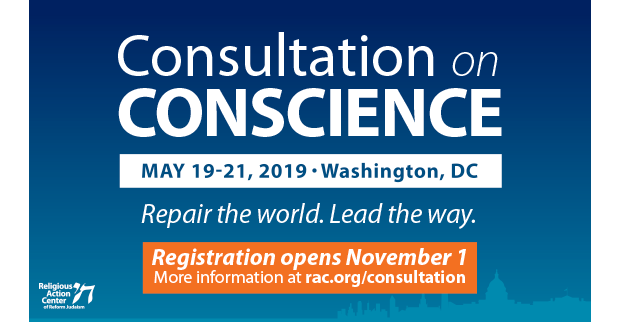 High school social justice leaders are invited to attend the Religious Action Center of Reform Judaism's biennial social justice leadership conference, the Consultation on Conscience. Held over three days in Washington D.C., the Consultation on Conscience is dedicated to training and empowering Jewish leaders like you to make real, lasting change at the national, state, provincial, and local levels.  
There are lots of ways to cover the cost of attending Consultation – and you have months to earn the money to be a part of THE event to build meaningful connections with other students committed to justice, learn and expand the skills you need to advocate for social change, deepen your knowledge on the critical issues facing our community, and lobby Congress together as a powerful collective force for change.  
Here are a few tips and links for raising the money to get yourself there: 
If possible, register by November 23, 2018 to get the best price (pay only 50% of the regular registration rate). Registration will be open until May 1, 2019 if you need more time to earn that paper, but spots fill up fast, so get to work now! 

If you belong to a synagogue, ask your advisor, rabbi, cantor, or educator if there are scholarships or discretionary funds available that you can request or apply for as a leader in the community. Most people will come as part of a delegation with their congregation, so act now and be the first to request financial support. You could also have them put an ask out for a sponsor who will donate flight miles to help cover the cost of a plane ticket if you are traveling from farther away.  

Consider staying with a family member who is also attending. That saves you money on hotel costs that you can put toward registration and travel.  

One of our high school leaders put together a Fundraising Bank where you can find suggestions for ways to raise money. Get to work now, and you'll have the money earned in the next few months! 

Save money you would normally spend. How much money would you save if you skipped one Starbucks coffee a week? If you took a weekly babysitting job? If you put 10% of your paycheck away every month? Small steps add up fast, and saving a little now will be worth it when you get to DC in May!

Apply for a scholarship from your NFTY region, which will be offering a limited number of need-based scholarships. Please be in touch with your NFTY regional staff member for a link to the scholarship application.
Related Posts
Image
We stand with the people of Israel during these difficult and challenging days and pray for the safety and immediate release of all of the hostages. See our resources and actions you can take.
Image
Before sharing some tools for facing and combating antisemitism, it's important to have a clear understanding of exactly what antisemitism is. 
Image
When we think about climate change, I believe we often get lost in the global context and forget about its local impacts. Climate change is a complex, unfamiliar, slow-moving, and intergenerational problem that covers a broad range of policies, topics, and headlines.