Image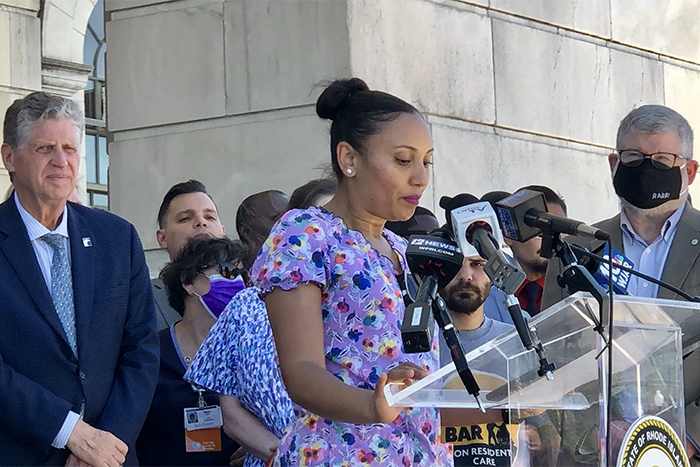 Jewish tradition commands: "Speak up for those who are unable to speak for themselves, for the rights of all who are destitute. Speak up, judge righteously, champion the poor and the needy" (Proverbs 31:8-9). It's difficult, though, to know how to go about doing that. 
For years, the Social Action Committee at Temple Sinai in Cranston, Rhode Island, did things like making sandwiches for hungry people — and we do believe that such relief programs are important — but  we also wanted to really speak up for the poor. To do more than treat the symptoms of poverty, we decided to take action on poverty's root causes.
Three years ago, we started a new vision for our Social Action Committee by appointing people with an activist background to lead it. We formed partnerships with other faith communities to advocate for laws that focus on the systems of oppression that keep people poor – racism, sexism, anti-immigrant bias, and other forms of oppression. In the last few weeks, those efforts have paid off with two big wins at the Rhode Island State House. The first is a law that will stop landlords from practicing a common form of housing discrimination. The second sets standards for nursing homes to employ adequate numbers of caregivers.
How did we do it? Members of our Social Action Committee divided up the congregation's membership to make direct phone calls to members in which we asked them to contact their state representatives and senators. We targeted members who live in districts represented by lawmakers on key committees. The phone calls resulted in dozens of advocacy calls, emails and letters. Members also testified at legislative committee hearings to persuade lawmakers.
One key to our success was that we did not act alone. The congregation is part of the Rhode Island Interfaith Coalition to Reduce Poverty, a statewide movement of faith communities and anti-poverty advocacy groups. Working in coalition with others means that our efforts are part of a coordinated strategy.
Why does this work? People often assume that citizen phone calls and letters to legislators don't make a difference compared to special interest lobbyists and campaign contributions, but this is not always true. On the state level especially, it doesn't take that many messages from voters to get lawmakers to notice an issue. Messages from as few as a dozen citizens can seem like an avalanche to a representative thinking about the next election. These messages turn uncommitted lawmakers into supporters, and they turn supporters into bill sponsors. 
On Thursday, April 15, we saw the impact of all our phone calls and testimony when Rhode Island Governor Dan McKee signed the Fair Housing Practices Act. The law prohibits housing discrimination based on a renter's source of income. Prior to passage of the law, landlords could deny housing to prospective tenants based solely on the source of income they planned to use to pay the rent – such as Social Security benefits, child support payments, or Housing Choice Vouchers ("Section 8"). Often, such discrimination has been used as an excuse to cover discrimination against women, immigrants, and people of color. No more. With the passage of this law, low-income Rhode Islanders – disproportionately people of color and immigrants – have a better chance of finding decent, safe housing.  
Our Social Action Committee chose this bill because many of our members are anxious about the state's housing crisis. We've seen how housing costs have skyrocketed. Also, we heard from housing advocates how discrimination against people with Housing Choice Vouchers was making a program that has been highly successful elsewhere almost useless in our state.
On Thursday, May 27, Gov. McKee signed another bill we prioritized — the Nursing Home Staffing and Quality Care Act. The law requires all nursing homes to have a minimum of 3.58 hours of direct nursing care per resident, per day, beginning in 2022; it goes up to 3.81 hours in 2023 — the highest standard in the nation. The law also requires 80% of nursing home rate increases to go directly to higher compensation and benefits for nursing home workers. 
We chose the bill because we know a lot of Temple members worry about the quality of care their parents and other relatives receive in nursing homes — especially during the pandemic. But we also chose the bill as a matter of social justice. The majority of healthcare workers in nursing homes are women of color. Giving health case workers adequate pay and adequate staffing support helps them provide for themselves and their families. The road to a more just society includes looking at systems that disproportionately affect people of color and changing them so that we don't perpetuate inequality.
And we're not done. We are moving on now to supporting legislation to increase state benefits for families with children living in deep poverty. Rhode Island has not increased cash assistance for these families in 30 years. We continue to be inspired by Judaism's call to make a difference for a more just and compassionate society.
Related Posts
Image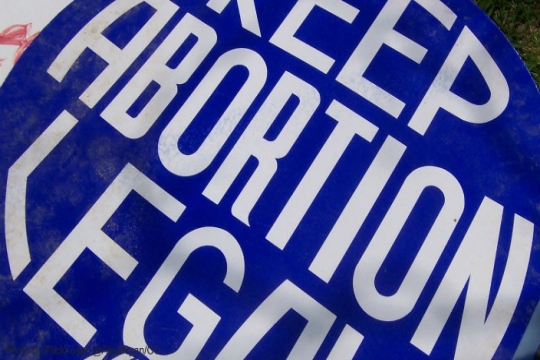 Here are some resources and actions to protect and advance abortion access.
Image
This Pride Month, NFTY North American Board members Daniella Abbott and Cameron Samuels joined HUC rabbinical student Kelly Whitehead to discuss how their trans and non-binary identities have influenced their attitude toward systems of oppressions in the wake of new legislation aimed at attacking queer identities.
Image
In the spring of 2021, the Arkansas General Assembly adopted an anti-transgender law (House Bill 1570), criminalizing medical professionals when they provide or make referrals to colleagues to deliver gender-affirming health care to minors.