In response to the attack that happened at B'nei Torah Kehillat Yaakov synagogue in Har Nof, Jerusalem, the leaders of the Union for Reform Judaism (URJ), the Central Conference of American Rabbis (CCAR), the Association of Reform Zionists of America (ARZA) and the American Conference of Cantors (ACC) released the following statements:
Reform Movement Condemns Brutal Attack at Jerusalem Synagogue

, from URJ President Rabbi Rick Jacobs
"The Reform Movement is appalled at the horrific and gruesome attack of worshipers at a synagogue in Jerusalem early this morning. Our hearts go out to the victims of this horrendous attack and we insist the perpetrators be condemned and held responsible. Such violence on innocent people in their place of worship is an affront to all humanity. Israeli and Palestinian leaders must work together to de-escalate the growing violence in the region, particularly in the holy city of Jerusalem. Our thoughts and prayers go out to the families of the victims taken from us this morning in Jerusalem. May the Holy One comfort these families among the mourners of Zion and Jerusalem."
Reform Rabbis Condemn Synagogue Terror Attack in Jerusalem

, from CCAR President Rabbi Richard A. Block and CCAR Chief Executive Rabbi Steve A. Fox
"The Central Conference of American Rabbis condemns the cruel, cowardly, and despicable murder of Jews peacefully worshipping God in their synagogue by Palestinian terrorists belonging to one of the fanatical groups that seek Israel's destruction. This was an act of unadulterated evil and obscene desecration, and a predictable consequence of incitement by Palestinian leaders calling for "days of rage." Such incitement must be condemned by all concerned in unequivocal terms and it must stop immediately and permanently. No political cause can justify or be advanced by such deeds. Our hearts go out in condolence to the loved ones of those murdered and pray for the full and speedy recovery of those injured. We trust that law enforcement authorities will move swiftly to bring any perpetrators that remain at large to justice."
ARZA Strongly Condems Terrorist Attack in Jerusalem

, from ARZA President Rabbi Josh Weinberg and ARZA Chair Rabbi Bennett Miller
"ARZA expresses its deepest condolences to the families of those who perished at the hands of terrorists today. An attack on innocents, and especially against innocent people at prayer in a house of worship can only be viewed as a purposeful act of violence with the intention of causing pain and death.  All  those who care about humanity and all who care about the integrity of all beings should decry such behavior and see it exactly for what it is -- intentional and brutal murder. We join with all who care about decency and who are pursuers of peace. We join with all Israel in our deep sense of sadness and mourning, and we hope and pray that all those of good will shall raise their voices high and drown out the forces of violence and terror."
ACC condemns brutal attack in Jerusalem

, from ACC President Cantor Mark Goldman and ACC Managing Director Rachel Roth
"The American Conference of Cantors, together with our partners in the Reform Movement, condemns the horrific and brutal attack by Palestinian terrorists against worshipers at a synagogue in Jerusalem this morning. As US Secretary of State John Kerry said, this act of pure terror has no place in "human behavior." Our thoughts and prayers go out to the victims and we insist the perpetrators are brought to justice swiftly. We call on both the Israeli government and Palestinian leadership to work together to de-escalate the growing tension and violence in the region, especially in Jerusalem."
Related Posts
Image
We stand with the people of Israel during these difficult and challenging days and pray for the safety and immediate release of all of the hostages. See our resources and actions you can take.
Image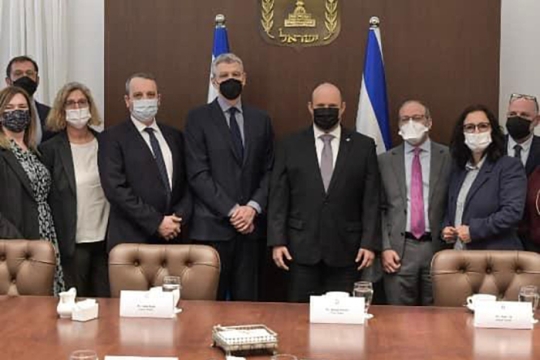 In meetings with the President of Israel, Isaac Herzog, Defense Minister Benny Gantz, Finance Minister Avigdor Lieberman, Transportation Minister Merav Michaeli, and Foreign Minister and Alternate Prime Minister Yair Lapid, we discussed the crisis in Ukraine, the future of the Kotel, ensuring more funding and rights for non-Orthodox Jews, combatting racism, and stopping extremist violence against Palestinians, in addition to other pressing issues.
Image
The current wave of violence in Israel and Gaza is a heartbreaking human tragedy. The loss of innocent life (including that of children) rends the heart, destruction of homes and endemic fear defy the peace and security in which every human being deserves to live.