Image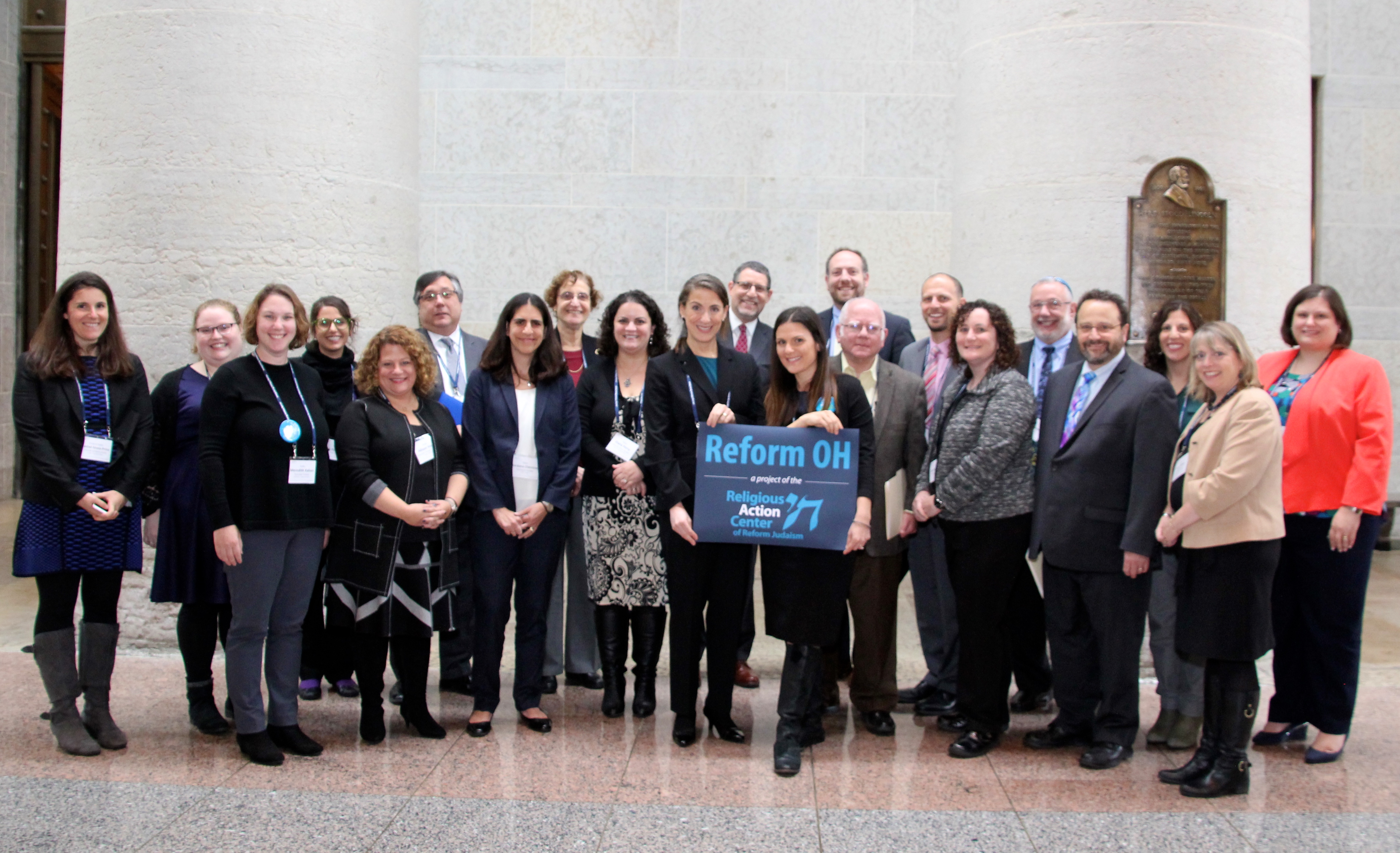 Over 2 million incarcerated people live in our nation's prisons and jails, more than any other country in the entire world. Our prison population has increased 500% since 1977 and 20% of prisoners in the U.S. are serving time for nonviolent drug offenses. Black men are six times as likely to be incarcerated as white men, and Hispanic men are more than twice as likely to be incarcerated as non-Hispanic white men. Our criminal justice system is broken and in serious need of repair.
Reforming our criminal justice system is a top priority for the Reform Movement. Our tradition is clear – all people deserve a chance to repent for their mistakes and do the hard work of teshuvah. Moreover, 15%-20% of American Jews identify as Jews of color. We must confront the institutional racism embedded in our criminal justice system that directly impacts members of our own community. Further, we stand on the shoulders of legendary Jewish leaders like Rabbi Abraham Joshua Heschel and Al Vorspan who understood the importance of speaking out in support of racial justice. We strive to follow their examples by showing up with our partners fighting for racial justice and equality.
To end mass incarceration, action must target unjust sentencing laws. Mandatory minimum sentences for nonviolent drug offenses need to be reduced and judges' discretion to retroactively align sentences with new guidelines should be expanded. Decision makers must enact reforms that include assistance for returning citizens, helping to facilitate smooth reentry into society by providing funding for vocational training, soft skills, and drug and alcohol counseling. Ending the practice of money bail and addressing the school to prison pipeline, which disproportionately harm populations of color, would also substantially improve our current system.
For years, the RAC and Reform congregations across the country have worked with partners to reform our criminal justice system. Currently, we are lobbying for criminal justice reform on the federal level by supporting the Sentencing Reform and Corrections Act (SRCA) (S.1917), a bipartisan bill that seeks to comprehensively reduce mass incarceration, reform our prison system, and assist returning citizens with their reentry into society. Through our lobbying, we affirm the moral imperative to end mass incarceration, and impress the message upon legislators that criminal justice reform is a priority for Reform Jews across the country. Together with interfaith partners, the RAC remains hopeful that our persistent advocacy can push this crucial piece of legislation across the finish line.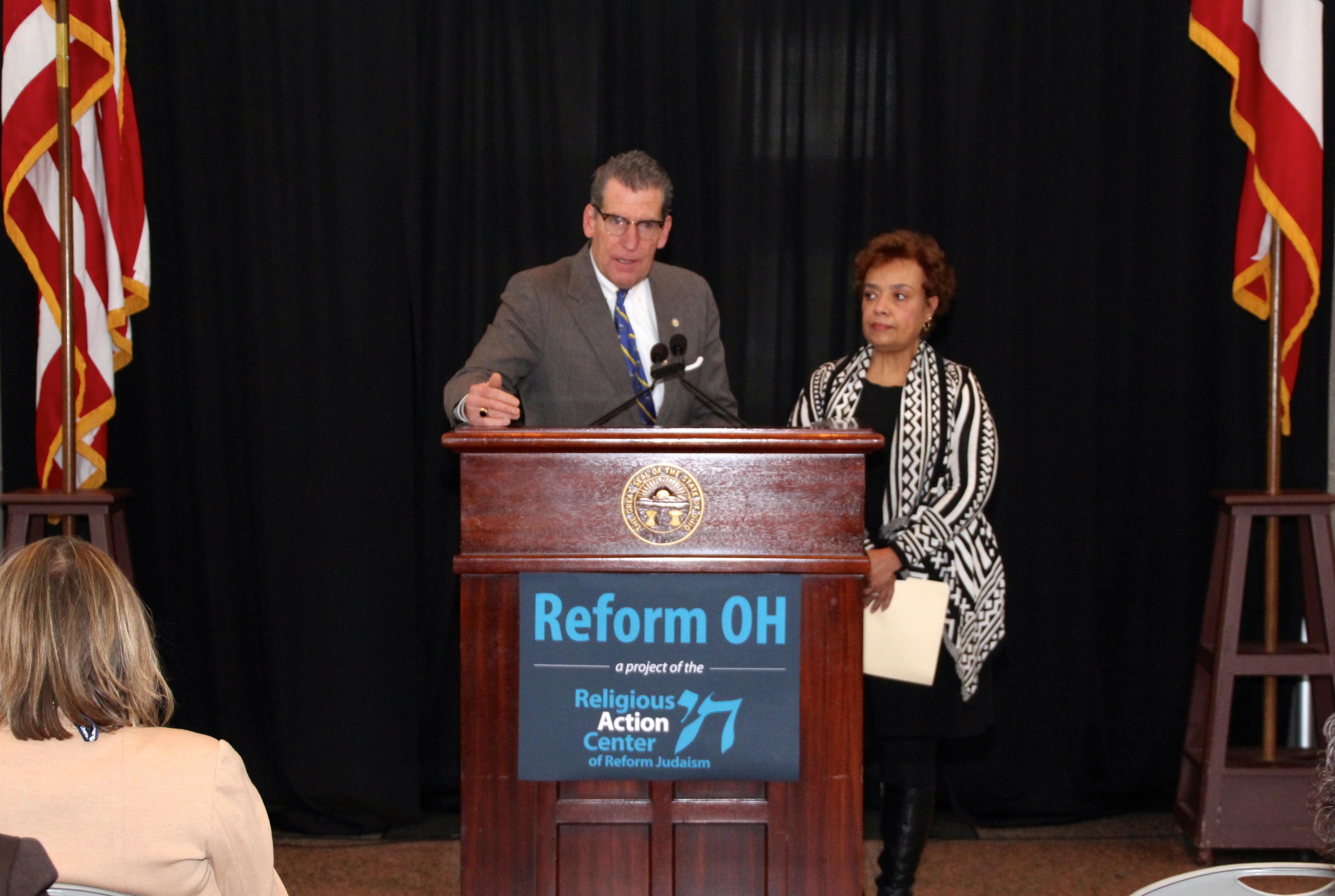 SB 66 sponsors, Senators Charleta Tavares and John Eklund, address Reform Ohio participants.
The RAC is also advocating for criminal justice reform on the state and local levels. In October, 70 Reform Jews traveled from across the state to Columbus, Ohio, to lobby their representatives on behalf of Senate Bill 66, a criminal justice bill which seeks to reform Ohio's probation and criminal record sealing laws. The event was the launch of Reform Ohio, which aims to organize Reform Jews in Ohio to advance policy priorities of the Reform movement. Early on a Wednesday morning, Reform Ohio participants gathered in the main atrium of the Ohio Statehouse to hear from Senate President, Senator Larry Obhof, SB 66 sponsors, Senators Charleta Tavares and John Eklund, criminal justice reform advocates, and rabbis from congregations around the state. The delegation then met with their elected representatives and lobbied their respective members to support SB 66.
Mass incarceration must be dismantled at the local, state, and federal levels. Recent efforts in Ohio and at the federal level are just the latest examples of the RAC's enduring commitment to pursuing policy to advance racial justice and criminal justice reform. Join us by urging your Senators to cosponsor the Sentencing Reform and Corrections Act or by enrolling in our Criminal Justice Urgency of Now campaign.
Matt Fidel is a 2017-2018 Eisendrath Legislative Assistant. Matt is originally from Pittsburgh, PA, and he is a graduate of the University of Michigan.
Related Posts
Image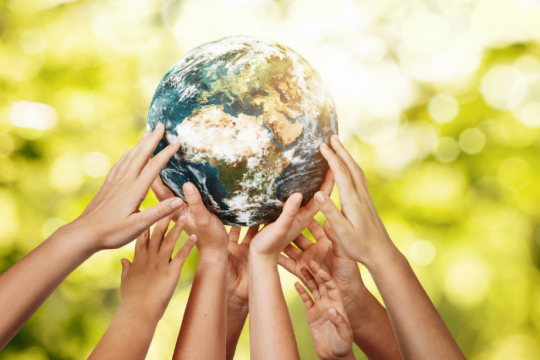 Today we offer a special Mi Sheberach (a prayer for healing) for ourselves and our planet together. The Jewish morning blessing for our health talks about the human body's pathways and openings. Like us, the earth's pathways and openings are vital to its health. Our planet is in need of healing as are we.
Image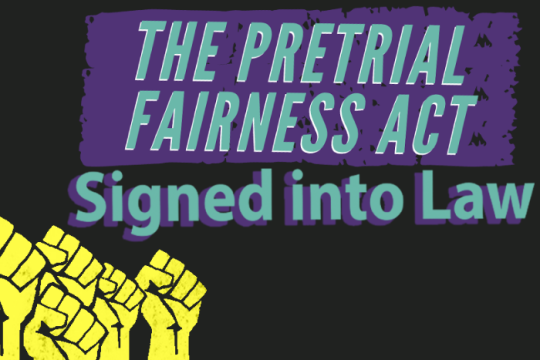 On February 22, 2021, RAC-IL helped secure a historic victory in Illinois, as Governor J.B.
Image
"I need you to show up in Trenton." Those eight simple words are how it