Today, the Religious Action Center of Reform Judaism welcomes our new director, Rabbi Jonah Pesner. Rabbi Pesner succeeds long-time director Rabbi David Saperstein, who stepped down following his confirmation as the Ambassador-at-Large for International Religious Freedom. Rabbi Pesner is an accomplished advocate with broad experience leading social justice campaigns, and comes to the RAC with a mandate to deepen its advocacy work while mobilizing the Reform Jewish community and its allies. Read further, including from Rabbi Pesner and words of congratulation from Rabbi Saperstein, URJ President Rabbi Rick Jacobs, CCAR Chief Executive Rabbi Steve Fox, and from Commission on Social Action Chair Jennifer Kaufman,
in this press release from the Union for Reform Judaism
. An article published in the Washington Post on Thursday describes Rabbi Pesner's connection to the Reform Movement and his inspiration to make social justice a key part of his rabbinate:
"But Pesner knows institutional religion today has to prove its value. For him personally, the impact has been clear. Growing up in New York, he was extremely active in his Reform synagogue and youth group. He met his wife, employment lawyer Dana Gershon, at a youth group event and together as teens staffed the social-justice table at group retreats, she said. As president of his high school Jewish youth group, Pesner attended one of the Religious Action Center's early trainings in the District, where he met Saperstein. Pesner recalled on that trip intensely arguing with an aide to a Republican senator about the need to reduce nuclear stockpiles. Pesner remembers arguing "that we are stewards of God's Earth" and says those exchanges, decades ago, shaped his life. He went on to become a congregational rabbi, most recently at the influential Temple Israel in Boston. Despite the synagogue's apparent health, he said it had a problem that many U.S. houses of worship have: Do people talk deeply with one another about their values? Goals? Jewishness? And how does that translate into action in the public square?"
Read the full article here
. In a piece by the Jewish Telegraphic Agency also published on Thursday, Rabbi Pesner gave insight into some of the skills that he will bring saying,
"I bring to Washington the perspective of politics that transcends political parties," Pesner said. "It was a vision of a higher plane of politics to engage people across the aisle."
Read the full article here
.
We are thrilled to welcome Rabbi Pesner to the RAC and know that he will take us
m'chayil l'chayil
, from strength to strength.
---
About Rabbi Jonah Pesner:
Rabbi Jonah Pesner, 46, currently serves as Senior Vice President of the Union for Reform Judaism, a position to which he was elected to in 2011. Named one of the most influential rabbis in America by Newsweek magazine, he has been an inspirational leader, creative entrepreneur, and tireless advocate for social justice. In his current position, he has been a principal architect in transforming the URJ and guiding the Reform Movement to become even more impactful as the largest Jewish denomination in the world. Among other initiatives, he is a founder and visionary leader of the Campaign for Youth Engagement, a bold strategy to mobilize tens of thousands of young people in the Jewish community. Rabbi Pesner's signature accomplishment has been to encourage Jewish communities in interfaith efforts to reach across lines of race, class and faith in campaigns for social justice. In 2006, he founded 
Just Congregations
, which impacts more than 180 communities in 30 states and engages countless clergy, professional and volunteer leaders in interfaith efforts for the common good. He has led and supported campaigns for economic justice, marriage equality, human rights, and a variety of other causes. He was a primary leader in the successful Massachusetts campaign for health care access that has provided health care coverage to hundreds of thousands and which became a model for national reform. Rabbi Pesner has trained and mentored students on all four campuses of the Hebrew Union College-Jewish Institute of Religion, and gives speeches in interfaith and secular venues all over the world. He has served as a scholar for the Wexner Foundation, American Jewish World Service, and Combined Jewish Philanthropies, among others. Ordained at Hebrew Union College-Jewish Institute of Religion in 1997, Rabbi Pesner was a congregational rabbi at Temple Israel in Boston and at Temple Israel in Westport, Conn. A graduate of Wesleyan University and the Bronx High School of Science, Rabbi Pesner is married to Dana S. Gershon, an attorney in Boston. They have four daughters, Juliet, Noa, Bobbie and Cate.
Related Posts
Image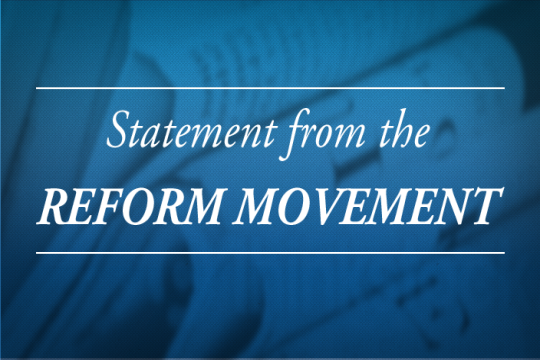 This is the cover note of a letter to the 118th Congress outlining the Reform Jewish Movement's policy priorities and urging all Members of Congress to join us in pursuit of a more just and equitable world.
Image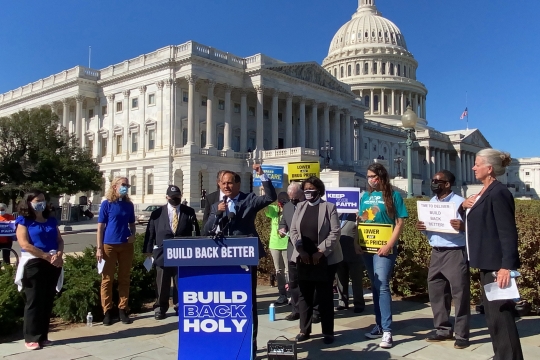 After 12 hours of storytelling and prayer at the Washington Interfaith Staff Community's Build Back Better Prayer Vigil outside the U.S. Capitol on October 20, it was clear: bold investments in our economic recovery are crucial to the livelihood of workers, children, and families in the US. To rebuild the American economy and address the structural inequities that long preceded the pandemic, Congress must pass a robust Build Back Better Act.
Image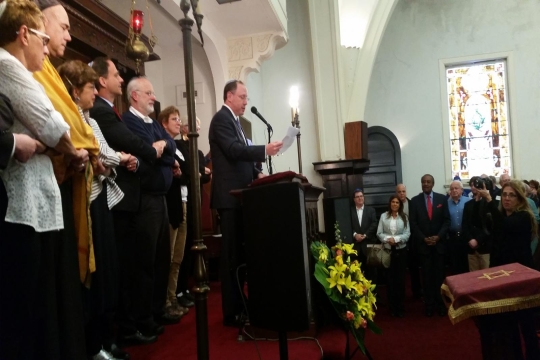 Delivered on Sunday, June 10, 2018 in Austin, TX Rabbi Aaron Panken understood his call to be the creation of an entire generation of inspiring leaders who would lead the Jewish people to fulfill our destiny.