Image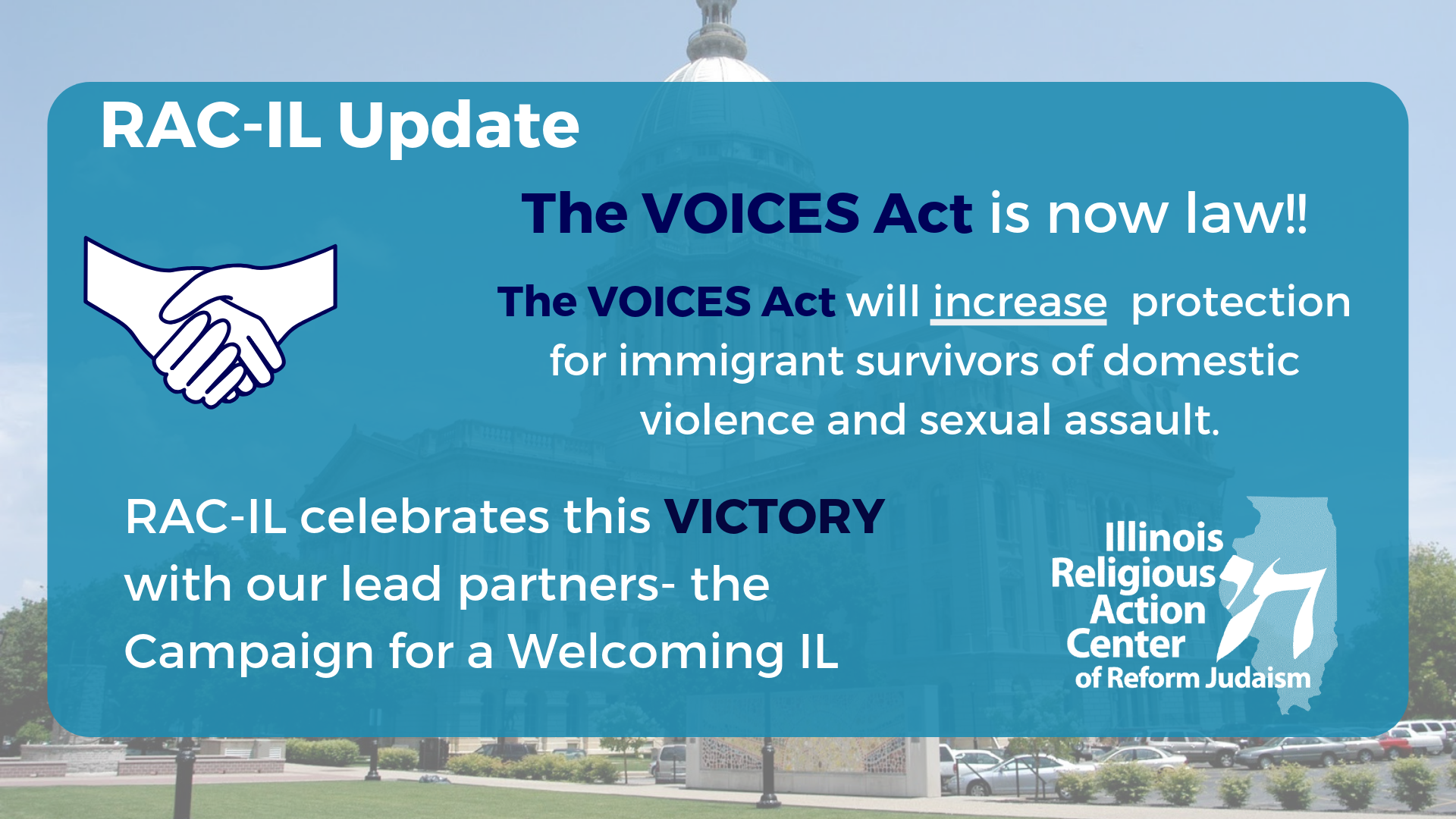 The Illinois Religious Action Center of Reform Judaism (RAC-IL) is excited to announce that the VOICES Act is now law in Illinois! The VOICES Act will significantly increase protections for immigrant survivors of domestic violence and sexual assault.
We celebrate this victory with our partners at the Campaign for a Welcoming Illinois, who organized and led the coalition in support of the VOICES Act (SB 34). The bill originally passed the Illinois General Assembly last spring and was vetoed by Governor Rauner this summer. Late last month, the Illinois House joined the Senate in overriding the gubernatorial veto of the Voices of Immigrant Communities Empowering Survivors (VOICES) Act.
RAC-IL is the collectively organized Reform Jewish community in Illinois, coming together around issues of shared concern, including immigrant justice and criminal justice reform, initially. To date, approximately 25 Reform congregations are part of this effort to leverage our power to build a more just and compassionate Land of Lincoln for all. 
We joined with the Campaign for a Welcoming Illinois earlier this summer in an effort to call on Governor Rauner to sign a package of three pieces of legislation that had passed the General Assembly with bi-partisan support. Governor Rauner ultimately signed one bill, the No Registry Program Act, and vetoed the other two, the VOICES Act and the Safe Zones Act. RAC-IL again stood with our partners to override the gubernatorial veto last week and help bring the VOICES Act into law.
Hundreds of Reform Jews in RAC-IL congregations participated in this campaign through a variety of strategic actions, including:
Generating approximately 500 phone calls to the Governor's office in a single day in August urging him to sign the package of legislation,
Recruiting nearly 20 synagogues and individual rabbis to sign-on to a faith-leader letter to the governor,
Clergy writing and sharing d'vrei torah to their colleagues during a seven-week period as models for teaching Reform Jews about the Jewish grounding for this issue,
Sponsoring Deportation Defense trainings conducted by our partners at The Resurrection Project to educate more than 150 program participants from nearly 20 Reform congregations,
Participating in a teach-in on the bills included in the Campaign for a Welcoming IL, as well as multiple rallies and marches throughout the summer,
Engaging in a targeted effort at the request of the Campaign to secure "yes" votes among legislators who had previously voted for the VOICES Act, and participating in a Campaign-led lobby day during the recent veto session.
Julie Webb is the Lead Organizer of the Illinois Religious Action Center of Reform Judaism (RAC-IL). 
Related Posts
Image
"I need you to show up in Trenton." Those eight simple words are how it
Image
Debbie Coutant, a leader at Congregation Shir Hadash in Los Gatos and a member of
Image
In 2019, RAC-CA set gun violence prevention and housing as our two top issues.