Image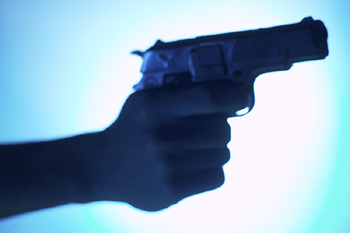 A few months ago for Domestic Violence Awareness Month, I wrote about the unlikely connection between domestic violence and gun violence, and how the intersection of these two issues has resulted in continuous threats to women's safety in the United States. Of U.S. women killed by intimate partners, 55% were killed with guns and 76% experienced stalking in the year prior to their murder. As January is National Stalking Awareness Month, it is important that we also explore the connection between gun violence and stalking.
Although stalking is a crime that is seldom spoken about, one in every six women will experience stalking during her lifetime. Further, stalking is an indicator of future violence, particularly in the context of domestic violence. One study found that over three-quarters of women murdered by an intimate partner were also stalked by the abuser in the preceding year.
Currently, individuals who are convicted of misdemeanor stalking are not prohibited from purchasing guns. This is a major loophole in our gun purchasing system. Further, often when people are charged with a domestic violence crime that would render them a prohibited purchaser of guns, they enter into a plea agreement resulting in a reduction of the charge to a lesser crime that can include stalking. It is imperative that we fix our laws in order to keep women safe.
Jewish tradition tells us, "do not stand idly by while your neighbor's blood is shed" (Leviticus 19:16). This text teaches us that it is not enough to refrain personally from using guns for violent purposes, but that we must also take action to end gun violence.
Luckily, federal legislation has been introduced in both the House and the Senate to close this loophole. The Zero Tolerance for Domestic Abusers Act (H.R. 3130) and the Protecting Domestic Violence and Stalking Victims Act (S. 1520) would close loopholes that currently allow convicted stalkers, and domestic abusers, to legally purchase guns.
When convicted abusers and stalkers have guns, women's lives are at risk. There are a few ways that you can take action to protect stalking victims from gun violence:
For more information on gun violence prevention, visit our issue page. For more information about National Stalking Awareness Month, visit this webpage. 
Related Posts
Image
We stand with the people of Israel during these difficult and challenging days and pray for the safety and immediate release of all of the hostages. See our resources and actions you can take.
Image
Before sharing some tools for facing and combating antisemitism, it's important to have a clear understanding of exactly what antisemitism is. 
Image
When we think about climate change, I believe we often get lost in the global context and forget about its local impacts. Climate change is a complex, unfamiliar, slow-moving, and intergenerational problem that covers a broad range of policies, topics, and headlines.