Image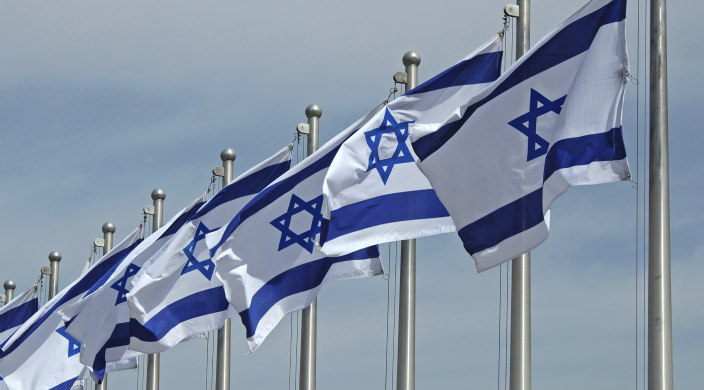 Since the end September, my Facebook timeline, Twitter feed, and email inbox have been filled with a steady stream of increasingly fearful and disheartening news coming from Israel. The recent uptick in violence in Israel, the West Bank and Gaza has brought worry and frustration to those concerned for Israel's security and invested in a peaceful future for the region.
After the October 16 arson attack on Joseph's Tomb, URJ President Rabbi Rick Jacobs released a statement calling for an immediate end to the violence that "puts Palestinians and Israelis on the precipice of a conflagration that will end only with greater bloodshed." Writing for ReformJudaism.org on Thursday, he discussed the Reform Movement's participation in a Special Sabbath of Solidarity with Israel, shared a prayer for peace and reiterated his call for political leadership in the region. Rabbi Jacobs' first statement on the escalation advocated for a return to serious negotiations: "without the Israeli and Palestinian leadership coming together to sincerely engage in negotiations that will lead out of this cycle of violence, the violence will continue and deepen." Our Movement also expressed its commitment to Israel when it sent a 56-person strong delegation to the World Zionist Congress in Jerusalem in late October.
As we continue to watch the situation, it is becoming increasingly difficult to keep track of and make sense of the news we see and hear. We ask: What is happening in the region? Why is it happening? Is this round of violence an intifada (uprising)? What does it mean? When will it end? The following resources, though they are far from comprehensive, can help us as we look for answers to these pressing questions and ponder our role as supporters of Israel and proponents of peace in these difficult times.
We will update these resources as events progress. Please note that the opinions contained in these articles do not necessarily represent those of the Reform Movement, but rather are provided to give context, raise questions and inspire discussion.
Latest Updates:
The Times of Israel's live blog is providing up-to-the minute updates on the situation, and has been my go-to to keep up with the latest events.
News Briefs:
Israeli Soldier Lightly Wounded in Hebron Stabbing Attack (Haaretz, October 20, 2015).
UN chief warns of religious war as PM says Abbas 'fanning the flames' (Times of Israel, October 20, 2015).
Fatal beating of Eritrean prompts soul-searching in Israel (Associated Press, October 19, 2015).
Analysis:
Zack Beauchamp interviews political scientist Jeremy Pressman for Vox about the recent surge in violence. The two discuss its causes, what makes it unique and to what it could lead.
In "The Terror War from East Jerusalem," the Times of Israel's Avi Issacharoff explains why he views the situation as an intifada and suggests a number of causes, from recent weeks and recent years, for the violence.
In Haaretz, Asher Schechter argues that "This Isn't an Intifada, This Is What Binational Israel Looks Like." He discusses the difficulties of contending with violence from hard-to-track sources and casts doubt on any end to the unrest.
In "Abbas's Double-Game," Jerusalem Post columnist Ilan Evyatar analyzes the Palestinian Authority President's response to the crisis, pointing out the fact that he is using harsh rhetoric, but also continuing security cooperation with Israel.
Alex Fishman's article in YNet, "The intifada of the young and hopeless," suggests that it will be difficult to stop this round of violence immediately and points to larger economic and political issues that may contribute to this escalation.
The Washington Institute for Near East Policy recently hosted a policy forum entitled, "Palestinian-Israeli Crisis: Leadership, Diplomacy, and Prospects for Renewed Violence." The event's summary and video archive can be found here.
The Brookings Institution is running a blog series called "Markaz: Debating Israeli-Palestinian Futures," featuring analysis from their policy experts on the future of Israeli-Palestinian relations and the two-state solution.
Reform Movement Responses:
URJ Calls for Sincere Political Negotiations and An End to the Escalating Violence in Jerusalem (October 5, 2015).
CCAR Deplores Terrorism, Denounces Abbas (October 7, 2015).
Choppers over Jerusalem (Alden Solovy, October 9, 2015).
As Racism Grows in Israel, Let's Re-Commit to Peace and Non-Violence (Anat Hoffman, October 12, 2015).
Israel's Latest Terror Wave: The Global Reform Movement Responds (October 13, 2015).
Reform Jewish Movement Sends Largest Delegation to Jerusalem for World Zionist Congress, in Solidarity with Am Yisrael at a Time of Brutal Terror Attacks (October 14, 2015).
Sabbath of Solidarity and a Prayer for Peace (Rabbi Rick Jacobs, October 15, 2015).
URJ Response to Arson Attack on Joseph's Tomb: Time for an Immediate End to Violent Attacks (October 16, 2015).
Related Posts
Image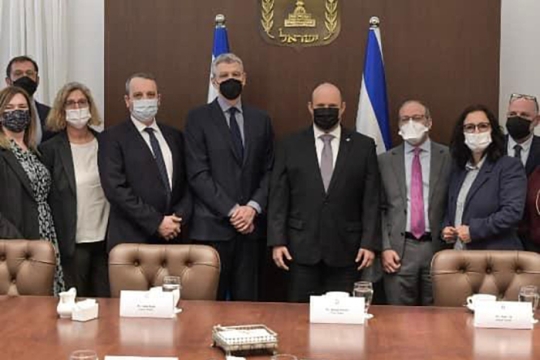 In meetings with the President of Israel, Isaac Herzog, Defense Minister Benny Gantz, Finance Minister Avigdor Lieberman, Transportation Minister Merav Michaeli, and Foreign Minister and Alternate Prime Minister Yair Lapid, we discussed the crisis in Ukraine, the future of the Kotel, ensuring more funding and rights for non-Orthodox Jews, combatting racism, and stopping extremist violence against Palestinians, in addition to other pressing issues.
Image
The current wave of violence in Israel and Gaza is a heartbreaking human tragedy. The loss of innocent life (including that of children) rends the heart, destruction of homes and endemic fear defy the peace and security in which every human being deserves to live.
Image
While some see this conflict in only stark black and white terms, it is intensely complex. To help navigate this complexity, we offer this resource guide, including material that may be helpful in laying out the context and nuances of this latest round of violence between Hamas and Israel.