Image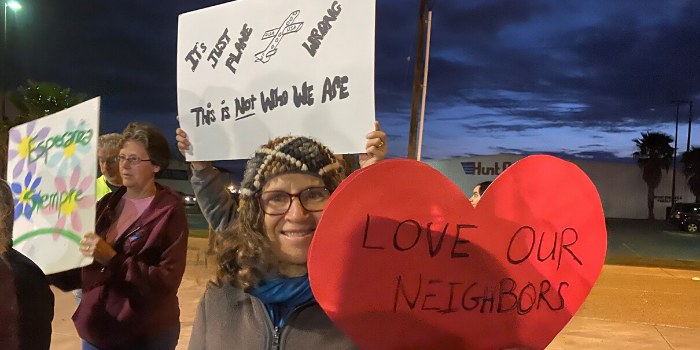 As part of the Kraus Initiative for Immigrant and Refugee Justice, the Reform Jewish Movement is working to be in solidarity with asylum seekers and restore the asylum system. In partnership with Jewish and interfaith groups, we aim to advance legislation that will safeguard fundamental rights. During this season, we as a movement have the opportunity to educate ourselves, our congregations, and our communities in the importance of asylum and ways to support people seeking refuge.
Along with leaders from the Reform Jewish Movement, I have seen the need for this work up close in a recent visit to an encampment in Matamoros, Mexico, alongside the Rio Grande.
As we dragged wagons that just hours before had carried rice, beans, and chicken to a border camp, a little girl asked to pull one on her own. Her muscles were strong enough to haul the cart, she assured us – after all, she had walked all the way to the U.S. border from El Salvador.
We had just helped serve dinner at the encampment where the girl was living, a temporary home to around 2,000 people from Mexico, El Salvador, Honduras, Guatemala, Venezuela, and beyond, who live in tents while waiting months – some more than a year – for asylum hearings in the U.S. When it rains the camp turns to mud and in dry weather dust swirls, leading to health issues for residents. Meanwhile, inhabitants live in constant danger of violence.
It doesn't have to be this way.
The United States has long had a functioning asylum system in which people who set foot on U.S. soil were granted a "credible fear" interview -- and many who passed this initial screening were sent to live with friends and family in the U.S. while they awaited court dates to consider the full merits of their case. Those found unable to return to their country of origin "owing to well-founded fear of being persecuted for reasons of race, religion, nationality, membership of a particular social group or political opinion" were granted asylum, in accordance with U.S. and international law. That gave them the right to live in the U.S. permanently.
Unfortunately, the Trump administration is dismantling that system. To bar as many asylum seekers as possible from entering or staying in the country, and to discourage others from making the trip, the federal government is creating a plethora of obstacles:
Asylum seekers are being held to an impossibly high standard in proving their asylum cases. When they are given hearings, the proceedings are unfair. They are being held in tent courts with remote judges and little public oversight. The judges and ICE trial attorneys are often not visible to the asylum seeker. The government routinely fail to properly notify asylum seekers of their hearing dates, resulting in deportation orders given in their absence. And while the likelihood of success is almost nil without an attorney, it is extremely hard to find legal representation at the border. Less than half of one percent of cases heard in these tent courts are granted asylum.
Asylum seekers are forced to wait in Mexico through the administration's deceptively-named "Migrant Protection Protocols" program (known as "Remain in Mexico") despite the dangerous conditions including exposure to rape, kidnappings, and murder. Although domestic violence and gang-related violence (common occurrences in applicants' countries of origin) were once considered, the administration has removed these as legitimate grounds for being granted asylum.
The administration recently implemented a policy barring individuals from seeking asylum in the U.S. if they had not already sought and been denied asylum in countries they passed through en route to the U.S. border. Moreover, through bilateral agreements, the United States is sending people to El Salvador, Guatemala, and Honduras -- all countries other migrants are fleeing from -- to claim asylum there. Meanwhile, asylum seekers in the U.S. are being kept in stealth holding facilities that outsiders cannot enter, and boarded on planes in five-point restraints (with shackles and handcuffs attached at the waist) to be sent back to the countries they came from -- potentially to their deaths. These procedures have the effect of getting people out of the United States, not protecting their lives, as asylum is intended to do.
With the arrival of the COVID-19 pandemic, problems are escalating. The president has closed the border to asylum seekers, who are now being summarily turned away or sent to their country of origin without any hearing at all. Those subject to Remain in Mexico face squalid and tightly-packed conditions that are likely to transmit the disease, as they wait for court dates that have been postponed due to the outbreak. Meanwhile, those in the United States in detention centers face inadequate medical care, poor health, and crowded conditions that make the coronavirus likely to spread. All of this is in direct defiance of our faith and heritage. The Torah teaches us to welcome – not oppress – immigrants. Passover is a story of exodus and migration; it is a story of leaving slavery to make our way to freedom. And historically, we know that many in the Jewish community have experienced persecution and needed to seek refuge. Making sure the country welcomes refugees and maintains a fair asylum system is something that many of us feel deep in our bones.
This spring the Reform Jewish Movement is saying loudly: Restore asylum!
We invite everyone in our movement to read this Haggadah insert at their seder. As we leave a pair of laceless shoes at the door, or a pair of shoelaces on the doorknob – we signal our support for asylum seekers, and commit to working together to defend fundamental rights – the rights to safety, due process, and freedom that all human beings deserve.
With your congregation or individually, you can take these actions:
Share this blog and other educational materials with your communities.
Encourage members of Congress to sign onto the Asylum Seeker Protection Act (H.R. 2662).
Coordinate with migrant-rights coalitions in your area to support asylum seekers.
Join the RAC's Civic Engagement Campaign to make sure our Reform Jewish values are present in the public square during the 2020 election.
Related Posts
Image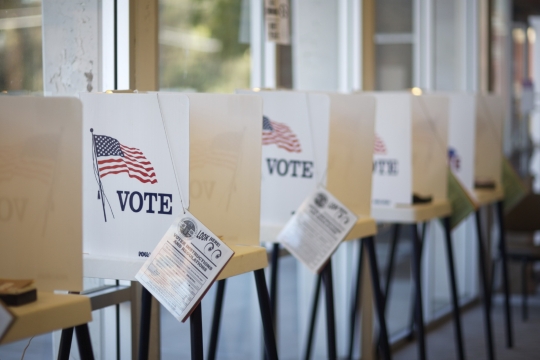 With 2023 in full swing, leaders and officials at every level are setting their agendas and priorities for the coming year. We continue to be proud of the power we built and mobilized in 2022 as a Reform Movement as we gather to set the agenda for our work in 2023.
Image
January 22nd will mark 50 years since the Roe v. Wade decision and the first anniversary since the Supreme Court overturned Roe last summer, paving the way for states to ban abortion and restrict other critical reproductive health services.
Image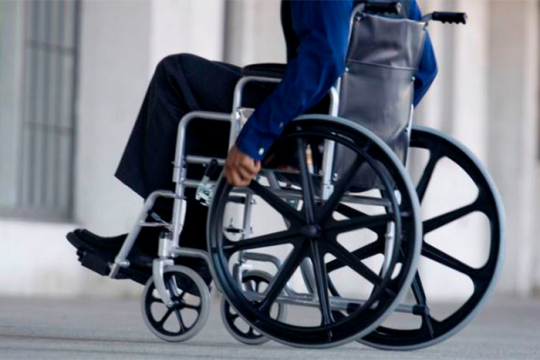 The Religious Action Center is excited to continue our partnership with the Jewish Federations of North America as hosts of the annual Jewish Disability Advocacy Day (JDAD) on February 15th at 12 PM ET. Registration is officially LIVE!