Human rights and Bedouin advocates are breathing a sigh of relief this week, now that the elementary school in the Bedouin village of Al-Sayyid has been connected to the power grid, four decades after it was built. The four other schools in the village will be hooked up to the power grid by the time school starts in September. This movement comes in the wake of a
petition to Israel's High Court of Justice
, which convinced the Israel Electric Corporation to connect these schools to the power grid. Moment Magazine's
cover story
this month concerns the Bedouin community of Umm al-Hiran, an unrecognized settlement in the southern Negev. The community, which was set up in the wake of a forced resettlement of the al-Quian tribe in 1956, was never recognized by the Israeli government, and is being targeted by the current Israeli government as the site of a new Jewish settlement in the area. Bedouin villagers live in fear of their
houses being taken over
, which is already starting to happen around the Negev. The government has offered to relocate Bedouin villagers in Umm al-Hiran to the
nearby village of Hura
, although many villagers are
refusing to move
. The new Minister of Agriculture, Uri Ariel, has promised to devise an
acceptable solution for both sides
, although it is hard to see what exactly that solution will be. In midrash, we learn, "God formed Adam out of dust from all over the world: yellow clay, white sand, black loam, and red soil. Therefore, no one can declare to any race or color of people that they do not belong here since this soil is not their home" (Yalkut Shimoni 1:13). Israel has special demographic issues to consider, and yet, we should do all we can to accommodate the needs of the Bedouin community. As the last governing coalition debated a similar plan to deal with unrecognized Bedouin villages, the Reform Movement
sent a letter
to Prime Minister Netanyahu, urging for consideration of Bedouin opinions to be taken into account:
"While the living conditions in many existing and unrecognized Bedouin communities are below those standards available in surrounding recognized villages, it is imperative that we remember that these areas remain home to those who live within them. Any plan to resettle members of the Bedouin community must be developed with leaders of that community rather than be forced upon them. The sense of displacement, along with potential for increased poverty and violence, that will accompany the dismantling of unrecognized villages is very real and must be treated with the utmost sensitivity."
As this dispute continues, we hope the government remains sensitive to needs on all sides of the issue. To learn more about the Bedouin community's relationship to Israel, visit the RAC's
Israel issue page
and
RACblog
.
Related Posts
Image
We stand with the people of Israel during these difficult and challenging days and pray for the safety and immediate release of all of the hostages. See our resources and actions you can take.
Image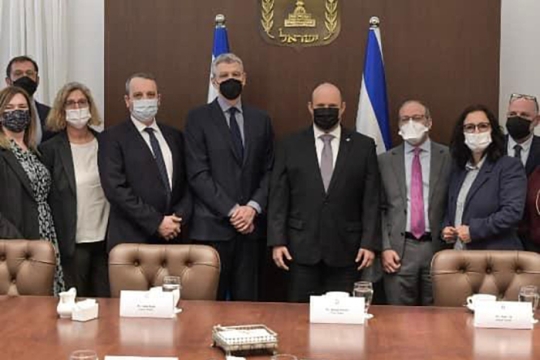 In meetings with the President of Israel, Isaac Herzog, Defense Minister Benny Gantz, Finance Minister Avigdor Lieberman, Transportation Minister Merav Michaeli, and Foreign Minister and Alternate Prime Minister Yair Lapid, we discussed the crisis in Ukraine, the future of the Kotel, ensuring more funding and rights for non-Orthodox Jews, combatting racism, and stopping extremist violence against Palestinians, in addition to other pressing issues.
Image
The current wave of violence in Israel and Gaza is a heartbreaking human tragedy. The loss of innocent life (including that of children) rends the heart, destruction of homes and endemic fear defy the peace and security in which every human being deserves to live.