Over the past couple of years,
the number of states that have marriage equality have more than doubled
, thanks largely in part to court cases. On April 28, the Supreme Court
 hear oral arguments
on four combined cases relating to marriage equality and could potentially establish marriage equality as the law of the land in all 50 states. The joint suit is known by one of the cases,
Obergefell v. Hodges.
On April 28, attorneys before the Supreme Court
will be tasked with answering two questions:
Does the Fourteenth Amendment require a state to issue marriage licenses to same-sex couples? and
Does the Fourteenth Amendment require a state to recognize same-sex marriages performed out of state?
The Central Conference of American Rabbis and Women of Reform Judaism
both joined the Anti-Defamation League and other organizations
in an amicus brief in support of marriage equality. The URJ also
joined an amicus brief of faith denominations and faith leaders
in support of marriage equality. Both briefs focus on different aspects of religious freedom in the U.S. Constitution: the brief joined by the CCAR and WRJ argues that same-sex marriage bans violate the Establishment and Equal Protection Clauses (First and Fourteenth Amendments respectively) because they were enacted with the purpose of imposing a particular religious understanding of marriage as law. The brief that the URJ joined argues that civil marriage equality for same-sex couples will not prejudice religious belief or practice, but rather will prevent one set of religious beliefs from being imposed through civil law. This case is especially timely, considering developments in Alabama. Despite
a January 23 decision by U.S. District Court Judge Callie V. Granade
in favor of marriage equality, on March 3,
the Alabama Supreme Court issued a ruling 
ordering probate judges to refrain from issuing marriage licenses to same-sex couples. As Jews, we have a moral responsibility to advocate for marriage equality. In 2000, the Central Conference of American Rabbis
approved a resolution
empowering Reform Rabbis to perform marriages for same-sex couples, and for decades, the Reform Movement has advocated for LGBT rights based on the Jewish value that all human beings, regardless of sexual orientation, are created
b'tzelem Elohim
, in the image of God (Genesis 1:27), and are therefore deserving of equality and respect. These values and our commitment to LGBT equality will be a focus of the
Consultation on Conscience
, the Reform Movement's premiere social justice conference, featuring high-level briefings with public policy decision makers and social action leaders of the Central Conference of American Rabbis and the Union for Reform Judaism and its affiliates. Evan Wolfson, President of
Freedom to Marry
, one of the leading LGBT organizations fighting same-sex marriage bans across the country, will be speaking about the fight for marriage equality. In fact, the last day of Consultation coincides with oral argument in
Obergefell v. Hodges
!
Register now for the Consultation on Conscience from April 26-28, 2015.
Related Posts
Image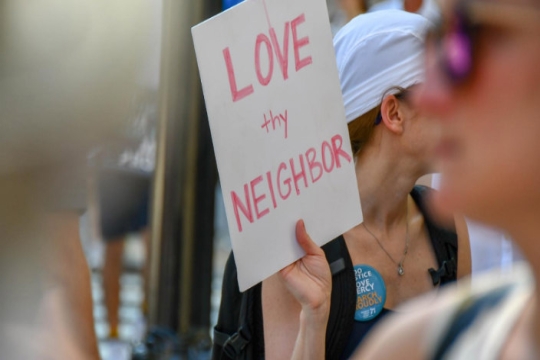 Together, these pieces of legislation would offer a path to citizenship for approximately 2.5 million people.
Image
These remarks are lightly adapted from those presented before the opening plenary of the 2019 Consultation on Conscience on Sunday, May 19, 2019.
Image
This year's event is the biggest in our history, but there are so many more would-be attendees who can't be with us in person. We've made it easier than ever for you to tune in from afar and to join us from home.