Image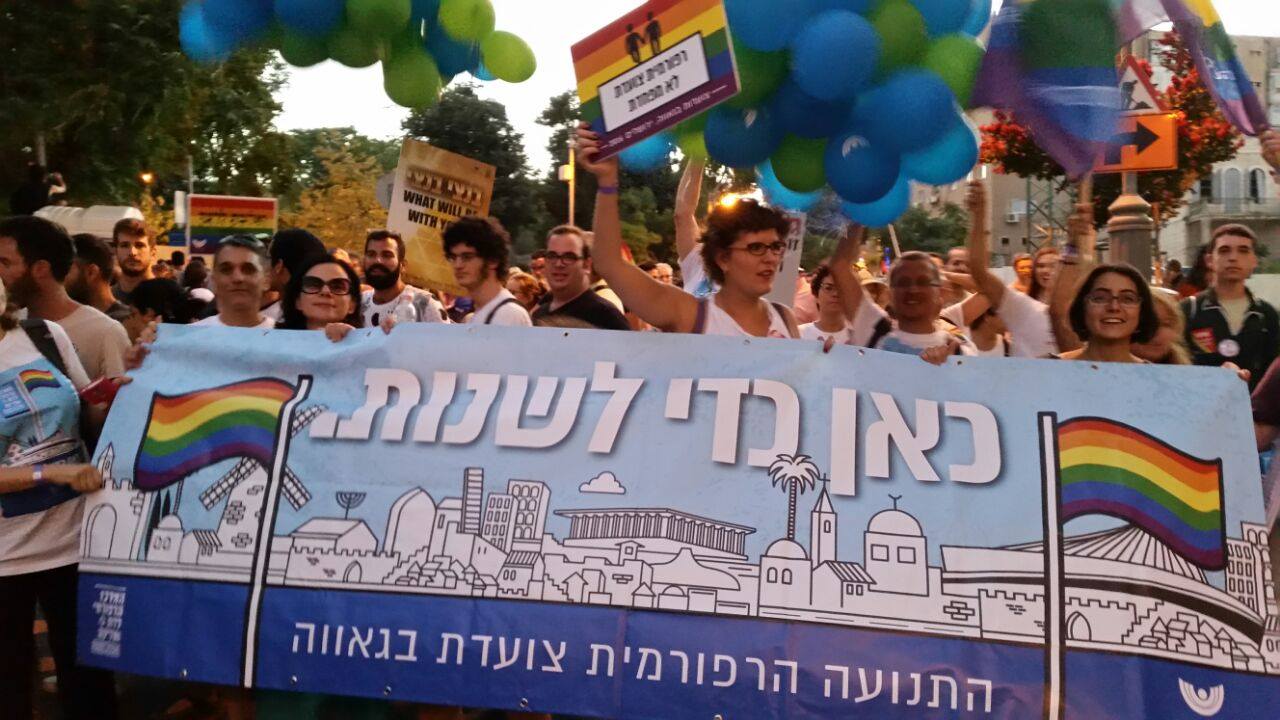 Across the world, pride parades are often more than a celebration of the LGBT community; they can be acts of solidarity in the face of discrimination and fear. This was especially true in Jerusalem last week, when 25,000 people marched through the streets of the city to affirm the humanity of LGBT Israelis.
This year's parade took place after a number of setbacks had threatened the parade's success. The week before, organizers had cancelled the Beersheva pride parade due to a Supreme Court ruling that would have kept marchers away from the city's main thoroughfare. In the days leading up to the Jerusalem parade, area Orthodox rabbis denounced the parade as an "abomination" and Jerusalem Mayor Nir Barkat announced that, while he supported the parade's right to proceed, he would not march in it. All the while, activists and allies had to confront stinging memories of last year's murder of Shira Banki, a marcher who was stabbed by a fellow Jew.
Yet, last Thursday's march was an expression of pride, solidarity and joy. Activists spoke optimistically about the progress LGBT Israelis have made in recent years, and many allies, including members of the Orthodox community, joined in this year's parade to make their opposition to anti-LGBT rhetoric and violence clear. While security was very high and a number of plots against the event were foiled, this did not stop people of goodwill from around Israel from joining together for Jerusalem's largest March for Pride and Tolerance ever.
Writing in Israel Hayom the day before Jerusalem's parade, Israel Religious Action Center Director and Jerusalem Open House for Pride and Tolerance CEO Rabbi Noa Sattath made a strong case against discrimination and hateful rhetoric directed at the LGBT community. She also discussed a core message that a large, unified pride march can convey: "We are more than just alright -- we are fantastic, different and diverse. The wealth we have to offer, thanks to our heterogeneity, is the key to a better society." With such broad participation in this year's parade, Rabbi Sattath's message came across loud and clear. Learn more about our work to promote LGBT rights, pluralism, democracy and security in Israel by visiting RAC.org.
Feature image courtesy of the Israel Religious Action Center, Facebook.
Related Posts
Image
This moment requires a strong moral voice.
Image
This is not a eulogy. I have not changed my belief in and love for Israel, nor have I given up hope for its future. Israel will be what we make it and will belong to those who fight for it.
Image
On Wednesday, October 26, the United Nations Educational, Scientific and Cultural Organization (UNESCO) passed a