Image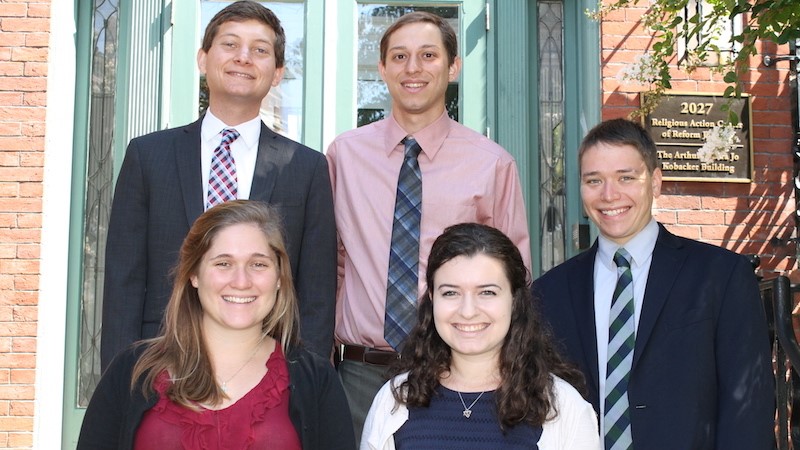 It's that time of year! The newest class of Eisendrath Legislative Assistants arrived at the RAC two weeks ago, and jumped right into the Washington, D.C. world of politics, advocacy and social justice. We are so looking forward to what they will do and accomplish for tikkun olam this year. Clockwise from the top left:
Adam Waters (he/him) grew up in Coral Springs, FL, and was a member of Temple Beth Orr. He attended Brown University, where he studied Latin American history and spent a semester researching collective memory in Cuba. Adam is a devoted television snob, foodie, and power-walker – he is still looking for a single activity that combines all three interests. This year, he will be working on racial justice (including civil rights, criminal justice, and hate crimes), campaign finance and election reform, and immigration.
Tyler Dratch (he/him) is from Newtown, PA where he grew up at Congregation of Ohev Shalom of Bucks County. Tyler attended Columbia University and the Jewish Theological Seminary where he majored in Political Science and Hebrew Bible. Tyler loves to bike around Washington DC, read, and play guitar. Tyler's legislative portfolio includes disability rights, hunger, housing and homelessness, labor, working family issues, the budget, minimum wage, and healthcare.
Jacob Kraus (he/him) is from Cincinnati, Ohio, where he is a member of Rockdale Temple. He graduated from Macalester College, where he studied Political Science. Jacob enjoys biking, spending time outside, playing guitar, and a good baseball game (especially when the Cincinnati Reds are playing). This year, Jacob's work will be focusing on Israel, World Jewry, the Holocaust, Anti-Semitism, Civil Liberties, and Native American Issues. He will also be working with the Reform Jewish Voice of New York State.
Tracy Wolf (she/her) is originally from Syosset, New York and is a member of North Shore Synagogue. She attended Dickinson College and studied Religion and Judaic Studies. In her spare time she enjoys exploring Washington D.C., cooking, and rooting for the New York Giants. As the Women of Reform Judaism LA, Tracy's portfolio covers women's and children's issues, reproductive rights, judicial nominations, and human trafficking. She will also be working on the LGBT Equality and Gun Violence Prevention portfolios.
Rachel Landman (she/her) is from Brooklyn, NY where she is a member of Brooklyn Heights Synagogue. She recently graduated from Hamilton College in Clinton, NY, where she majored in Biology and minored in Government. In her free time she enjoys running, swimming, hiking, making s'mores and anything outdoors. Rachel's legislative portfolio includes Environment: Clean Air and Water, Climate Change, Energy, Food Justice; International Issues: Global Poverty, Foreign Aid, International Religious Freedom, Global HIV/AIDS, Foreign Policy, Arms Control, Military, Human Rights, Debt Relief; Interfaith Relations.
Related Posts
Image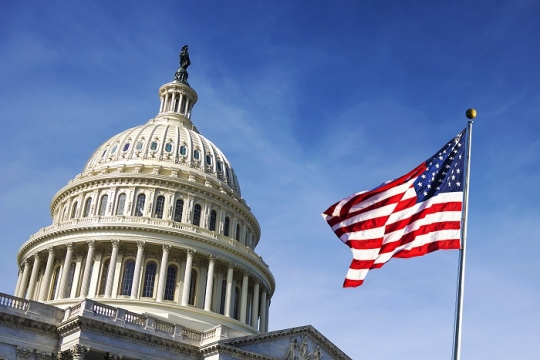 For more than six decades, the Religious Action Center of Reform Judaism has worked to educate, inspire, and mobilize the Reform Jewish Movement to advocate for social justice both within our Jewish community and outside of it. Key to that work are the emerging leaders of the Eisendrath Legislative Assistant Fellowship.
Image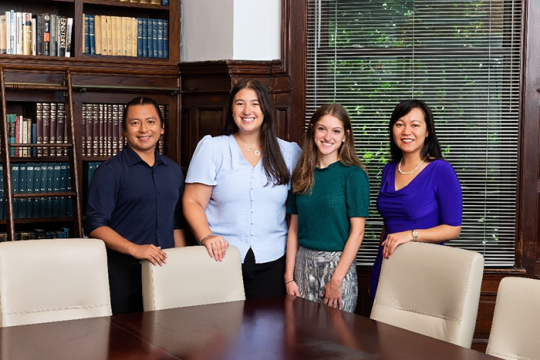 Whenever I see the notice that the Religious Action Center (RAC) is recruiting for Legislative Assistants (LAs), I immediately flash back to 1983 when I was an intern at the RAC. It was an amazing experience!
Image
I have always felt a strong sense of family when in Jewish spaces. Yet, my life experience has taught me that it is through the encounters with people of different backgrounds who have unique stories that the direction we take is shaped. This idea has helped me to no longer ask about what I deserve in life, but rather how I can use my privilege to give back to others. The same drive is what led me to apply to the Eisendrath Legislative Assistant Fellowship at the Religious Action Center - a unique opportunity to make a difference not many people believe is possible.