Image
A quick note from Logan Zinman Gerber, our National Teen Campaign Organizer: 
We have officially launched our first cohort of Gun Violence Prevention Fellows, a partnership between the Religious Action Center of Reform Judaism and NFTY - the Reform Jewish Youth Movement. Meet the student leaders selected for the fellowship, and stay tuned for information on their local projects to reduce gun violence in their communities. Interested in applying or staying in the loop for the Fall Cohort? Learn more here. 
Two years ago, I had the honor of serving as the New York Area Regional Social Action Vice President for NFTY - The Reform Jewish Youth Movement. As a high school senior, I was responsible for planning and leading the New York Area region in meaningful social justice programming and community service projects, and I was given many opportunities to grow and learn as a leader. I went to local social justice events, I connected with other regional social action leaders, I went to events, rallies, and protests. One of the most important things I learned from this experience was how important it is to be able to work with and learn from others while doing social justice work. 
Some of the most exciting programs I led were ideas I developed through working with other NFTY and URJ social justice leaders. One of the most exciting projects I worked on was planning and organizing Albany Advocacy Day. NFTY New York Area Region partnered with Reform Jewish Voices of New York to teach participants about different social issues and legislation in New York State, and then gave them the tools and opportunity to lobby their elected officials at the New York State Capital on these issues. Albany Advocacy Day gave me the opportunity to lead an amazing event that would not have been possible without the strong partnership between NFTY NAR and other Reform Movement leaders.  The RAC's Consultation on Conscience provides a similar opportunity for networking with leaders from across the country. At Consultation, you will have the opportunity to learn about different social justice issues and gain tools and skills to create real, effective change in your communities.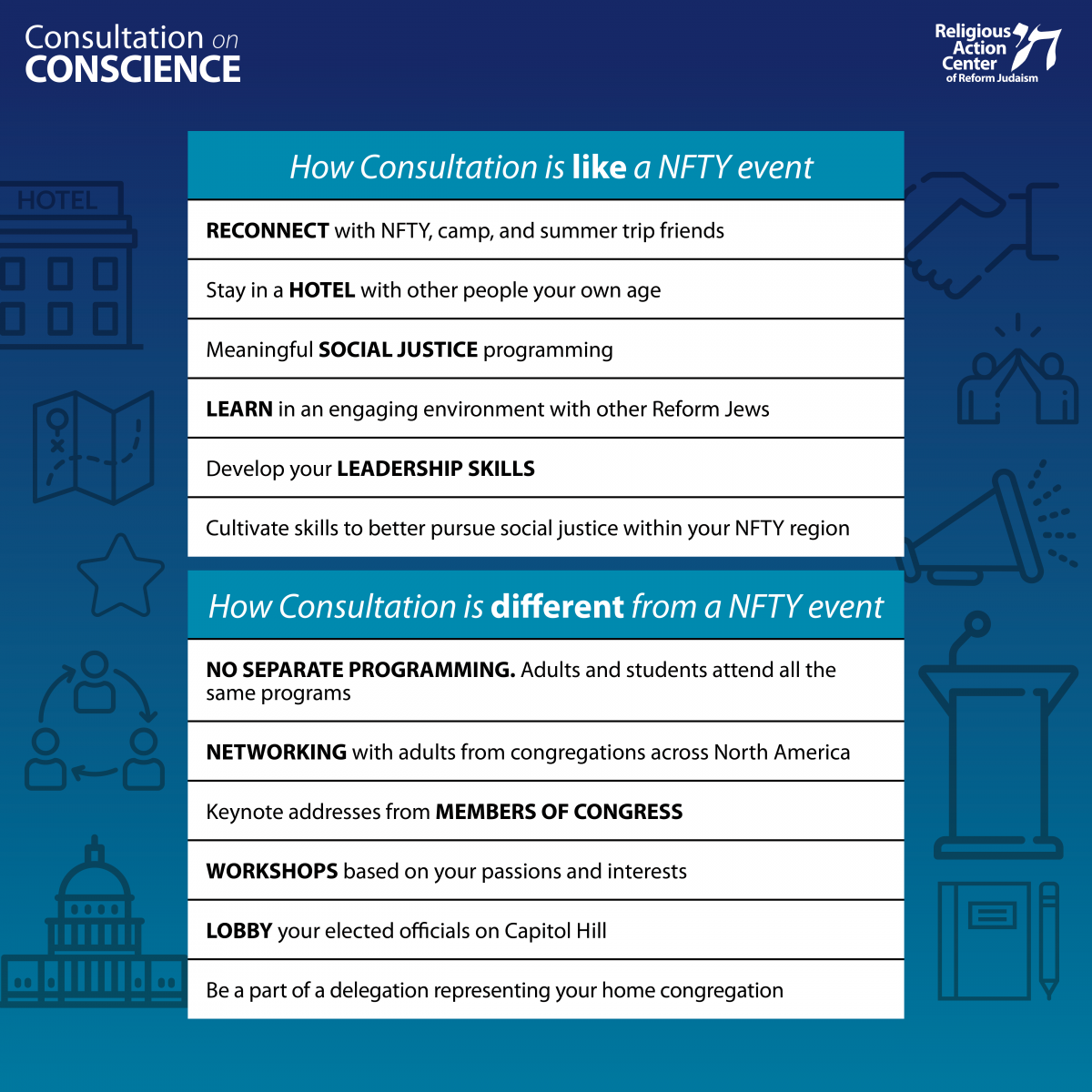 The Consultation on Conscience will give you the space to work with and learn from other Reform movement social justice leaders and provides the opportunity for you to take what you are passionate about and put that into action through lobbying on Capitol Hill.
Frequently, when we discuss our social justice work with adults we get told something along the lines of "That's so great, you'll do such amazing things when you're older." That is simply not the case.
The work that you are doing today is making such a significant impact on our world and government. You are not the future of this movement and this country. You are the leaders of today.  At Consultation, you will gain the skills to effectively drive us forward right now.
I highly encourage you to attend Consultation to expand and broaden your knowledge, tools, skills, networks, and passions to become better social justice leaders for your NFTY regions, schools, and home communities. 
Interested? There is more information on the student experience at the Consultation on Conscience website and discounted registration pricing for college students. Check it out here. 
Related Posts
Image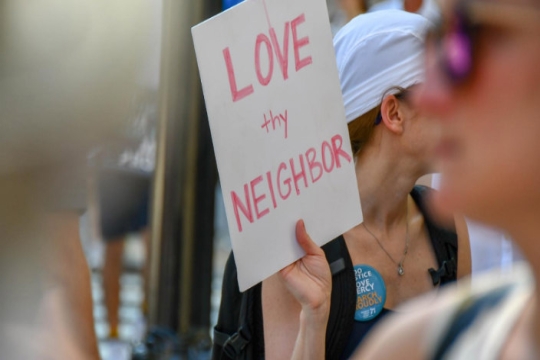 Together, these pieces of legislation would offer a path to citizenship for approximately 2.5 million people.
Image
These remarks are lightly adapted from those presented before the opening plenary of the 2019 Consultation on Conscience on Sunday, May 19, 2019.
Image
This year's event is the biggest in our history, but there are so many more would-be attendees who can't be with us in person. We've made it easier than ever for you to tune in from afar and to join us from home.