Image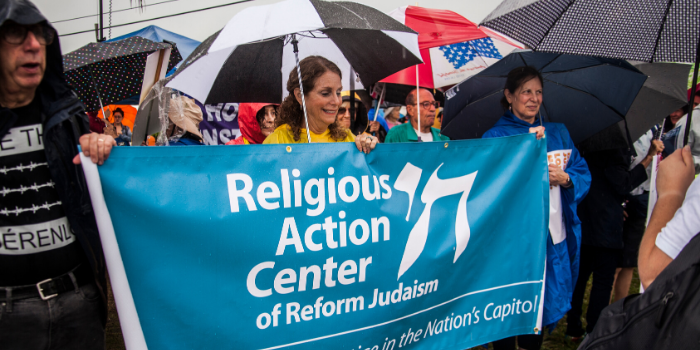 Throughout 2019, the Religious Action Center worked across North America, and at the state level in the United States, to advance principles of justice, wholeness, and compassion. At a time when our biblically-inspired values to love the ger, or immigrant, to uphold kavod ha'briyot, respect for individual dignity, to till and tend the earth as did Adam and Eve in the Garden of Eden, and more are under threat, we worked with Reform Jews across North America to build power and create the change we want in the world.
The renewal of our Brit Olam, covenant with our world, at the 2019 Consultation on Conscience has guided the RAC over the past year and will continue into 2020 and beyond. The Brit Olam is the product of listening to Reform communities across North America and has focused our work on stronger engagement, support, and training of congregational leaders with the goals of advancing justice at the local, state, provincial, and federal levels, and to deeply ground this work in our Jewish texts and tradition.
From policy victories, to activating our base, to driving the narrative around Jewish values in the public square, here is a sample of the RAC's impact in a few of our priority areas.
Mobilizing Reform Jewish leaders to fight for justice
In 2019, the RAC trained over 4,000 Reform Jews to organize for social justice through our L'Taken Teen Social Justice Seminar, the 2019 Consultation on Conscience in Washington, our learning sessions at the URJ Biennial in Chicago, state lobby days and gatherings in California, Texas, Illinois, Ohio, and New York, and webinars and online cohorts.
The impact of those trainings was felt in Washington and across North America. RAC-TX played a key role in a coalition calling for additional public school funding and won an unprecedented $6 billion in new funds to pay teachers and ensure educational equity in Texas. RAC-NY joined with groups under the Green Light New York banner successfully advocating for legislation allowing undocumented immigrants to apply for drivers' licenses, making a difference for hundreds-of-thousands of Empire State residents. Ohio has been devastated by the opioid epidemic, which has reverberated through the criminal justice system, and RAC-OH brought hundreds of Reform Jews to the capitol in Columbus for a lobby day focused on criminal justice reform and gun violence prevention – adding our essential voice to a bipartisan campaign to pass key legislation. In California, home to the first RAC state project, years of organizing led to RAC-CA's largest-ever lobby day in Sacramento and saw the vast majority of its legislative agenda signed into law.
Nationally, nearly 700 Reform Jews met with 200 congressional offices during the Consultation on Conscience lobby day in May 2019 – our largest ever lobby day – to raise our voices for criminal justice reform and immigration justice. We contributed to the House of Representatives' passage of bipartisan legislation to protect undocumented immigrant youth at risk of deportation, and just before the end of the year, Congress passed and the president signed legislation to help even the job market playing field for formerly incarcerated people. 
Immigration justice
This spring, The Kraus Family Foundation's generosity allowed us to create the Kraus Initiative for Immigrant and Refugee Justice to activate and galvanize greater action across the Reform Jewish Movement amidst the current immigration and refugee crisis.
Over the summer, URJ President Rabbi Rick Jacobs represented our Movement at a major interfaith rally in El Paso, Texas, where he visited asylum seekers forced to remain on the Mexican side of the southern border. While there, he delivered a moving sermon on why Reform Jews show up for immigrant justice: because we worship a God who is impatient with injustice. In August, the URJ's Rabbi Esther Lederman spoke on behalf of the RAC and our Movement to say that children belong in schools, not cages. The RAC also partnered with a coalition of Jewish social justice organizations to hold a series of Tisha B'Av rallies across the United States reflecting the Jewish  commitment to fighting the Trump administration's immoral treatment of immigrants, including child detention. In fact, the Reform community in South Florida helped lead the successful fight to shut down the Homestead immigrant child detention facility, the largest of its kind in the country.
During Fall 2019, we helped Reform congregations organize immigration justice events to coincide with the Sukkot holiday and RAC-TX joined a day of action outside a San Antonio immigration court to bring a Jewish voice to the fight to save the asylum process.
When we heard in July that massive ICE raids on immigrant families were imminent, the RAC sent out material on how individual Reform Jews could help support immigrants in their community, and we helped rabbis across the country write to their local newspapers to oppose these raids.
In partnership with immigrant-led organizations, we advocated to Congress to decrease funding for inhumane immigration detention, deportation, and enforcement practices led by Immigration and Customs Enforcement and Customs and Border Patrol and helped our Reform Jewish activists call on their elected officials to do the same. Of course, we also continued our advocacy in support of permanent protections for DREAMers participating in the Deferred Action for Childhood Arrivals program (DACA) and Temporary Protected Status holders as well as in opposition to the decimation of the U.S. refugee resettlement program.
After an investigation uncovered that White House Senior Advisor and architect of many of the administration's worst immigration policies, Stephen Miller, had sent racist emails to reporters and colleagues, the RAC brought together institutions across the Reform, Conservative, and Reconstructionist movements to call for Miller's firing.
A moral voice representing our Jewish values
As hate continues to spread and vulnerable groups, including Jews, continued to come under assault in 2019, the RAC was there to fight back with moral clarity and concrete action. After a gunman attacked a synagogue outside San Diego, our director Rabbi Jonah Pesner made clear that, "Our enemies will not defeat or define us." He outlined the RAC's intersectional approach to stopping antisemitism and all forms of hatred and bigotry, and offered essential ways to take action. Rabbi Pesner also joined with leaders across the faith and race spectrum to condemn antisemitism and hate, including a Moral Witness rally outside the White House with Rev. Dr. William Barber II, and a press conference on Capitol Hill opposing the White House's discriminatory travel ban.
And in Chicago at the URJ Biennial, our Movement became the first major Jewish denomination to adopt a resolution calling for the study of U.S. slavery reparations.
Gun violence prevention
Building off huge involvement from Reform Jewish youth in the 2018 March for Our Lives, the RAC continued to support youth-led activism to stop gun violence as we lobbied Congress for universal background checks. In March, we launched the Student State Leadership Network, featuring student leaders in states coast-to-coast organizing locally to support gun violence prevention projects with far-reaching impact. We also trained two cohorts of outstanding alumni of our L'Taken Teen Social Justice Seminars in how to do community organizing with a focus on gun violence prevention.
Reproductive health and rights
The RAC has long been a prominent Jewish voice supporting reproductive health and rights.
Last summer, RAC director Rabbi Jonah Pesner even drew the ire of a notorious far-right pundit named Sebastian Gorka after speaking out forcefully in favor of abortion rights. Rabbi Pesner was clear: "We don't put our heads down and say I'm Jewish but I'm pro-choice – we believe from a deeply-founded Jewish place that individuals should have control over their own bodies," he wrote.
2019 marked a new milestone in our work on reproductive rights, as we partnered with Women of Reform Judaism in the spring to create a joint campaign and new staff position focused on reproductive health and rights. Our work on this crucial issue included hosting learning sessions for Reform Jewish college students in D.C. this summer and at the URJ Biennial in Chicago.
As we carefully monitor and oppose an unprecedented crackdown on abortion rights in states around the country, the RAC has also backed legislation that would proactively expand reproductive rights in states like Massachusetts where Reform Jewish leaders have been vocal supporters of the ROE Act.
Climate and environmental justice
As North America and the entire world confronts the climate crisis, the RAC and Reform Movement have actively been engaged in the effort to prevent further climate change and support those already impacted. From helping congregations understand the value of carbon pricing to calling on the United States to remain in the Paris Climate Agreement and helping hundreds of Reform Jewish teens lobby for climate justice, protecting our earth is a top priority for the RAC. We also understand that environmental justice is connected to our other social justice priorities, including racial and economic justice, and the well-being of women and children, and promote that understanding throughout our work.
The need for committed, passionate, and engaged Reform Jewish social justice advocates has never been clearer. We are proud of our work in 2019 and know that with the support and partnership of congregational leaders – lay and clergy – we will continue to make an impact in 2020 and beyond.
Related Posts
Image
We stand with the people of Israel during these difficult and challenging days and pray for the safety and immediate release of all of the hostages. See our resources and actions you can take.
Image
Before sharing some tools for facing and combating antisemitism, it's important to have a clear understanding of exactly what antisemitism is. 
Image
When we think about climate change, I believe we often get lost in the global context and forget about its local impacts. Climate change is a complex, unfamiliar, slow-moving, and intergenerational problem that covers a broad range of policies, topics, and headlines.