Dear Friends, I write to you today from the Arthur & Sara Jo Kobacker building in Washington D.C., the home of the Religious Action Center of Reform Judaism. I received the honor of a lifetime when
Rabbi Rick Jacobs, President of the Union for Reform Judaism, announced my appointment
as the
new Director of the Religious Action Center of Reform Judaism
. For fifty years, the RAC has been the hub of Jewish social justice and legislative activity in Washington, D.C. I have the great honor of succeeding my mentor and friend,
Rabbi David Saperstein
, who, for forty years, has built the RAC into a powerful force grounded in ancient Jewish values of social justice for North America and across the world. The rabbis taught that in every age we see ourselves as if we ourselves were liberated from bondage. Our work for justice is bound up in the thousands year old essence of what it means to be a Jew. The Reform Jewish Movement has been at the center of critical and successful campaigns for civil rights, equality for all people, Israel, World Jewry, and a range of other issues, because of David's remarkable leadership.  The RAC has supported countless local and congregational social action efforts and tens of thousands of young people have been inspired through its educational programs.
My personal connection to the RAC is deep
; In fact, my wife Dana and I first met David when we attended RAC youth seminars as NFTYites more than thirty years ago. David was also instrumental when I founded Just Congregations, and with his support, we have grown it into a widely successful grass-roots complement to the work of the RAC. I look forward to building effective coalitions, which will enable the faith community to be a force for justice as we help America and the world confront some of the challenges of our age. Specifically, my vision for the RAC has three key pillars:
Deepening our advocacy work by organizing thousands more leaders through our congregations and beyond to mobilize their communities and leverage their social networks to advance the Reform Movement's vision for a more just society;
Strengthening the capacity of synagogues across North America to be agents of change on a state and local level, training their leadership to effectively act on cherished shared moral values for the common good;
Playing a central role in the Reform Movement's Campaign for Youth Engagement, as we empower tens of thousands of young people to deepen their Jewish identity by working for Tikkun Olam.
There will be no pause in our sacred work.  As the New Year — and the new Congress — begin, the urgency of our work has never been greater.  From Ferguson to Staten Island, the searing pain of racial disparity continues to divide American society.  Gun violence spreads like a plague.  The chasm between the rich and poor widens even beyond what we can imagine, as working families and low income people struggle with debt, stagnant wages, and poverty.  Millions of immigrants cry out for justice, and our gay and lesbian brothers and sisters still struggle for the right to marry.  Our planet's natural resources are diminishing almost as fast the climate is changing, perhaps beyond repair.  As we survey these challenges, we hear the call: do justly, love mercy, and walk humbly with God. The RAC and I cannot do this alone;
we need you
.  We need you to join the Reform Jewish Movement in our commitment to realize God's vision for a world of goodness and healing.  As we commit to double down on our commitment to justice, and affirm the centrality of
Tikkun Olam
in Jewish life, please consider how you will lead.
Will you commit to ongoing actions in our Movement's campaigns?
Start today: the 
End Racial Profiling Act
would address the injustice of racial profiling, which raises civil rights concerns, and undermines the criminal justice system. Please take just a moment today to
contact your Senators and Representative through our action alert
.
Will you come to Washington, D.C. and raise your voice in the halls of government?
Start today:
I hope to see you at the Consultation on Conscience from April 26-28, 2015
, where our Movement's top leaders join with policy makers to address key priorities in Washington, D.C.
Will you encourage young people to find inspiration in our programs?
Start today: if your congregation is not already attending our
transformative L'Taken social justice seminars
, be in touch with us today to
learn about opportunities for your students and young people
.
Will you donate resources to support our work?
Start today:
consider making an annual pledge of at least $36
 and ensuring Jewish social justice for generations to come.
Our cause is just and the time is now
.  In whatever way makes sense, join us as we realize the vision of our sacred tradition. Help transform the world as it is, parched with suffering, into the world we know it should be, overflowing with justice. That is the very purpose of our lives, and the RAC will continue to strive toward that vision every day.
Related Posts
Image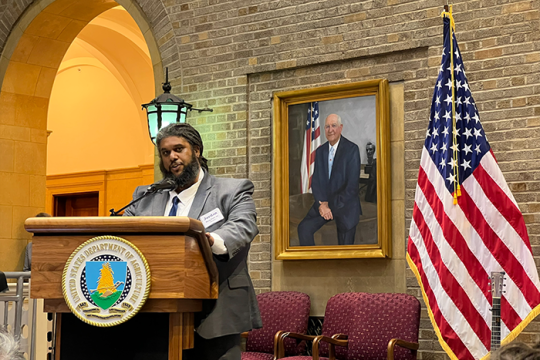 The following blog post is adapted from the invocation given by Rabbi Jonah Pesner and remarks given by Jordan Berg-Powers at the U.S. Department of Agriculture's (USDA) Jewish American Heritage Month event celebrating Jewish contributions to agriculture and the fight against hunger in America.
Image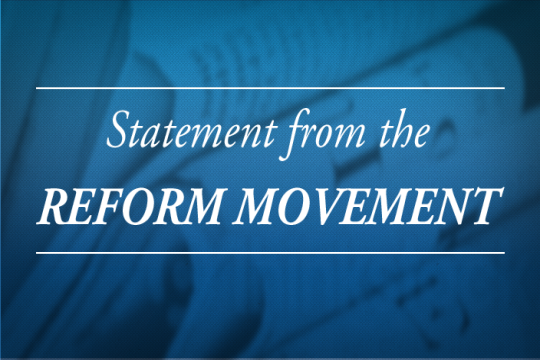 This is the cover note of a letter to the 118th Congress outlining the Reform Jewish Movement's policy priorities and urging all Members of Congress to join us in pursuit of a more just and equitable world.
Image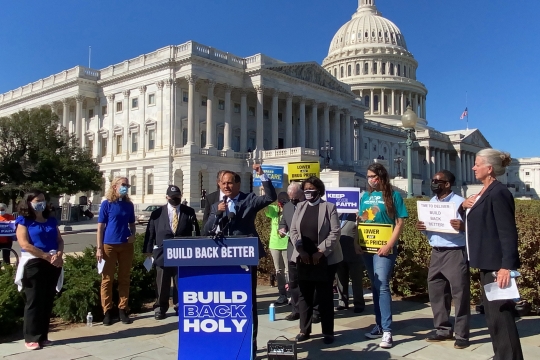 After 12 hours of storytelling and prayer at the Washington Interfaith Staff Community's Build Back Better Prayer Vigil outside the U.S. Capitol on October 20, it was clear: bold investments in our economic recovery are crucial to the livelihood of workers, children, and families in the US. To rebuild the American economy and address the structural inequities that long preceded the pandemic, Congress must pass a robust Build Back Better Act.